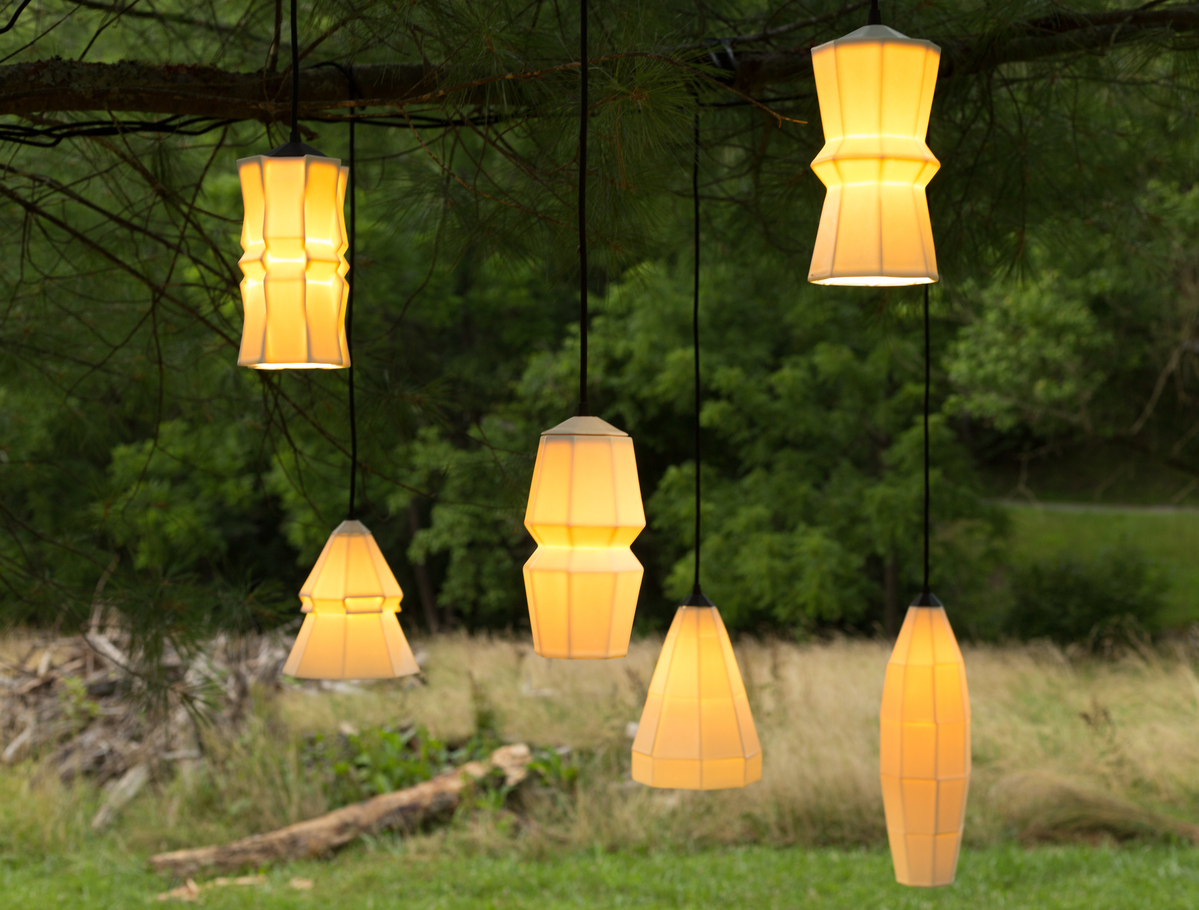 Founded by Nick Moen as a pottery studio in Asheville, NC, The Bright Angle has launched a lighting collection, available exclusively at Lumens. Nick's background in ceramics—he has a degree in ceramic design and materials—led to innovative new ways of casting the artform in a new light (which, in turn, led to designing actual lighting). Eschewing the round spun shapes one initially thinks of when a potter sits at his wheel, The Bright Angle takes a different approach, molding porcelain at distinct angles.
When lit up, the porcelain shades, handmade in Asheville, diffuse the light with a warmth that can only be achieved through The Bright Angle's unique process (that took over five years to develop and perfect). Even when the lights aren't on, they make for handsome sculptural décor on a tabletop or hanging as a pendant. Recently, we were lucky enough to catch up with Nick to talk about his design background, the process of his Made in America goods and what's next for the promising brand.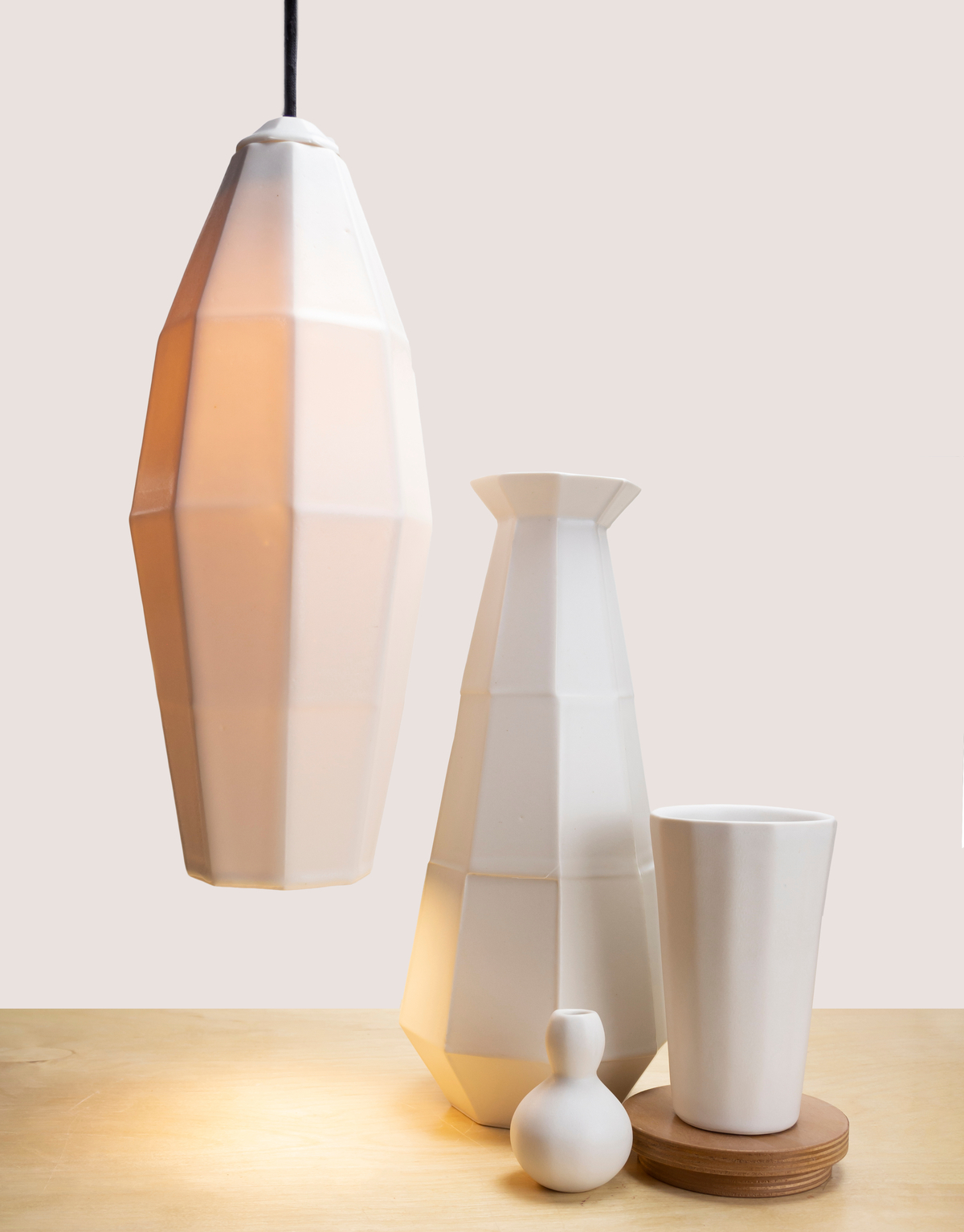 What is your design story? How did you get into design?
NM: I'll never forget receiving my first piece of handmade pottery. I visited legendary potter Warren Mackenzie in Minnesota when I was 14. I watched him sit on his potter's wheel kicking his leg to make it spin and gracefully transforming a ball of clay into a large vessel. He seemed like a magician changing earth into an object with intention. He shared stories of other makers that gave raw materials life. When he was done he got up and handed me two small tea bowls.
I wasn't a tea drinker yet but I grabbed the two pots, thanked him, and held them tight. The next morning I asked my mom if there was any tea in the house. Before long I was sipping tea and dreaming of a life learning to give meaning to balls of clay, boards of wood, sheets of leather—to be an alchemist. I wanted to hear more stories from masters of craft and I wanted to feel the same way about all my belongings as I did with those teabowls.
Years later I picked up one of the tea bowls when it was too hot and burned my fingers and dropped it on the floor. My heart sank! That tea bowl had brought me so much joy! It was part of my story. My next thought came surprisingly naturally—there was a problem with the tea bowl. One solution was to add a handle. This was the first moment where I realized I wanted to be a designer.
Your pottery studio was already called The Bright Angle, and now that you're making lighting, you're quite literally making your angles bright. Was there an "a-ha moment" that lead you to turning your passion for pottery into lighting?
NM: The Bright Angle means shining a light of optimism on a modern lifestyle. I've spent many hours in the car driving to 48 states selling art and meeting artists. The name came to fruition during cross country drives passing through city after city. Each city hosts beacons of light after hours of long dark roads. The interstates are illuminated by streetlights lining the through ways—each one a Bright Angle.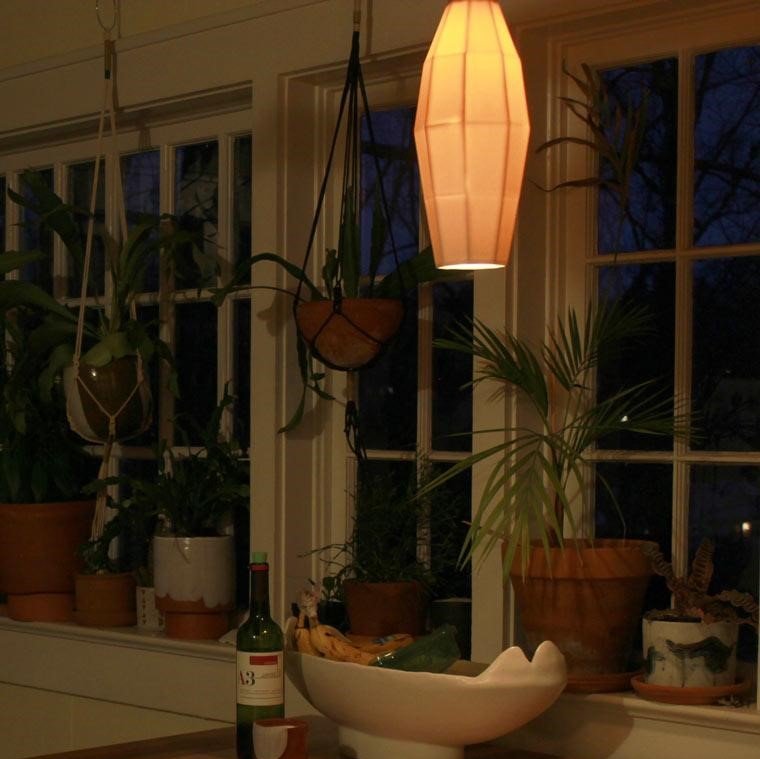 How does porcelain work as light diffuser, was there a lot of R&D getting the porcelain to light up or does it lend itself naturally?
NM: Porcelain is the diffuser of the future. I like to describe porcelain as half glass, half white clay. We have been working on getting our porcelain to glow the way it does for over 5 years. After thousands of tests we finally found the best solution to allow the porcelain to be shaped into our complex geometric forms. Porcelain is a very difficult medium to tame. If there is too much glass in the recipe the forms will just melt into a puddle when fired in the kiln. The best part of illuminating our porcelain is that it provides an incredibly warm glow. Also, all the lines that are a signature of our work become accents that the light passes through differently. Using translucent porcelain allows us to make sculptural ceramic vessels glow.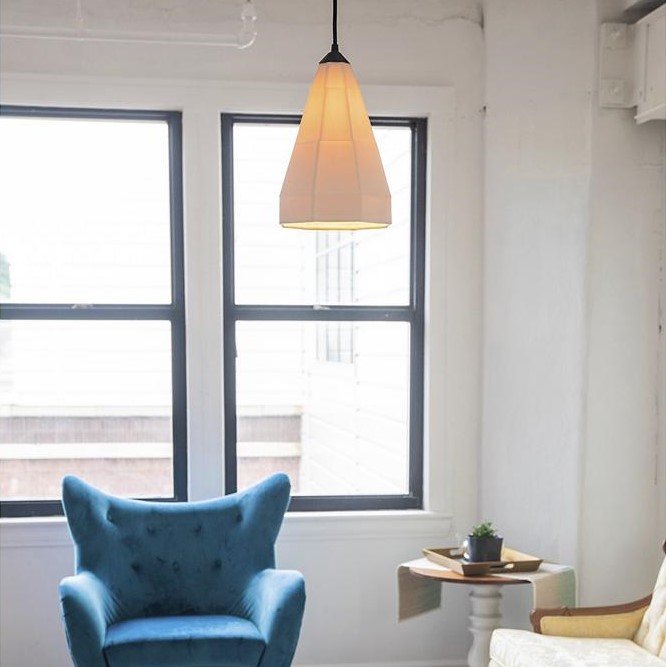 So, what makes for good lighting—is there more to it than simply illuminating a space?
NM: Our idea of good lighting is lighting solutions that illuminate space rather than add harsh directional light with shadows, often the result of exposed bulbs. Light is essential to making a space feel warm and inviting when the sun goes down. Apart from having the light add ambiance to a space, we believe that the vessels that contain the light must be extraordinary. Light fixtures should be sculptures that come alive when they are lit.
What is your design process? Does it start in the studio, or does inspiration strike you in unexpected ways?
NM: We design everything in our studio in Asheville NC. Each of the designs are based off of golden ratio geometry. We designed a modular plaster mold system that stacks like Lego to create the unique pendants in our lighting collection. Each time we design a new pendant form using our modular technique we are designing. Like jazz, there are parameters but we have the opportunity to improvise!
Where do you find inspiration?
NM: As the lead designer I am inspired by simple geometry found in sound architectural designs. Our designs all must have structural integrity. The intricacies of the geometric panels come from looking at Tiffany lighting. The glow that is produced is inspired by vintage frosted glass lighting. The final designs come from being inspired by playing with the Lego building blocks of the forming process.
And how does something go from an idea to a design to an actual product?
NM: We initially sketch all of our designs on a CAD program. Using 3D prototyping we are able to make materials such as steel and brass hardware meet the porcelain components of our light fixtures. Once we have decided on a design the modular molds are assembled and liquid porcelain is poured into the dozens of mold parts that are strapped together. The shades then go through the rest of the ceramics process which include meticulous cleaning, firing, glazing and sanding. The last step is to marry the porcelain vessels with the hardware to hold and display the finished fixtures.
The angles are an unexpected look for pottery—usually, you think of these bulbous vases or bowl-shaped things—what led you to taking the angled approach?
NM: The angles are a direct result of the modular mold system that we use. We chose to accentuate the seam lines from the points where each mold part meets. Part of the decision to go with angular designs is that we wanted to push outside of the circle. In the design world circles are very predictable. Using our process we are able to showcase the many geometric shapes that are possible.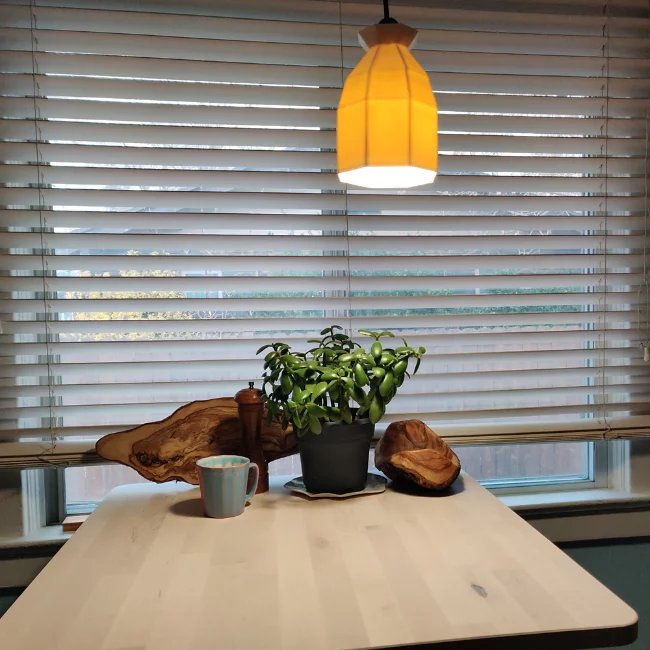 Do you have a favorite design or design story?
NM: My favorite design is the Expansion 2 Porcelain Pendant. I have this design all over my house. The design showcases all of our signature angles and also has a wide opening on the bottom to spread lighting below. This design informed our Dolan Table Lamp, which is another favorite design. I was getting fed up with clutter and harsh light on my bedside table. The Dolan Table Lamp solves these problems by introducing a space on the lamp base for wireless charging. The Dolan Table features a sleek vintage porcelain shade that diffuses the light just the right amount so that you can still read but the light isn't intrusive when you are winding down before bed.
Is there anything else you've been working on that you'd like to share?
NM: We are currently working on a collaboration with a furniture company based in Chicago Illinois. We have been searching for the perfect hardware for chandeliers. Our design partner has engineered a wooden beam that will split pendants into a row to allow for wide clusters of our porcelain pendants. We plan to launch this product at the NY Luxury Design show at the Javits Center in September 2021.