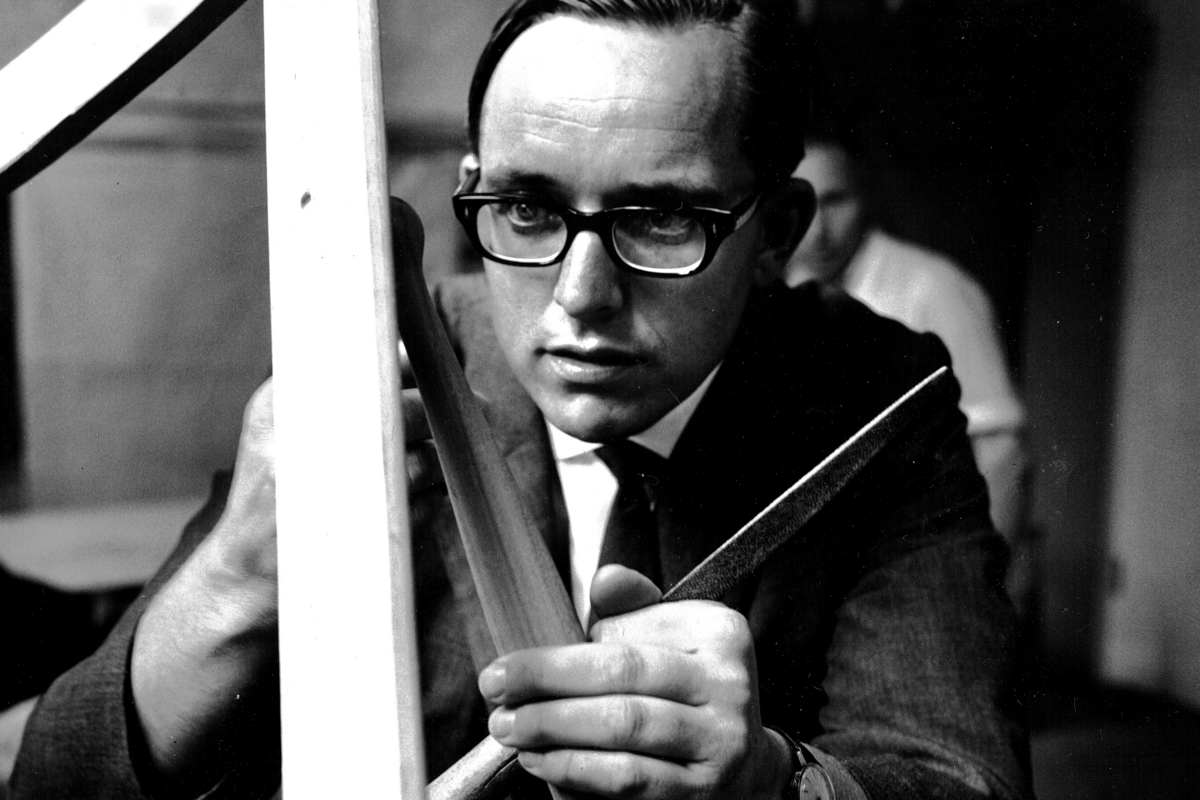 In the 1950s, designers were getting back to the basics, stripping things down to the simple Bauhaus necessities of life: form and function.
It was perfect timing for Danish modernism to step into the global spotlight with unparalleled craftsmanship, warm woods and the most innovative design techniques of the day, ushering in the Golden Age of Danish design. And amongst those great Danish creators of bent plywood furniture and superior cabinetry lived Ib Kofod-Larsen, a man dedicated to living a quiet life but whose designs spoke volumes.
A Master of Danish Modernism Goes International
Trained in cabinetmaking and architecture at the Danish Royal Academy of Fine Arts in Copenhagen, Kofod-Larsen (1921-2003) was a bit of an oddball amongst his contemporaries. The maker of supremely comfortable, organic furniture remained relatively unknown within the confines of his home country, but abroad, the designer and his creations flourished, quickly gaining international notoriety. Kofod-Larsen was not interested in fame; instead, the diligent designer was focused on his trade and craft, putting his head down and getting to work, staying with a project from the very beginning until the very end.
A multi-talented designer, Kofod-Larsen could not be restricted to the mastery of only one medium. In 1948 he received top honors at the Holmegaard Glass competition, but it was the award he received from the Danish Cabinetmakers' Guild in the same year that propelled his career to unexpected international heights.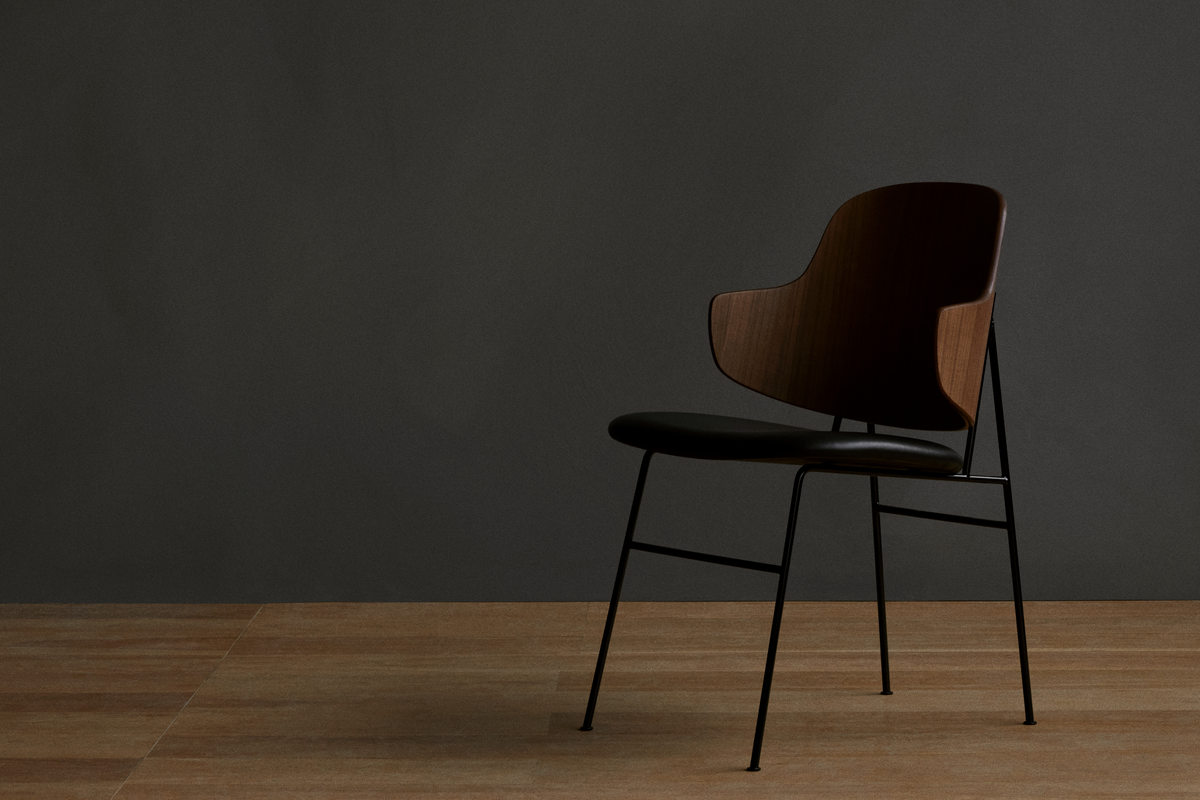 With a prevailing nationalist sentiment during their Golden Age of design, the Danes were less likely to champion the career of a designer who looked beyond the country's borders for work, and Kofod-Larsen was just that designer. While he produced one of his most famous and now highly sought-after designs for Danish brand Faarup Mobelfabrik, the Model 66 Sideboard, Kofod-Larsen's talents were also enlisted by design firms around the globe, including America, Britain, Germany and Sweden.
Finding Perfect Balance: Form, Function and Materiality
"We design furniture for everyday use, not to impress people."

-Ib Kofod-Larsen
Good design is a human right—this democratic sentiment led design philosophy throughout Denmark's Golden Age, and Kofod-Larsen's work was no exception. Followers of the designer's work remark that in creating a new piece of furniture, Kofod-Larsen was most focused on the experience of the person who would eventually sit down in what he'd created. Comfort was of extreme importance. Many of his most notable designs, like the Penguin chair collection, feature a curved backrest to gently cradle the user as they reclined.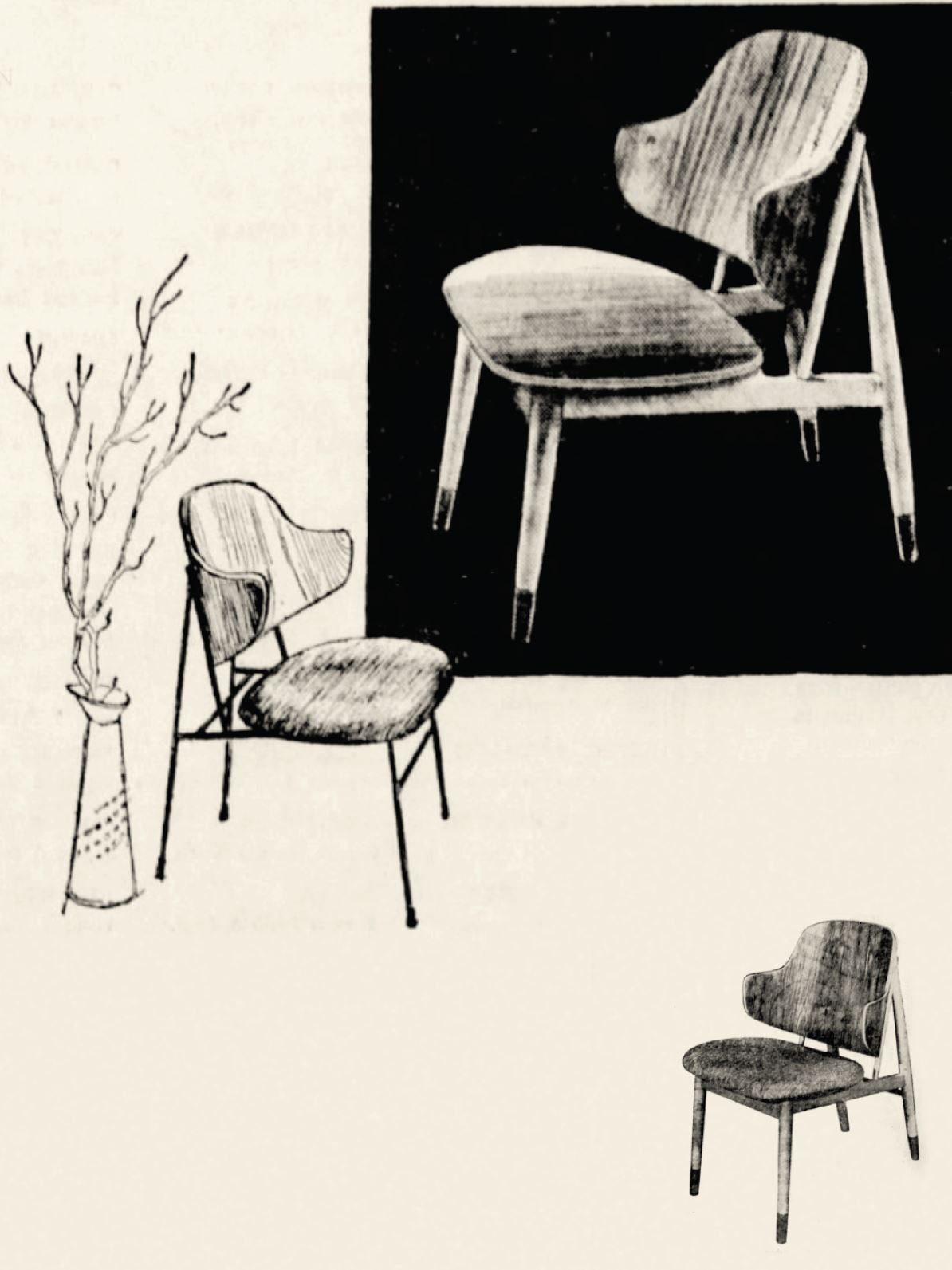 What might appear as simple silhouettes created from organic shapes reveal the sensibility of an innovative engineer upon closer inspection. Carefully shaped seats and backrests constructed from sculptural lines and expressive curves are angled just so, and slide effortlessly into their accompanying and complex framework.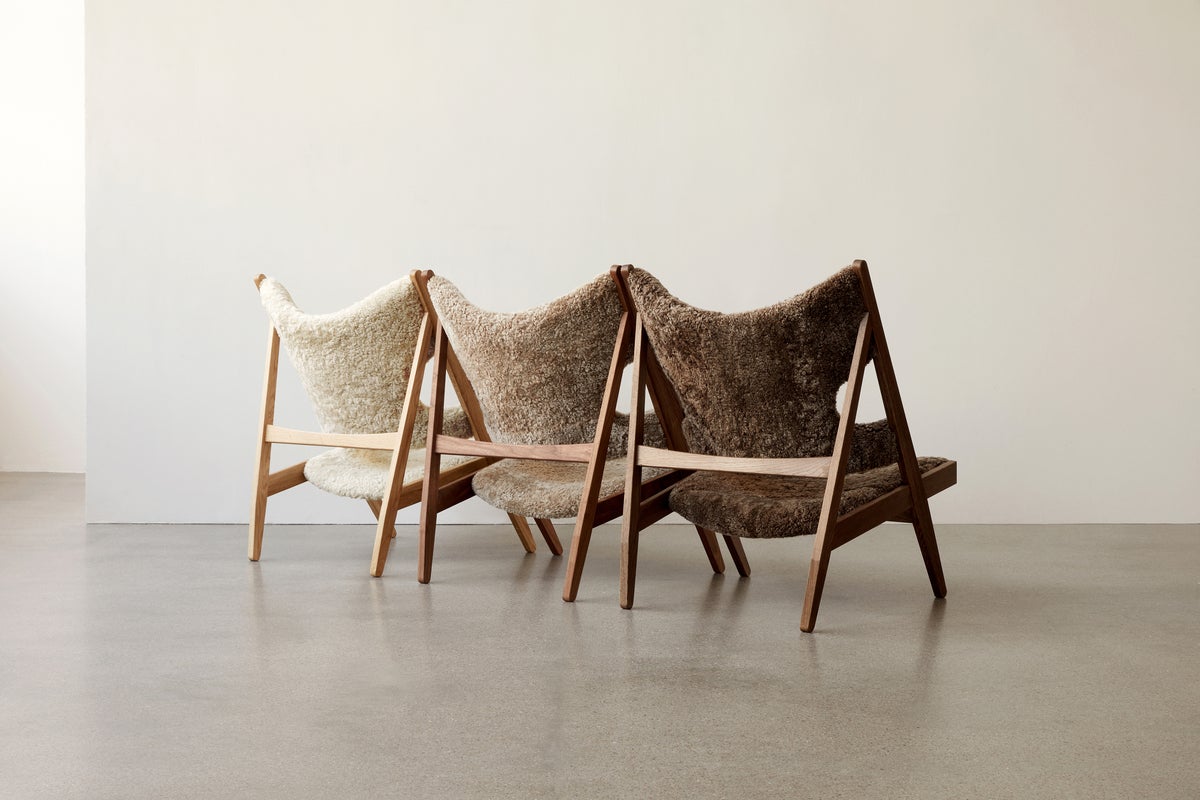 With his cabinetmaking background, Kofod-Larsen grew to be a master of incorporating the natural appearance of wood grain into his furniture designs, using the raw material's patterns to create a calming visual symmetry. Favoring the use of teak, rosewood and palisander, Kofod-Larsen often balanced these organic materials with rich leathers and even sheepskin, as seen in his Knitting Chair. The experience, for Kofod-Larsen, was to be tactile. For the designer, his intent was a simple one: to touch or to sit in something he created should feel good.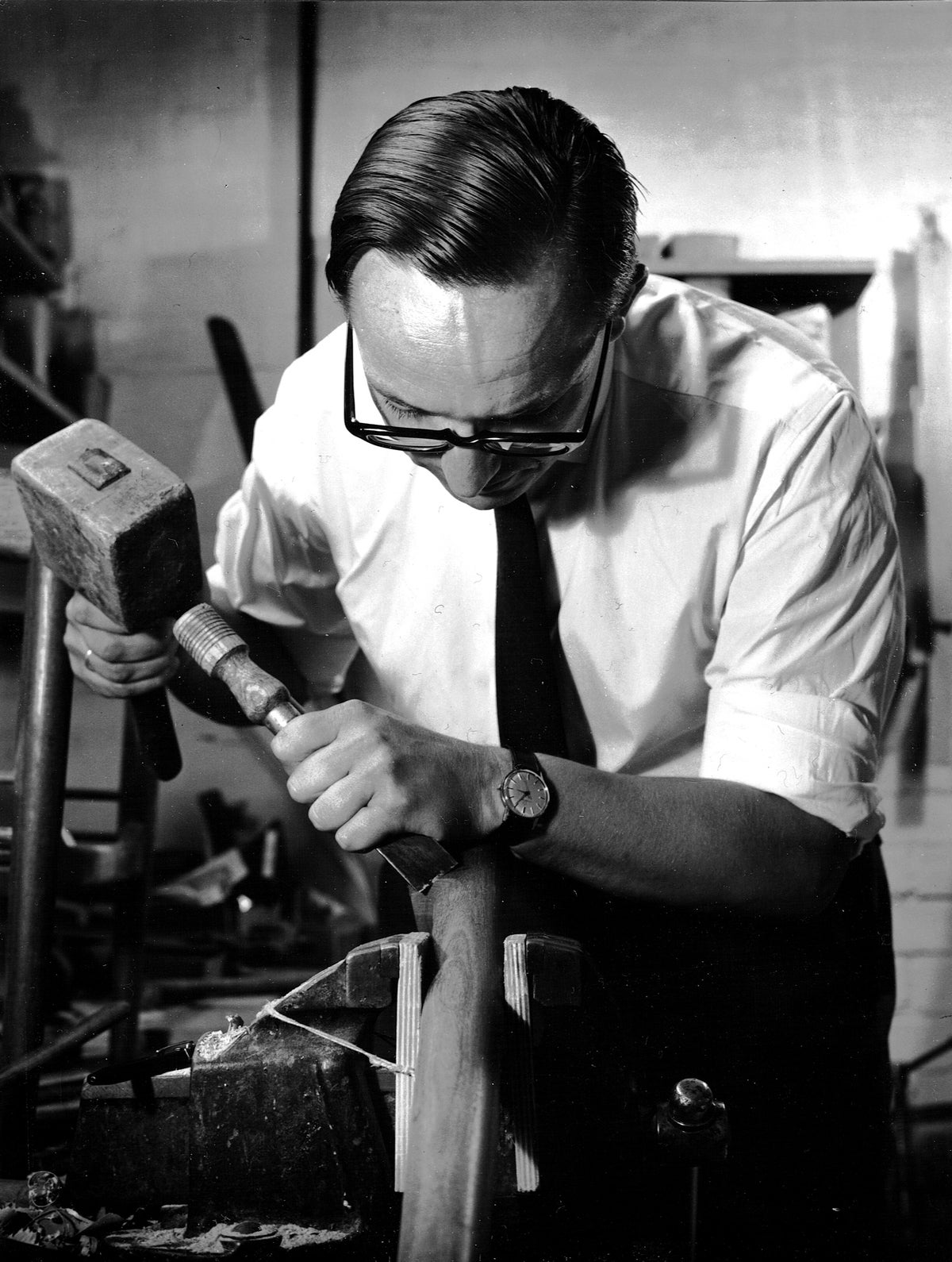 And, to ensure that user satisfaction, Kofod-Larsen involved himself in every aspect of the design process. Diligent to the very end, the designer began with his sketches, made sculptures and prototypes, and saw each of his products through their testing phases and respective launches. But his son, Jan Kofod-Larsen, says that his father almost never talked about his designs and his work; the designer was a very private person, living by the rule that "he who lives quietly lives well."
"What you call Danish modern we simply call furniture."

– Lasse Hyldgaard Anderson, Founder of the Danish Modern Museum
The desire for a quiet life can be seen in Kofod-Larsen's design aesthetic, too: in the softness of materials, and the intentionality of each line and curve meant to invite, to provide comfort. Leaving flashy, over-pronounced design to the wayside, it was Kofod-Larsen's focus on craftsmanship and quality of raw materials that placed him among the pioneers of Danish modernism, and those same elements imbue his designs with a sense of timelessness: ever elegant and always welcome.
(Visited 261 times, 1 visits today)