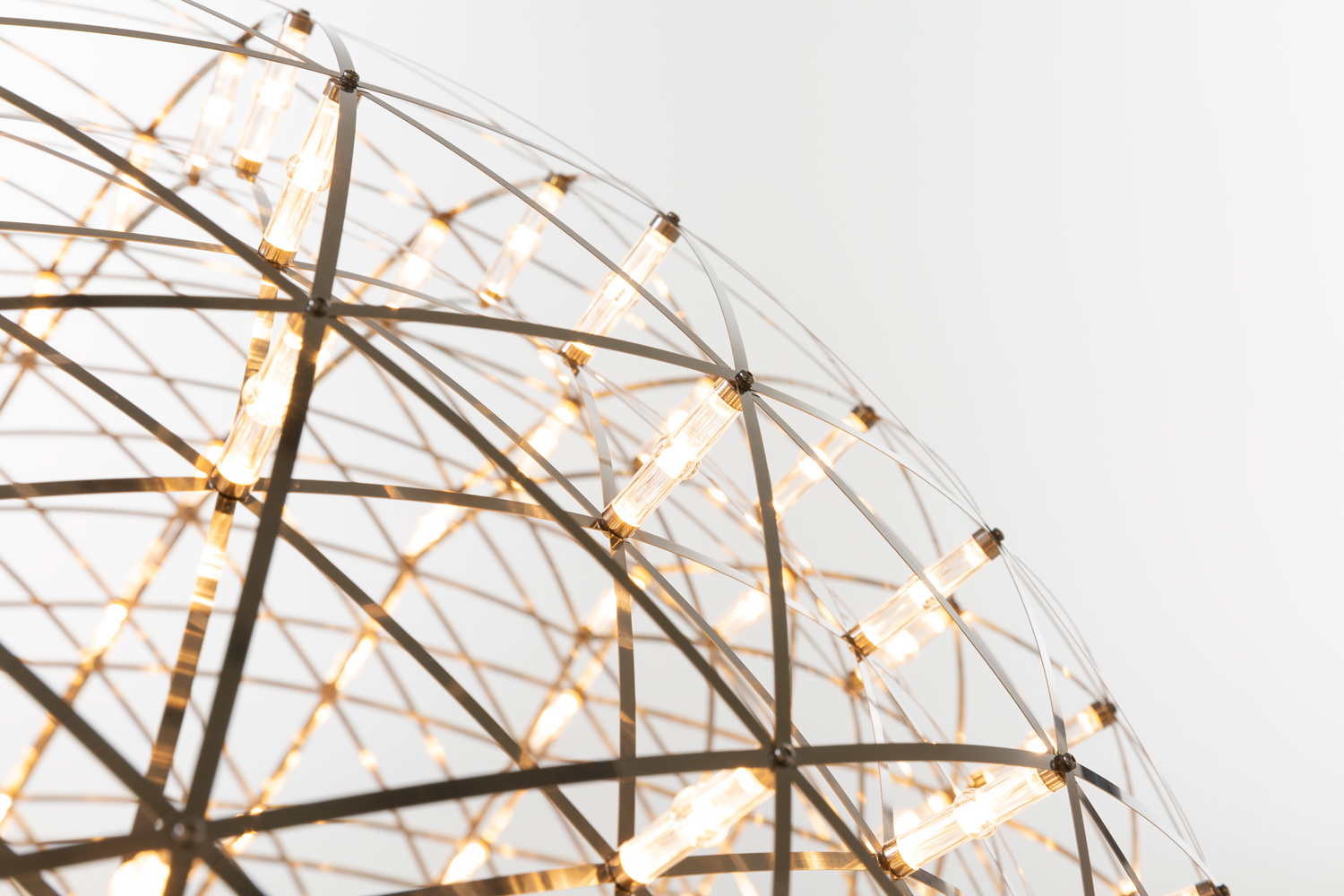 From years of patience and dedication comes a mathematically perfect lighting fixture from Moooi that uses interconnected LEDs to form a thin, openwork triangular mesh that transports an electric current. Available exclusively on Lumens.com, the Raimond II Dome—designed by Raimond Puts and completed by Tis Ernst—is inspired by the poeticism of a starry night. Twinkling LEDs offer soft, ambient lighting, while the fixture's powerful center lamp provides functional illumination for reading, dining and more.
As a designer, Puts experimented with many shapes and materials throughout his career. Refining his technique, Puts explored the use of LED illumination and the Raimond Collection is a testament to his ingenuity and creativity. With a goal of creating a luminaire that was unmatched in both beauty and functionality, his designs achieved maximum results by minimal means. After his passing in 2012, his wife and fellow artist and designer, Tis Ernst, worked alongside Moooi to complete his final design, the Raimond II Dome.
"We are thrilled to partner with Moooi and provide our customers the latest model of the Raimond II collection in a new shape that gives new life to the luminary family," said Patricia Kittredge, VP of Merchandising at YDesign Group. "Raimond Puts' design, completed by Tis Ernst, is a glowing example of Moooi's commitment to innovative technologies, dedicated craftsmanship and sophisticated design. We are honored to be the exclusive online retailer of this beautiful luminaire."
The newest addition to the Raimond II collection, the Raimond II Dome is made of the same mathematical ingredients as its spherical family members. The updated half sphere is designed with small LED lights and a powerful spotlight in its center that shines downwards. The optional compatible Wireless Wall Switch allows for quick, easy dimming, giving users full control over the output of illumination.
Raimond II Dome will be available exclusively in the U.S. from Lumens.com through December 1, 2022.