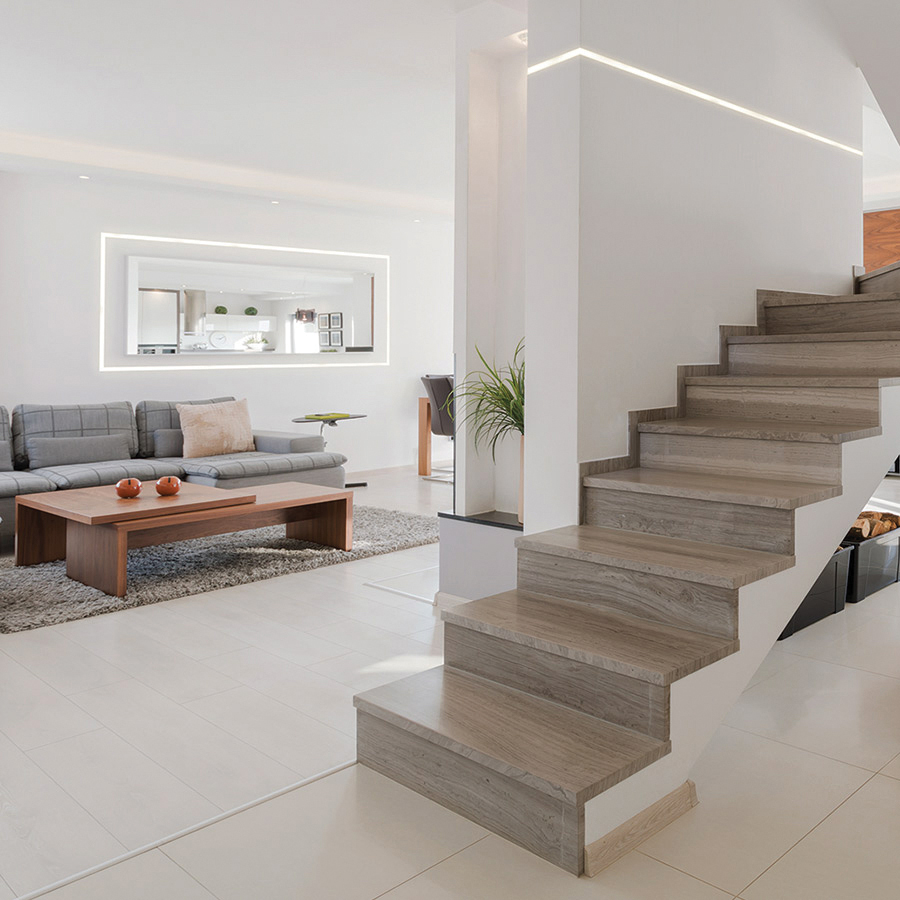 Recessed lights are designed to be unobtrusive and versatile and can be used for downlighting, wall lighting or uplighting.
They're great for providing ambient light in a variety of residential and commercial spaces, as well as accent lighting to highlight furniture, artwork or the wall itself.
This guide will give you the rundown on what to know about sourcing the right recessed lights for your needs and incorporating them into your project.
Types of Recessed Lighting

Ceilings: Recessed downlighting from the ceiling is the most common use of recessed lighting and what we'll focus on most.
Walls: When recessing a light into a wall, you'll want to use an angled flange to direct your light down to illuminate a pathway or onto steps.
In Ground: These are usually used in outdoor applications to illuminate a pathway or uplight landscaping.
The Components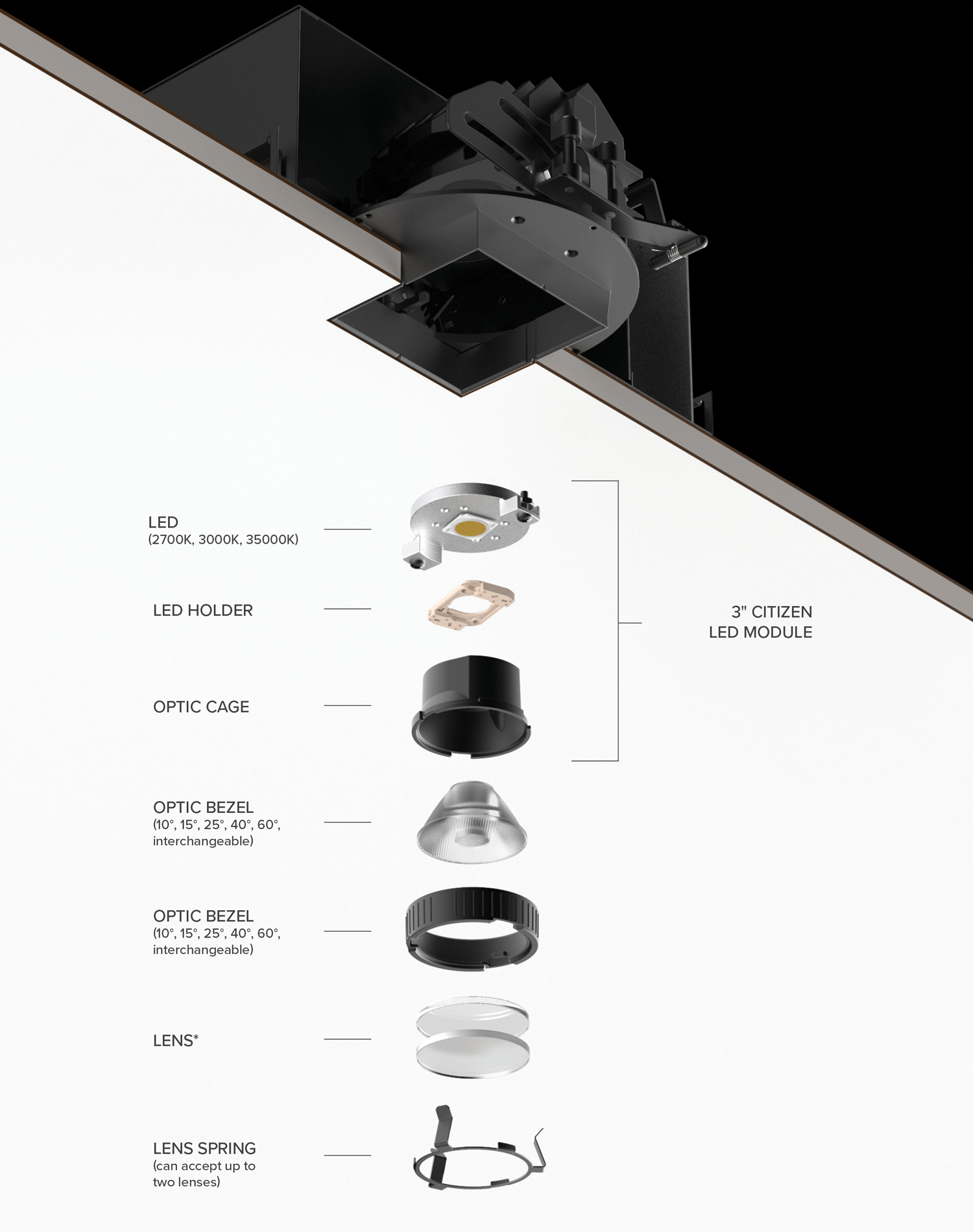 A recessed light consists of two components – the housing and the trim.
The housing is what is recessed into the ceiling/wall/ground and consists of the light source, mounting and other electrical parts.
The trim is what's visible to people in the room and gives the light its aesthetic and, depending on what you choose, can be used to direct the beam if you're spotlighting artwork or "wall washing." (More on that later.)
Trims and housing are sized to correlate with one another, so make sure you've got a match when purchasing both together. But just because a trim and housing are the same size, it does not mean that they work together. Even trims and housings made by the same manufacturer may not be compatible. Always make sure that the components you choose are going to work together. Because there are many factors that determine whether components will work together, the best thing to do is contact a lighting expert, like the ALA-certified specialists at Lumens.
Selecting the Housing
What housing you choose starts with knowing whether it will be used in new construction or a remodel.
New Construction
New construction housings are specifically designed for locations with visible ceiling joists and without drywall–usually that's new construction, but these can be used for remodels if you're gutting the space.
Remodel
If joists are not exposed, or if you want to upgrade your current system to LED, a remodel housing is appropriate. These housings are installed through a small opening in the ceiling and held in place with clips.
Retrofit
You may also consider a retrofit housing, arguably the most economical option. An existing trim is removed from its housing, and the retrofit is attached to the housing with clips.
Know the codes and requirements in your area when building or remodeling. If you're the one purchasing lighting for your project, make sure to clear it with your contractor, architect or Lumens lighting specialist to ensure that your choice will pass code in your area.
When and Where to Use Recessed Lighting
Ambient/General Lighting: When you want to brighten up a room that sees a lot of traffic like your kitchen or living room.
Accent/Spot Lighting: If you have a focal point like a piece of art or fireplace mantle that you want to spotlight. The optimal angle to reduce glare when spotlighting art is 30 degrees.
Wall Washing: By placing your recessed downlighting near a wall–effectively bathing it in light–you're bouncing light into a space in a less harsh way than direct downlighting.
Selecting the Trim
Choosing the right recessed lighting trim comes down to your aesthetic taste and desired effect.
Choose a flangeless trim to fit seamlessly with the surface, or a flanged trim for a more prominent look.
A square aperture for a more modern look, or a circular one for a more classic aesthetic.
A bevel trim for depth, or a flat trim for a minimalist finish.
In addition to aesthetic differences, there are a variety of functional differences between trims that customers should look out for in their search.
Wet-location trims are appropriate for areas where water could come in contact with the trim, such as a shower or sauna. Damp location trims are suitable anywhere else.
Adjustable trims are suitable for sloped ceilings or walls that will be washed; otherwise, fixed trims are the way to go.
Of the adjustable trims, directional trims give the most flexibility in directing light while gimbal trims still offer plenty of flexibility, but not quite as much.
Open reflector trims emit the highest amount of uncontrolled light possible, while baffle and specular trims reduce glare.
Selecting the Lamp
Lamps are usually sold separately from the housing and trim. Most lamping in recessed lighting today is integrated LED—no bulb needed. But if you're working with non-LED recessed lighting or replaceable LED recessed lights, there are plenty of different styles of lamps to fit the specifications of any configuration.

The A Lamp is the most common type of lamp, useful for a variety of applications. It has no glaring weaknesses, nor exceptional strengths.
Perfect as spot, flood and display lights, R Lamps contain a reflector and excellent beam control.
With their long beams and wide spread, PAR Lamps are excellent for task lighting, as well as general lighting.
MR16 are ideal for accent lighting due to their excellent beam control.
Basic Rules of Thumb for Downlighting Size and Spacing in Each Room
Each room is designed for a different purpose, so it follows suit that the size, lumens, color temperature and spacing will be slightly different so to provide ideal lighting in its best form.
Living Room
Low ambient light required
Kitchen
High ambient light required
Dining Room
Moderate ambient light required
Bathroom
High ambient light required
Hallway
Low ambient light required
Accent Lighting
Low ambient light required
2-inch – 3-inch trim size
3-inch or 4-inch trim size
2-inch – 4-inch trim size
2-inch – 3.5-inch trim size
2-inch – 3.5-inch trim size
2-inch trim size
400-800 Lumens per light
700-1200 Lumens per light
600-1000 Lumens per light
700-1200 Lumens per light
400-800 Lumens per light
200-400 Lumens per light
2700-3000K color temperature (match the temperature of existing task lighting) 
2700-3000K color temperature
2700-3000K color temperature
2700-3000K color temperature
2700-3000K color temperature
2700-3000K color temperature (match the temperature of existing task lighting)
Flood or narrow beam spread
Flood or narrow beam spread
Flood or narrow beam spread
Narrow or spot beam spread
Narrow or spot beam spread
Spot beam spread
3' to 4' of space between each light
2' to 3' of space between each light
3' to 4' of space between each light
2' to 3' of space between each light
3' to 4' of space between each light
No specific space; adjust as needed
Open reflector, baffle or adjustable trims 
Baffle, adjustable, multiple or open reflector trims 
Open reflector, trimless or adjustable trims
Wet location trims
Open reflector, gimbal or adjustable trims 
Open reflector or adjustable trims
A Note on Voltage and Ratings
According to the National Electric Code (NEC), housings must be IC (insulation contact) rated if the housing is installed less than 3" from the location's insulation. Non IC-rated housings are acceptable when they are installed 3" or more away from the insulation.
It's important to determine the correct voltage for your housing. The most common voltage in America is 120V, though some commercial spaces use 277V, and international spots typically use 220V. Once the voltage has been determined, you can choose whether the housing will be line voltage, low voltage or integrated LED.
Wired in 120V, line voltage housings are easy to maintain and have a lower upfront cost, although replacing old lamps and parts will add more cost in the long run.
Low voltage housings offer 12V or 24V – while the voltage is lower, these housings provide greater control over the light color, quality and dimming.
Integrated LED housings provide the most control over the light and dimming, they have low maintenance costs, and they are the most energy efficient. The biggest downside is that once the LED bulb goes out, the entire unit will have to be replaced.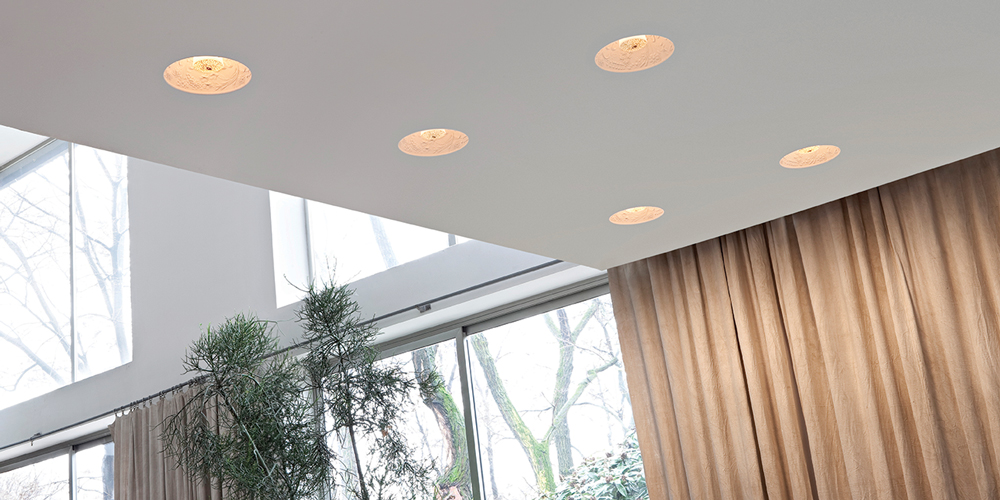 Recessed Lighting Glossary
APERTURE: An opening or hole, specifically referring to the cutout on a recessed lighting trim where light is visible.
HOUSING: The protective safety covering around a recessed downlight.
IC RATED: IC stands for "Insulated Contact." An IC rating is required for light fixtures that will be installed in direct contact with a building's insulation material in the wall or ceiling.
TRIM: A decorative molding around the opening of a recessed light.
BAFFLE TRIM: A style of trim with large grooves that absorbs excess light and reduces glare. Baffles are typically available in black (which reduces the most glare) and white (which reduces the appearance of holes in the ceiling).
GIMBAL TRIM: A style of trim that allows control of the direction of light with a pivot inside the housing.
REFLECTOR TRIM: A style of trim that uses a smooth, polished interior to maximize the amount of light.