While it is officially fall, you're probably still in summer mode: The windows are open, vases are heavy with bloom and pink lemonade jugs are still filled up to the brim. But you have also likely noticed the leaves starting to change color, the breeze turning colder and evenings coming on just a bit sooner than before. Change is coming, and your dining room needs help keeping up. To help you take your space from sunny red-white-and-blues to muted yellows and oranges, we're here to guide you and get your formal dining area ready for the upcoming holiday season.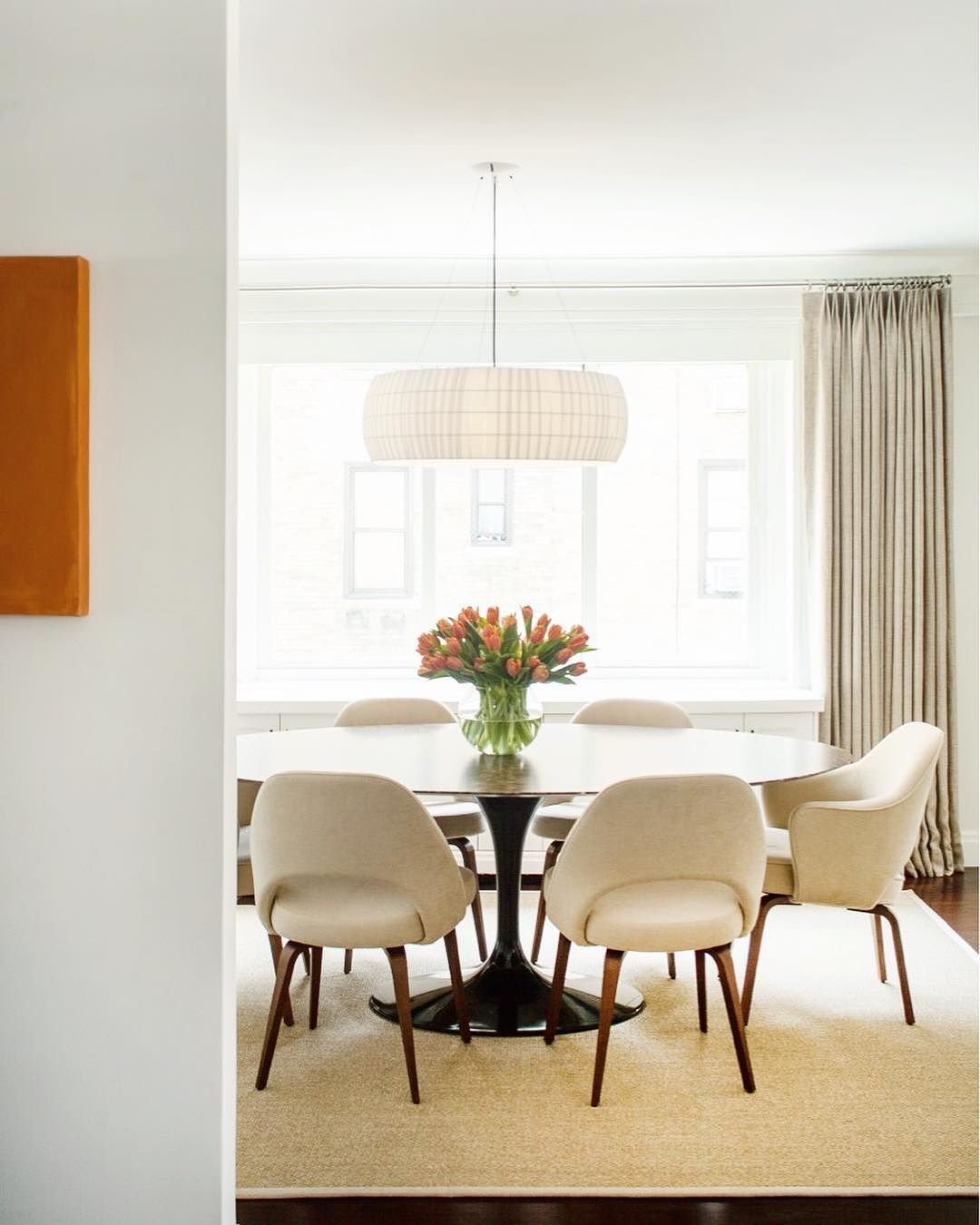 "Family gatherings, football games and seasonal parties are the norm, and so you will want to make your dining room cozy and inviting," says Kristen Siefkin, founder of Interior Design Alchemy. "Every host complains how guests end up in the kitchen. I always try to create a reason for people to get out of the kitchen and enjoy other spaces in my home."
Your dining room should aim to offer large gatherings a welcoming and cozy place—a place they'd be happy to linger in. For this upcoming autumn season, think about rustic yet modern styles of décor to create a sense of style, comfort and a sense of liveliness that will have guests longing to come back to that space year after year.
The Cleanup
Before you start thinking about new tablecloths or fine silverware, you should do a little cleaning first. "To prepare my dining room for the change of seasons, I like to give it a good cleaning first," says Siefkin. "Conditioning thirsty wood, dusting intricate light fixtures and dry cleaning draperies, for example."
Summer tends to bring a lot of sticky leftovers, like fingerprints on the wall or carpet stains across the floor, so now is a great time to spruce up the foundation and rejuvenate the space back to its former glory. Wash old drapes, wipe down glass and polish any wood that's been neglected over time.
Once you've cleaned and sanitized the area, then it's time to focus on the major players of the game.
The Table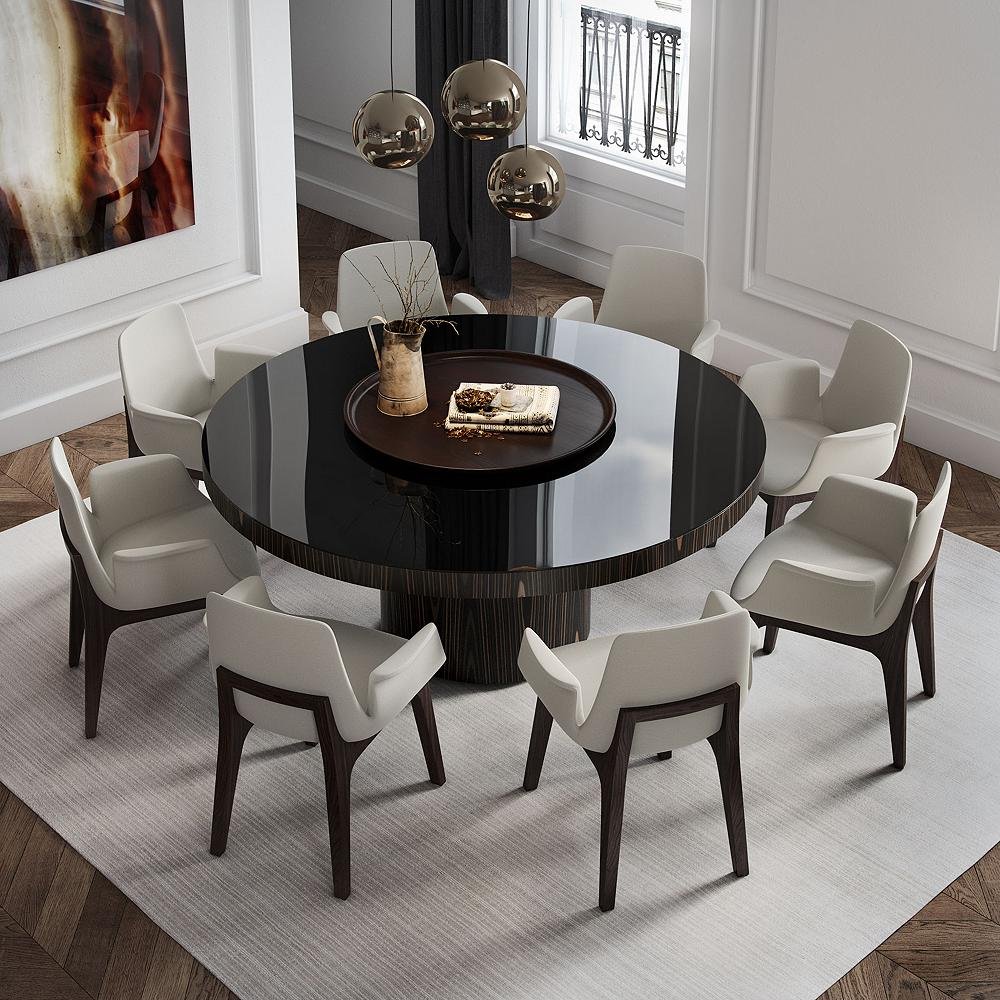 The obvious centerpiece for a formal dining room is the dining table. Installing a new one is one of the quickest and most dramatic ways you can update the space. For a real change, try mixing up the size, shape and even the materials that make it.
Just keep in mind adequate proportions. You need about two feet of elbow room for each person sitting at the table. And you also need at least three feet around all sides of the table for proper clearance (with seats occupied or unoccupied). If you don't always need a lot of seating, try an extension table that will accommodate your extended family during holiday meals and then easily shorten back up for everyday dinners.
The Tabletop
Fall really is the time for warm hues and formal whites. Your dining room should complement the rich red, orange and yellow tones that have that signature autumn theme. Those and natural burlap textures on the tabletop will help to achieve this while conveying that bucolic, homespun feel.
"I love to add woven textures to warm up a space," says Siefkin. "Think baskets, linens and textiles in fall colors. Simple fall branches in tall bases make dramatic focal points."
The centerpiece display is potentially the grandest decorative statement in this space, so choose one that's filled with festivity and joyful harvest. Pears, apples and acorns are encouraged, surrounded by (a few) leaves and low-key foliage for good measure. Avoid overstuffing it with leaves or other pieces, as the centerpiece should remain elegant and blend naturally with the table.
Note: Be careful of choosing a centerpiece that's too tall. You'll want your guests to appreciate the décor, but not have it obstruct their view across the table. Keep things below eyeline so that it blends with the atmosphere, not overwhelms it.
Lastly, focus on touching up your dinnerware and silverware. Lay out elegant charger plates with natural or patterned placemats for your desired level of ambiance and formality. Position appropriate silverware, from left to right, for dinner and salad plates. Once you're sure you have your foundation set, finish the look with some fun glassware. Ceramic or glass make good options for holiday settings.
The Lighting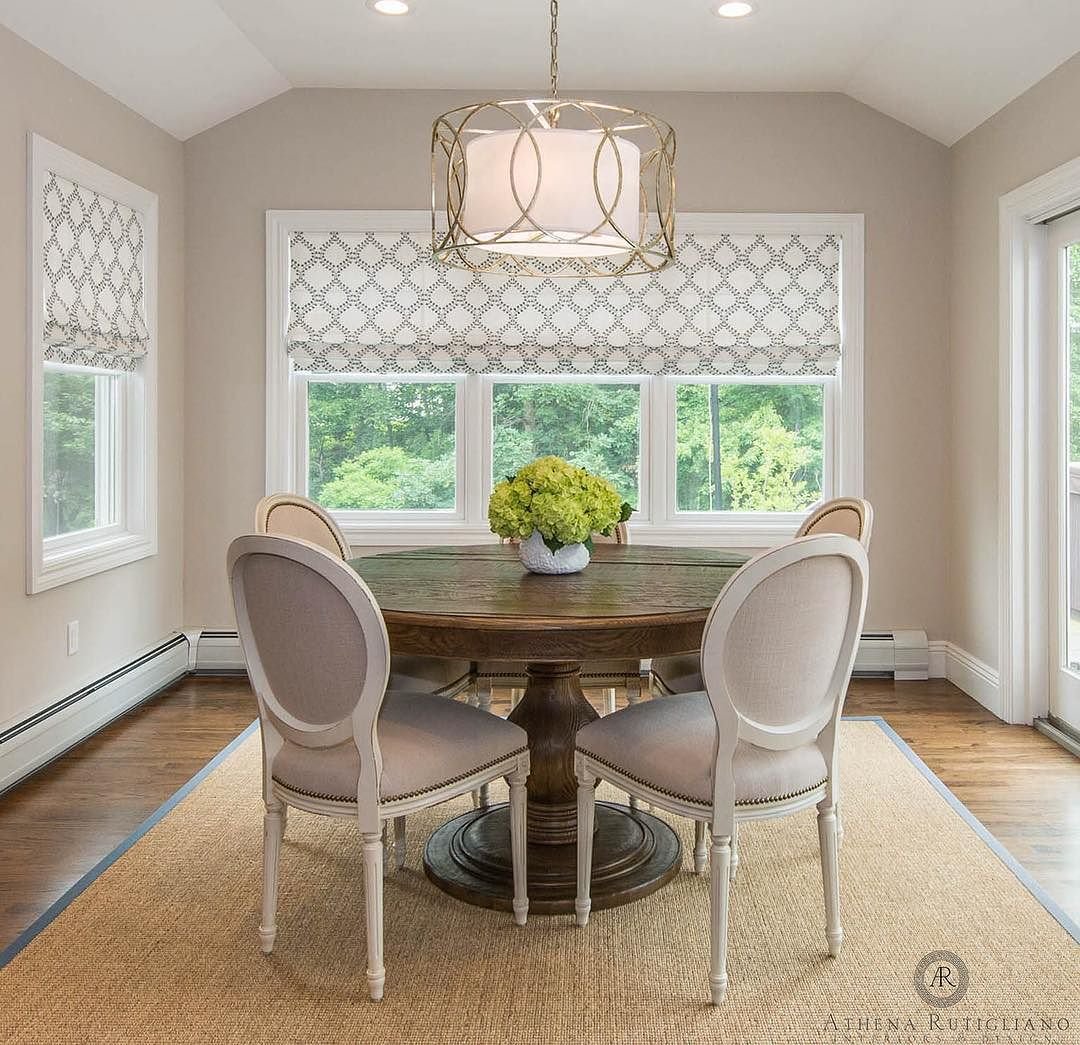 It should go without saying that candlelight is appropriate here. After all, what's cozier that a few dozen flickering flame tips? But you want to make sure there's some good general lighting to make the room feel warm and inviting. That's why, in addition to great decor, Siefkin recommends adding portable table or floor lamps for ambient light as needed.
To start, however, I say go with the chandelier; a beautiful chandelier over the table is pretty much the design convention in the dining room. Or, to complement an elegant yet casual sort of feel, a quaint drum pendant adds a wonderful overhead touch. The simplicity and class of such a fixture helps add the finishing touch over a magnificent dining table.
The Seating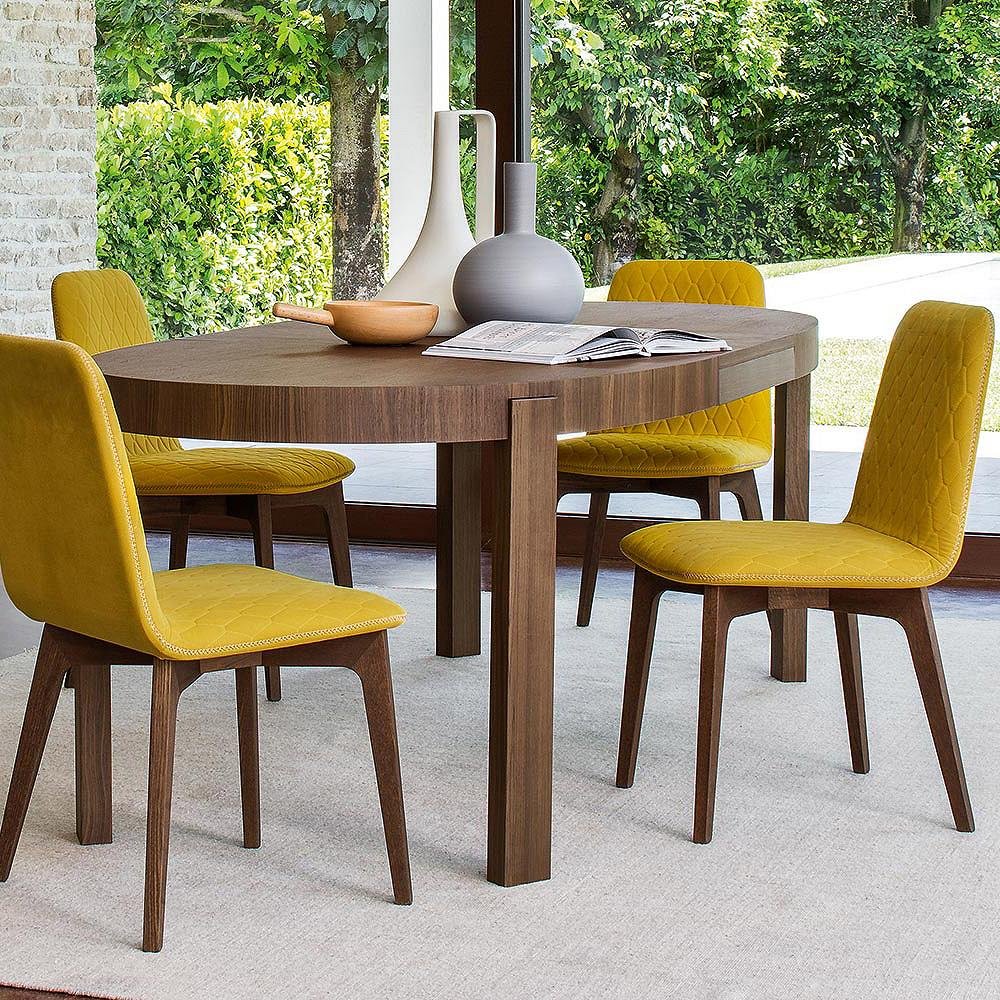 Around a new or existing dining table, new dining chairs are another great way to refresh the dining room. They need to be comfy, of course. When looking for new seating, classic ladderback chairs will give your room a tasteful transitional look that evokes feelings of togetherness and congeniality. Or feel free to go sleeker–and even more comfy–with fully upholstered chairs. You can try bright or natural-colored upholstery that ties-in with the rest of the table. Or if you still really like your existing chairs, sprucing up old seating with new seat cushions will reinvent them completely.
Be sure to take care of these basic must-haves before you start accessorizing the room. Have a clear understanding of what your dining table needs, and more importantly, how much is too much. You want your setup to be comfortable and spacious without overcrowding it with random bits and pieces of décor. If you've taken care of the basic needs, your guests will fill in the rest with good conversation and an overall sense of camaraderie.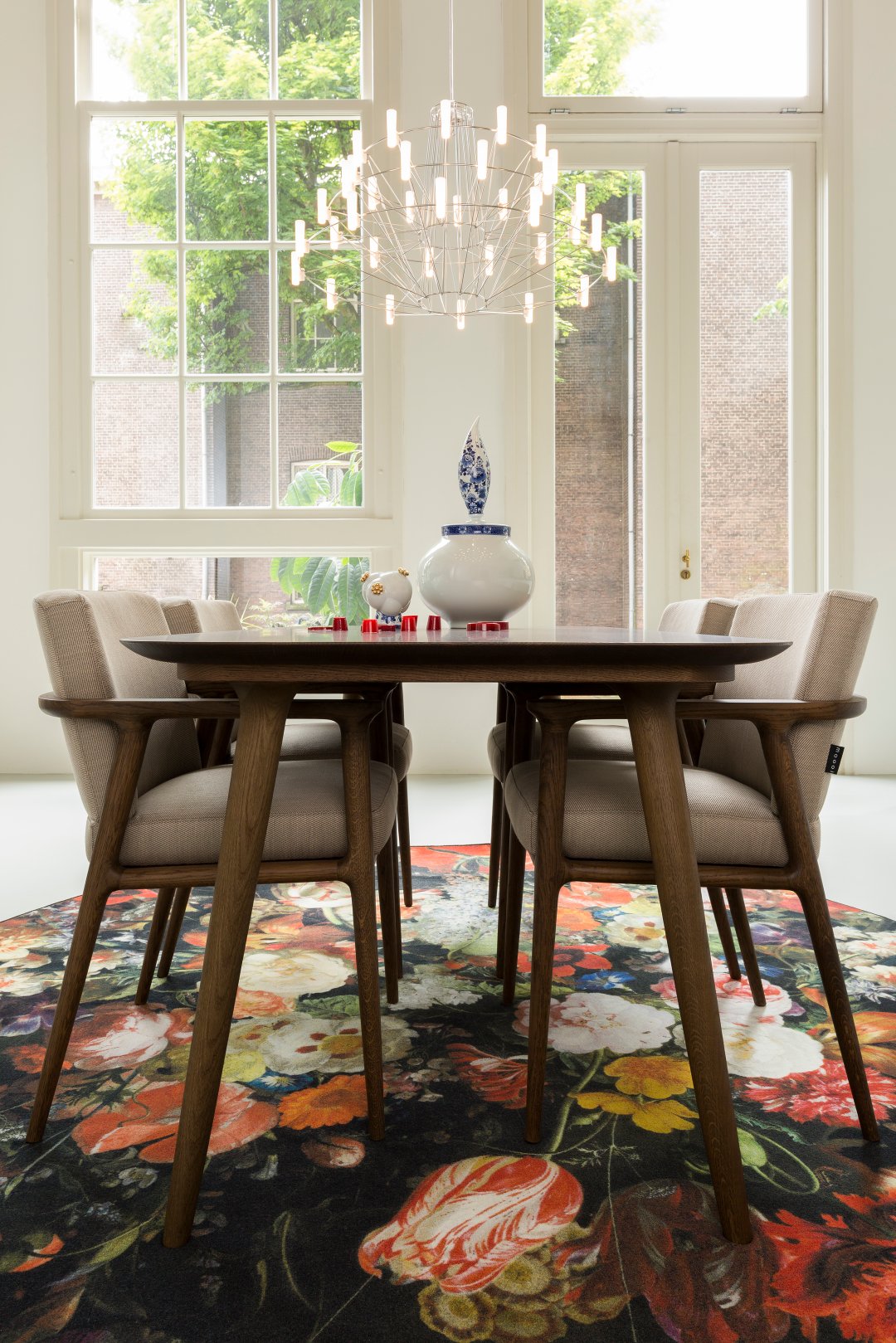 Keep spare dishware and silverware for backup and make sure cleaning aids are nearby for emergency spills. With everything in its place and a fresh, new theme, your dining room is ready for all your end-of-year celebrations.