When it comes to finding new outdoor lighting, your favorite design style is important. But it shouldn't stop there. In addition to aesthetics, you want to make sure that you're choosing the right fixtures for security, durability, curb appeal and wayfinding (being able to see how to get from one location to another). And they should meet local municipality requirements, if there are any.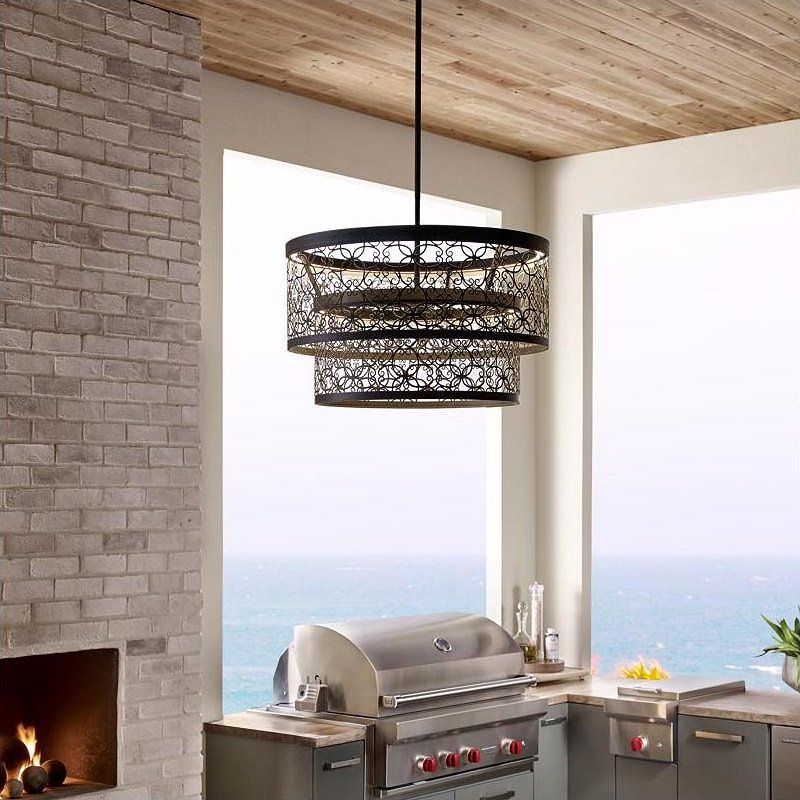 Different Types of Outdoor Lighting and Their Uses
There are many outdoor areas around a home which could benefit from different lighting types or categories, such as:
The front or back door—Look at wall sconces. In situations where the front or back entry of the home is symmetrical and has room on either side, you should buy two sconces to flank the door.
A covered back porch or patio—In addition to wall sconces, would an outdoor pendant, chandelier or ceiling fixture add even more style or anchor an outdoor entertaining area?
Steps—Installing step lights (lights inset on stair risers) is a consideration for new construction. But with existing construction, it might be easier to install bollards (short vertical posts), path lights (even shorter vertical posts) or post lights (tall posts with light sources on top).
Driveways—Also use bollards, path lights or post lights.
Garage doors—Large flanking sconces or flood lights.
Landscaping—Uplights can be used to highlight water features, flag poles and greenery.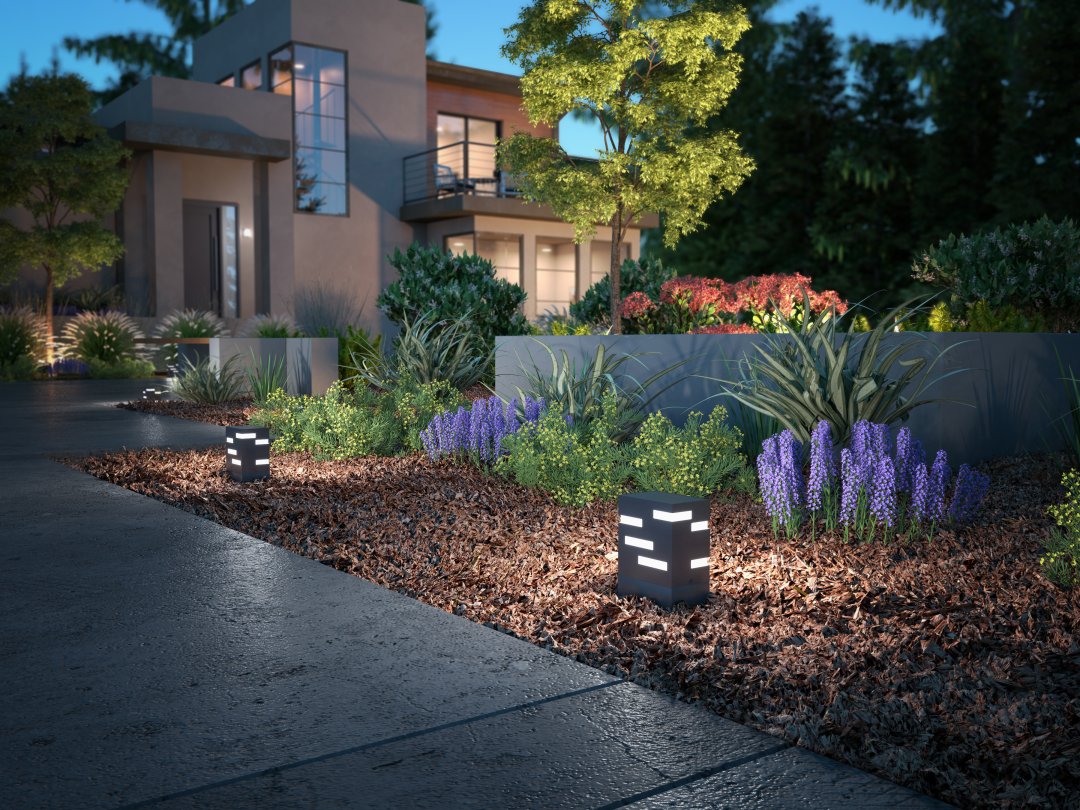 LED Lighting
According to the US Department of Energy, consumers use more electricity on outdoor lighting for more hours per day than any other area in the home. This makes sense, because we typically keep our outdoor fixtures illuminated from dusk until dawn for an extra layer of security. While buying outdoor lighting that uses LEDs might be a bit more expensive at first, they pay off in the end by lasting longer and using a lot less energy (up to 80 percent less than standard incandescent lighting). LEDs also stay cool to the touch and produce the highest amount of lumens (or, brightness) per watt.
When dealing with LEDs, become familiar with "CCT," correlated color temperature. Measured in degrees of Kelvin (K), CCT communicates the tone of the fixture's light. Warm light is typically 2700 to 3000K, while 3500 to 4000K is a cooler, white light. For residential use, a warmer color may be preferable, unless you have an ultra-modern home. You also don't want your outdoor lights to be too bright—your home is not a prison—so look for lighting that's bright enough to easily see the way in the dark, or if you're at a door, to effortlessly find your keys.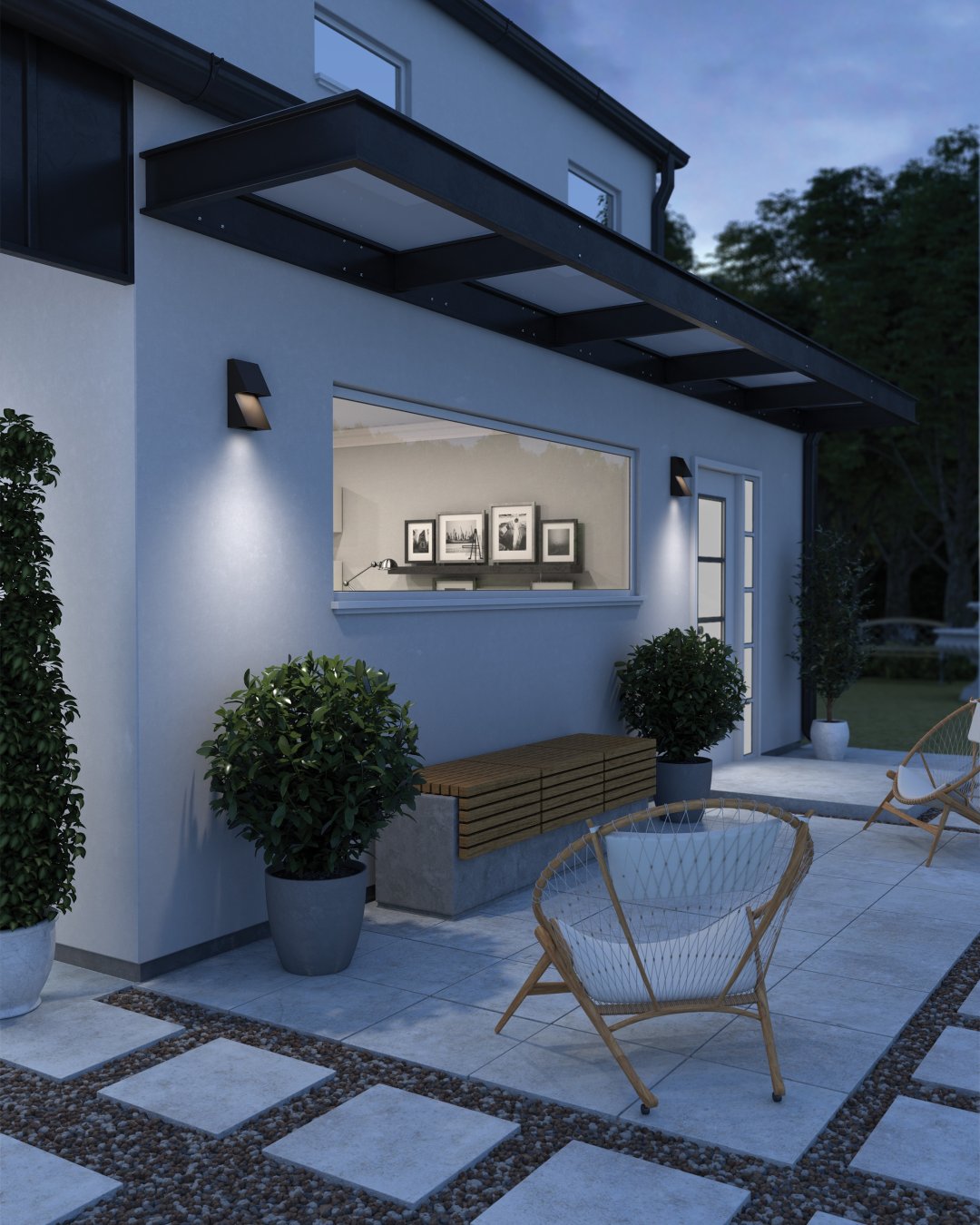 Dark Sky Compliance
Before buying any outdoor lighting, check with your local municipality to determine if there are any regulations or rules, such as a Dark Sky requirement. Dark Sky compliant fixtures reduce light pollution into the night sky, help to keep stars visible from the ground, and importantly, reduce the negative effect light can have on nearby wildlife behavior and reproduction.
Durability + Ratings
In the US, lighting fixtures must have a rating to help you determine the appropriate application. Common ones you'll see are UL (Underwriter's Laboratory) or ETL (Edison Testing Laboratory, Intertek), which designate where the fixture was tested. These ratings are usually broken down into three levels: dry locations, damp or wet locations. (Go here for more info.)
Outdoor fixtures should be "wet-rated" if they're going to be directly exposed to weather. Those that will be under a covered porch or patio and won't get direct rain or snow need to be at least "damp-rated."
Another one you'll see a lot, IP, or Ingress Protection, is an international designation that offers a bit more detail than UL or ETL. This is determined by the two numbers that follow IP. The first number designates its solid protection, and the second number its liquid protection. "IP65," which is the most common for outdoor fixtures, means the fixture is safe from dust intrusion and water from low pressure jets. "IP66" means it's resistant against dust and high pressure water jets. An "IP67" rating means it's protected against dust and temporary water immersion.
Materials
Many homeowners choose "IP" rated outdoor fixtures because of their extra durability, especially if they live in coastal areas with salt air or in areas of extreme weather. If you want to spend less money, look at the fixture's material make-up. Look for wet-rated fixtures made of aluminum or that have marine-grade finishes—both are more resistant to rust and corrosion.
Another substantial material to consider is StoneStrong, which is made from emery rock, ground marble and a latex composite; StoneStrong withstands moisture and temperatures from -20°F up to 120°F.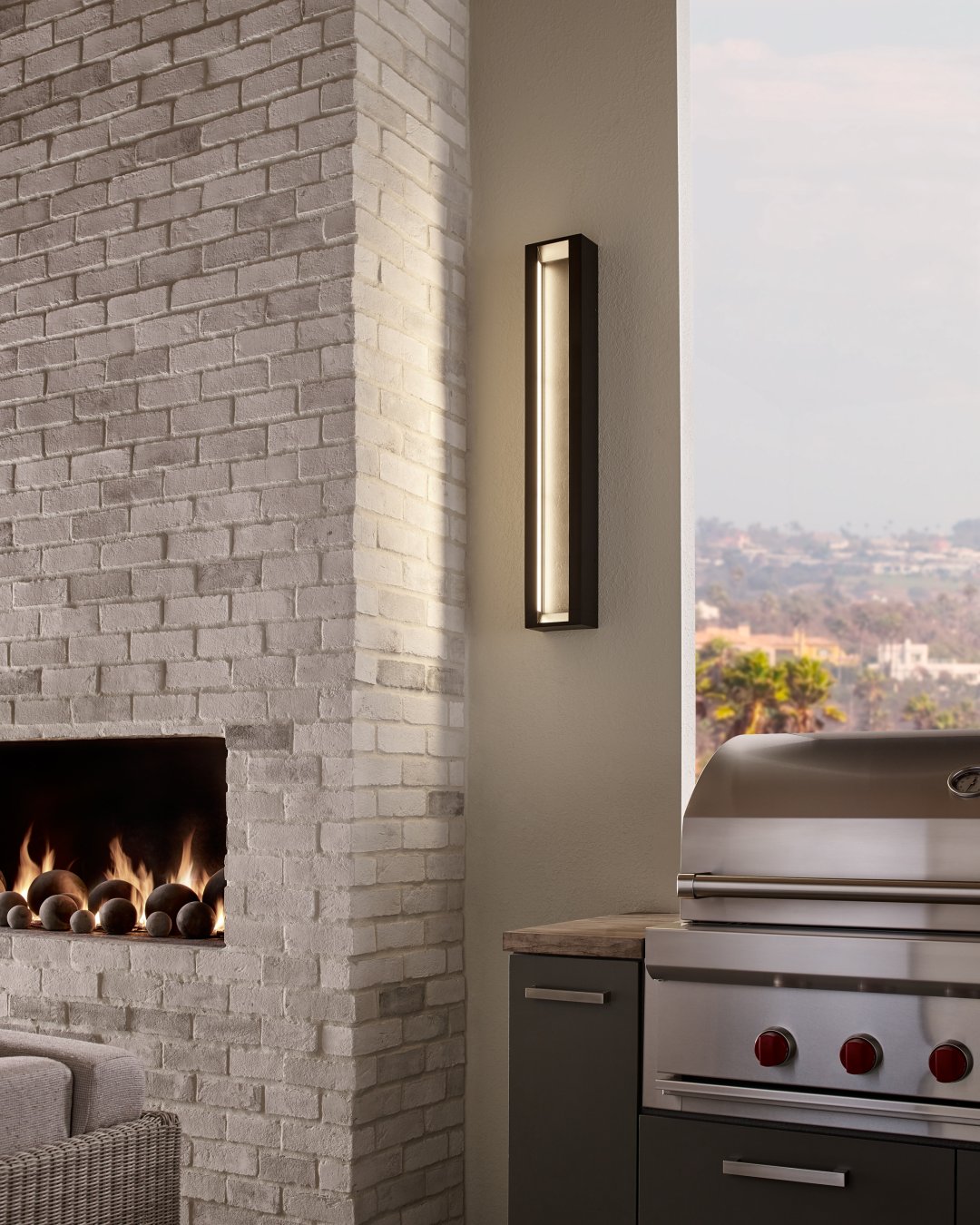 Finally…
Other things to keep in mind:
Don't settle for a warranty less than five years.
Seek the advice of an electrician to either start small with front and backdoor lighting, or, if your pocketbook allows, to design a complete outdoor lighting approach for all your home's exteriors and landscaping.
Buy varying types of lighting with varying levels of brightness for the right function.
Shop for outdoor lighting to satisfy your design style. But also look for lighting that is safe for outdoor use, will last for at least five years and will require little maintenance.