When most of us think of chandeliers, we envision the traditional circular or bowl-shaped rings of multi-tiered lighting, dripping with crystal prisms and other adornments.
While traditional chandeliers still have their place, modern chandeliers are being reimagined. It's the non-traditional, deconstructed chandelier trend that's making its mark in an increasing number of homes. Typically modern or contemporary statement-makers, these chandeliers give a room a bold punch of style.
Deconstructed chandelier design is just like it sounds. It's disassembling the traditional rounded, tiered chandelier and rebuilding it in a non-traditional shape. In addition to the sheer desire for designers to create something new, there are several other factors that make such unique designs possible.
New Forms with LED Technology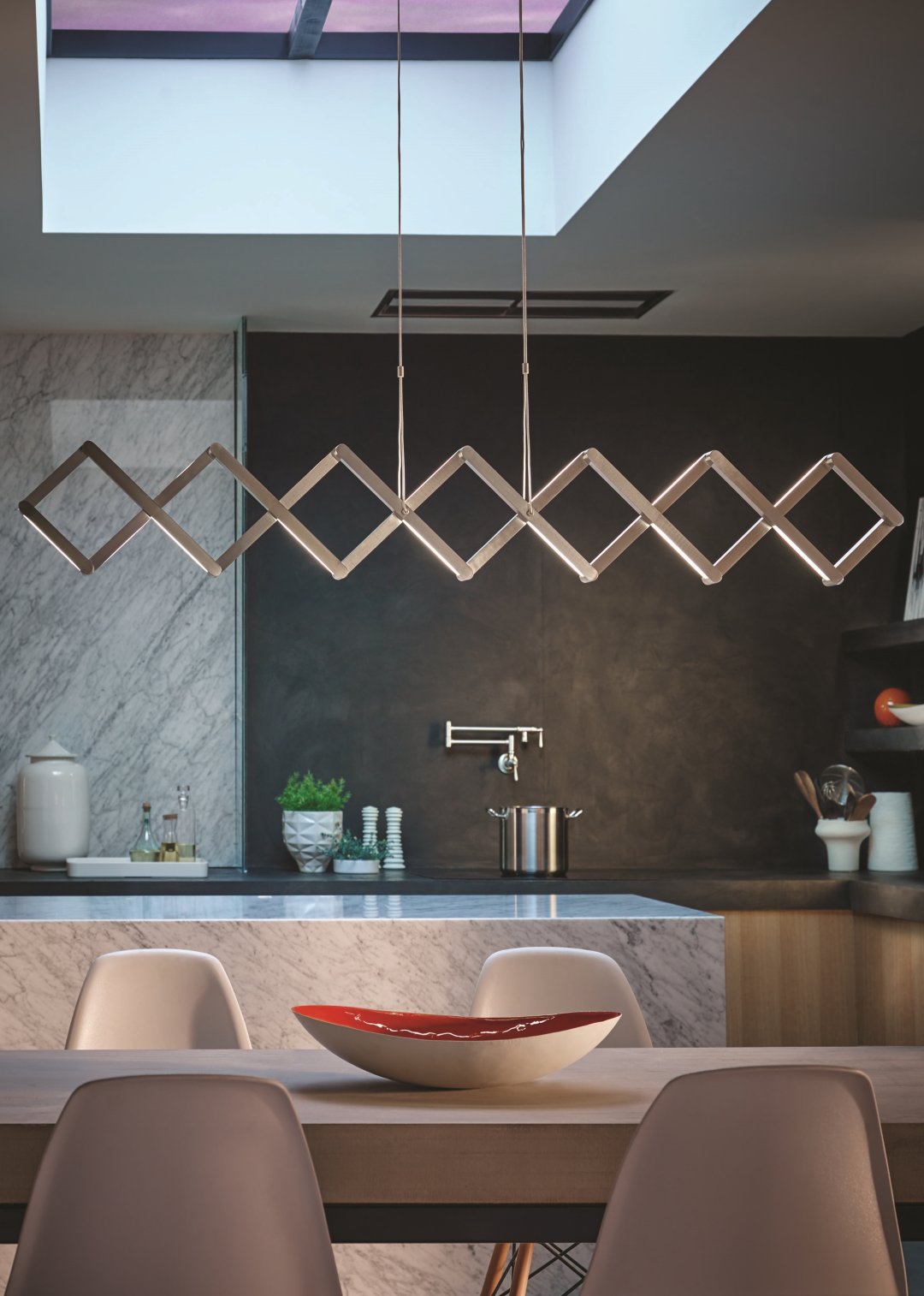 With the ever-advancing technology of LED lighting, lighting designers are now able to make interesting forms and deliver slim, shallow dimensions that they couldn't do before with conventional light sources. As an example of a modern deconstructed chandelier, the Xterna has a light source that comes from upward and downward firing LEDs embedded in its frame. They are gradually revealed as it extends from a 7" to 76" width—and it's depth is only 2". Because it's so unexpected in form, Xterna won a coveted LIGHTFAIR® International Innovation Award.
Unusual Materials and Bulbs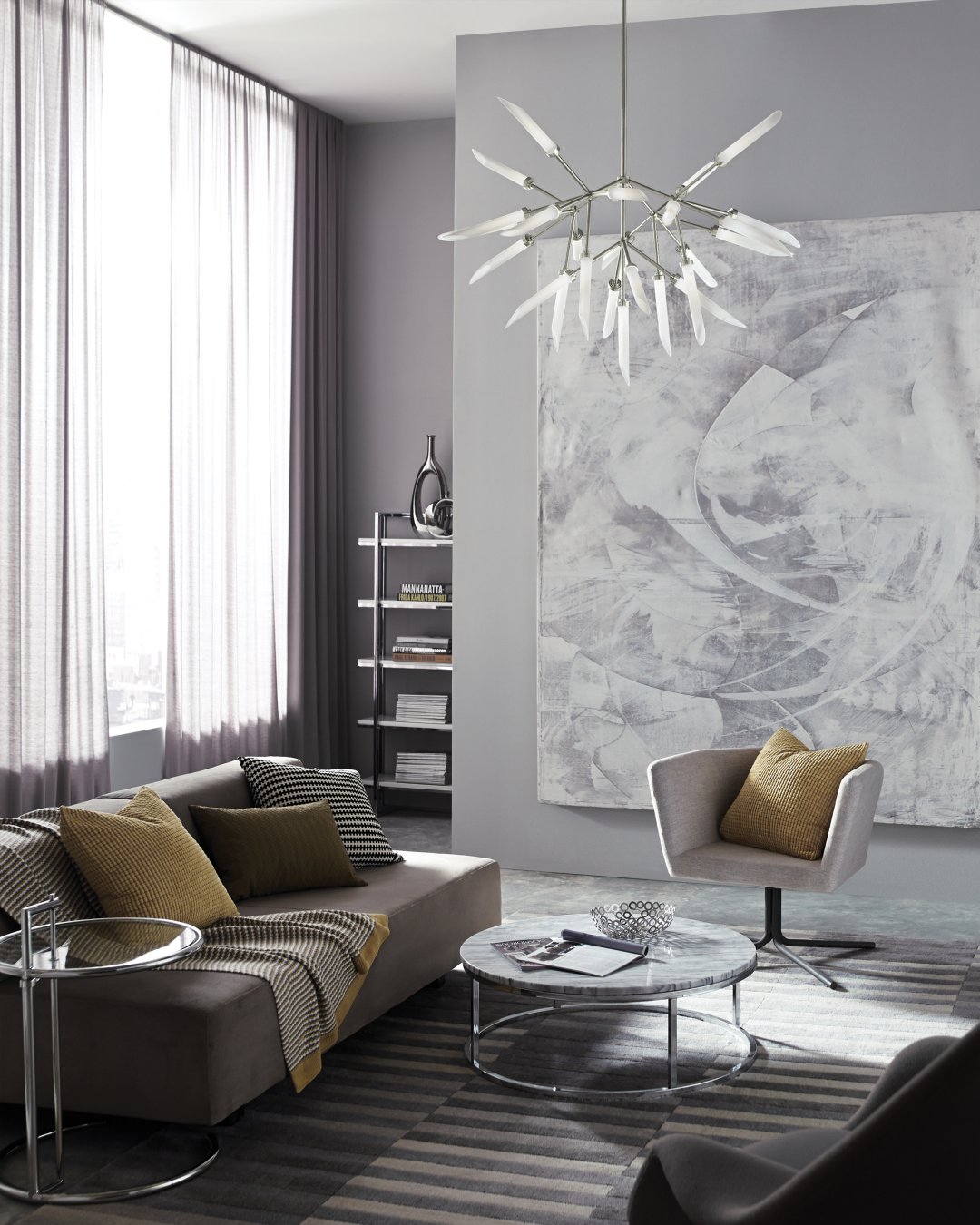 Experimentation with new materials is also fueling the non-traditional chandelier movement. Moldable plastics, glass, wood and even paper and concrete are being used to create lighting that has the same gleaming presence as a traditional chandelier but with a modern twist.
For example, the Spur Chandelier is a completely modern interpretation of the classic multi-arm chandelier, but instead of traditional bulbs on its extended arms, LED light sources are hidden in its 25 unusually shaped glass spurs.
Linear Chandeliers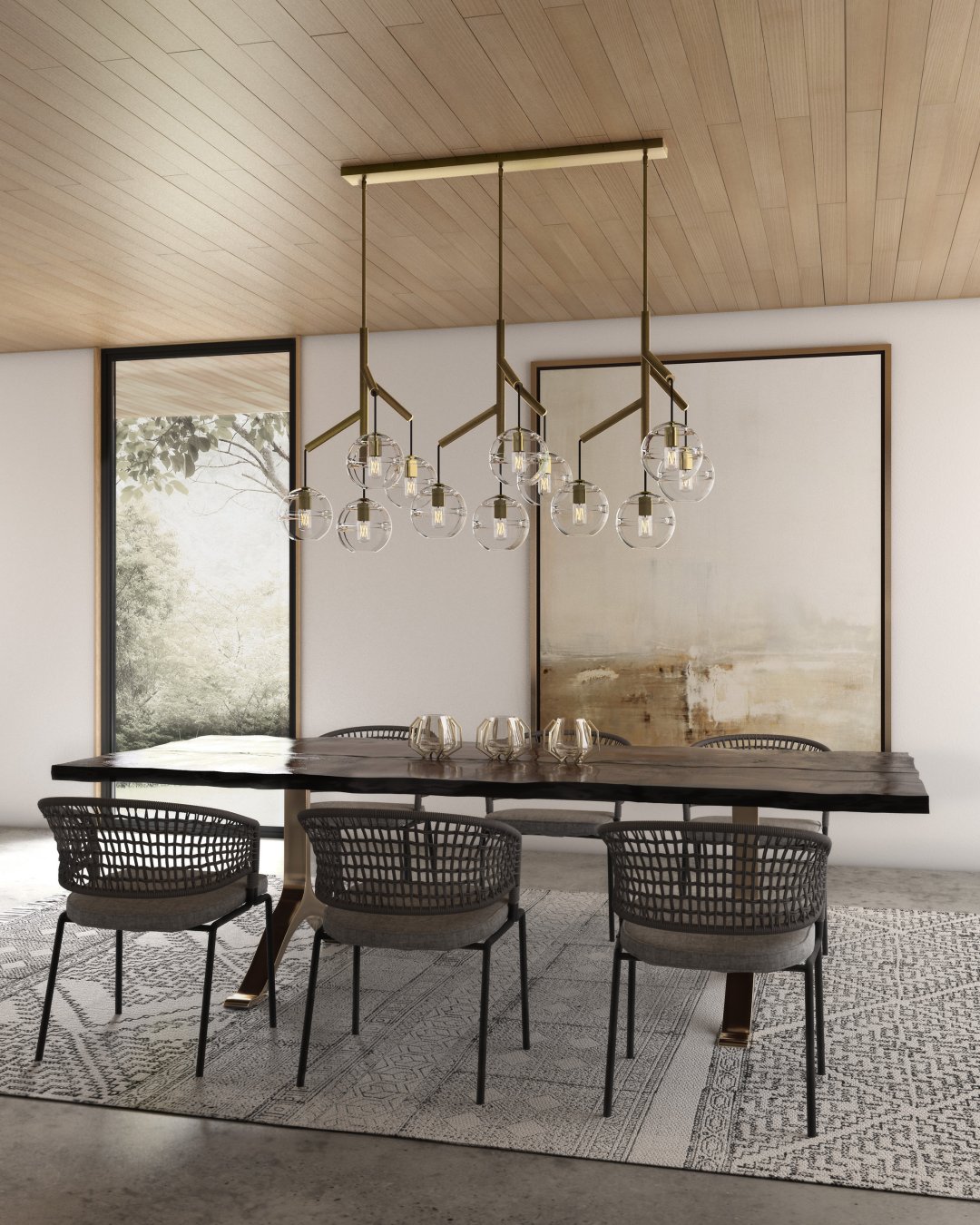 These types of lighting fixtures are different from the traditional chandelier's orientation and shape. Linear chandeliers—also referred to as "linear suspension" lights—are rectangular or oblong. With a prevailing longer alignment, these types of suspended fixtures are perfect for long spaces, such as over a long table or kitchen island. In addition to the functionality and proportionality that a linear chandelier brings, it also adds visual interest.
Chandeliers Made With Pendants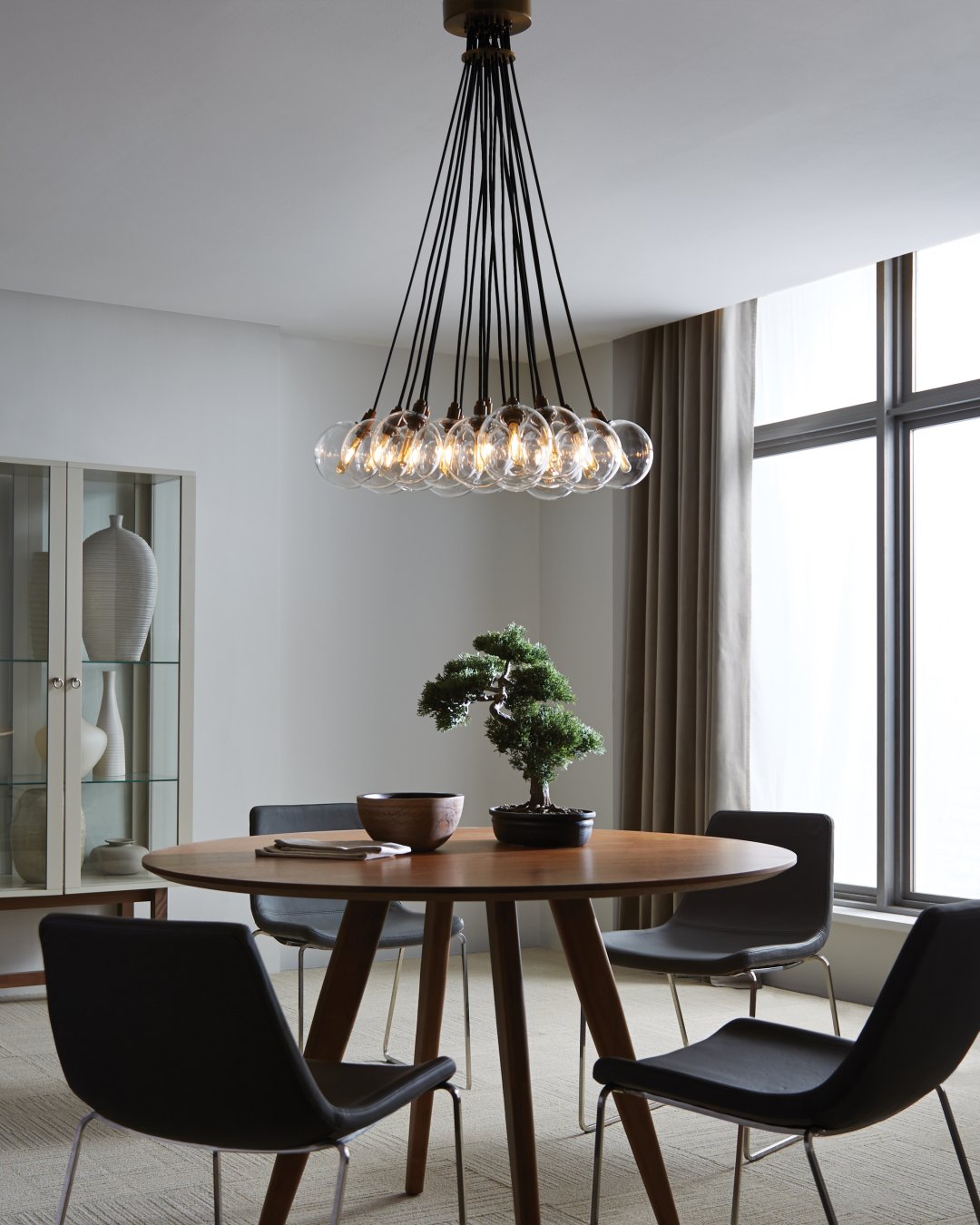 One of the ways to make a truly unique and customized deconstructed chandelier is with clusters of pendant lights. Unlike a single hanging pendant, many can be installed together with a multi-port canopy. These lights can be bundled into a single bouquet form—or can be hung at varying levels to create a custom work of art. Further individuality can be achieved by choosing different sockets, cord lengths, cord colors, hardware finishes and bulbs.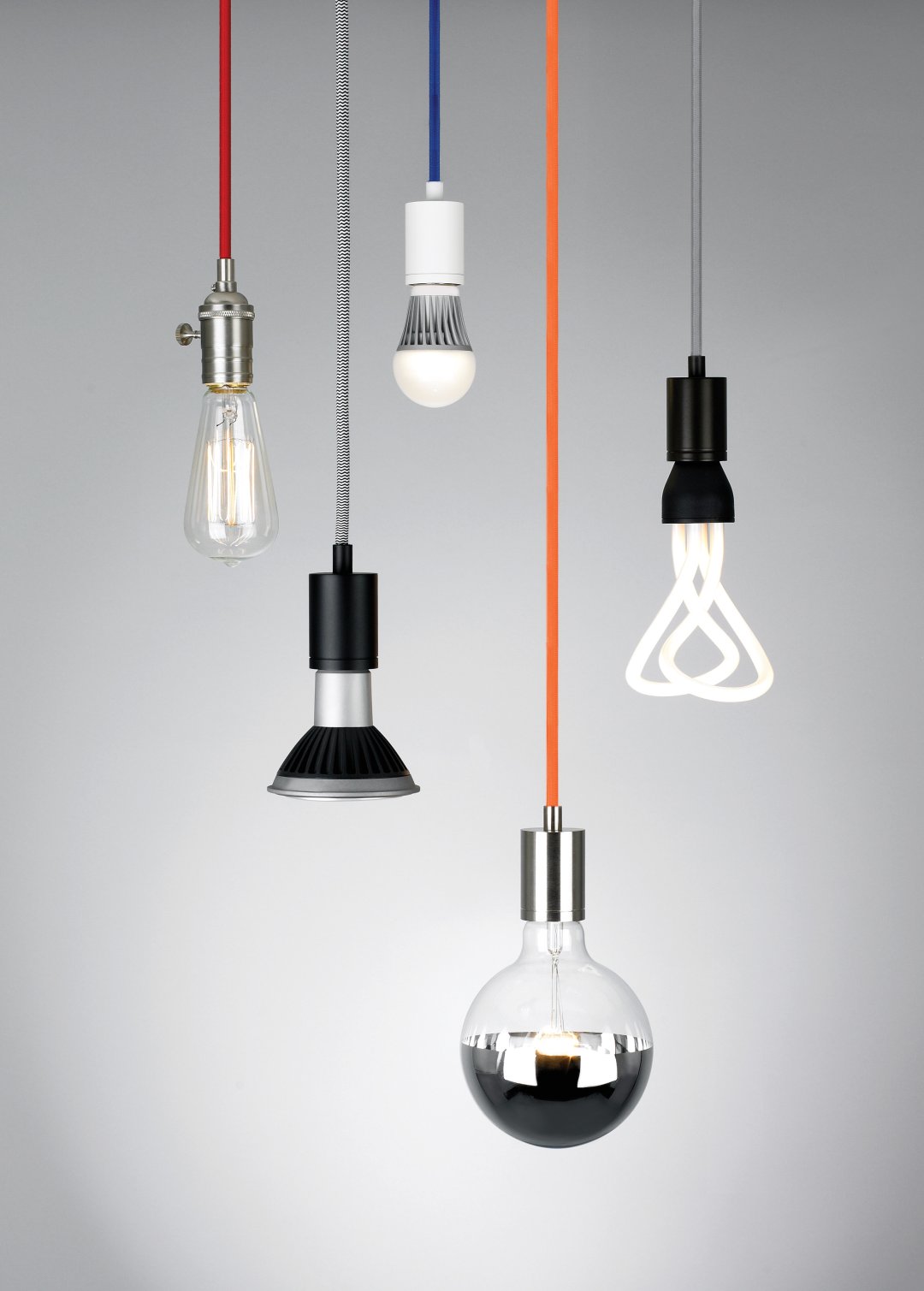 Think Out of the Box
Due to growing design innovation, lighting fixtures—and especially chandeliers—now come in a wider array of styles and shapes than ever before. If your spaces are modern, contemporary or eclectic, think out of the box and choose a non-traditional chandelier to make a big impression.