Every May, ICFF (International Contemporary Furniture Fair) explodes onto the design scene in New York, with hundreds of designers from around the world showing off their newest and best furniture, lighting and decor designs. We had the chance to attend once more this year, and are pretty excited by what we saw. We saw a number of emerging and continuing design trends, fun and amazing displays, plus designers we know and love trying new things.
Glamour-Enhancing Color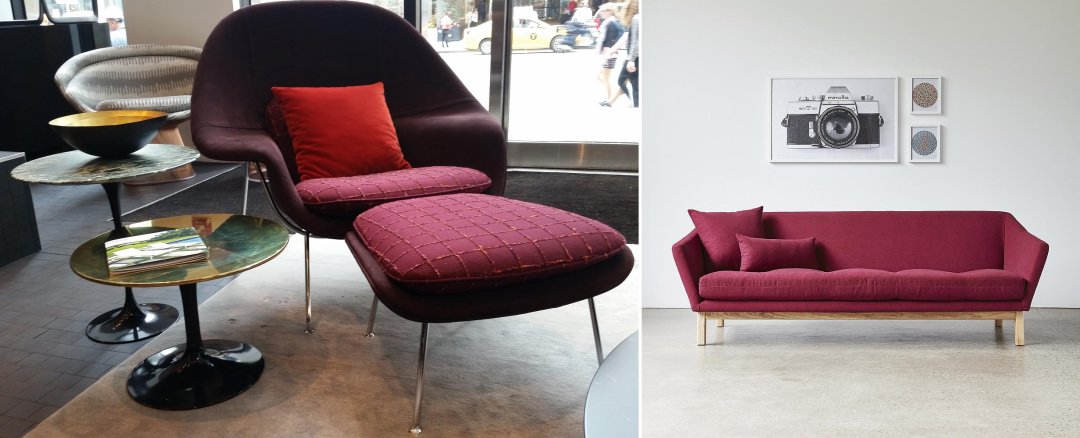 Jewel tones featured heavily across product categories at ICFF, but their effect was particularly dramatic when used in larger upholstered furniture. In that context, deep reds, blues and greens enhanced the sense of luxury. With such a visual cue, the plush feel of these pieces was simply a promise fulfilled.
Richness was also evident in some of the metal finishes we saw. Dark grey gunmetal was a popular choice for enhancing certain designs' industrial elements. And rose gold made a warm, blingy appearance next to bright brass (polished and matte) and dark bronzes. Dare we say it, but we predict rose gold will come on strong in the coming months and years to unseat copper as the current king of glamorous finishes.
All About Presentation
What became apparent as we went through the fair was that–as much focus there was on the actual product designs–quite a lot of attention was paid to their surroundings. It makes sense that brands would want their displays to show off their designs to their utmost. This year, though, particularly dramatic installations demonstrated just how much display designs affected our emotional responses to, and engagement with, the products shown in them.
Flos, for example, set a playful tone with its comprehensive homage to Achille Castiglioni and his numerous lighting designs. Tom Dixon allowed visitors to take part in the manufacturing process (of the popular Etch Pendant) with its Flash Factory pop-up. Foscarini altered perceptions with an "Alice in Wonderland"-like display, including a dark and dramatic upside-down section paired with a colorful funhouse to show off oversized lighting designs. Niche Modern embraced social interaction with a booth that encouraged shareable selfies with clusters of their new lighting designs. The list of installation showstoppers goes on and on.
Coming Full….Well, Semi-Circle
The globes and stems look is still going strong in the world of lighting design. But the lines of those stems are starting to take a decided turn…literally. Several lighting designers at this year's event featured designs with semi-circular forms; kind of a minimalist representation of the swags found in traditional chandeliers.
Going Natural with Finishes
Throughout ICFF, woods, natural stone and metals were allowed to show off their natural beauty. This was both a reflection of manufacturers' reverence for such materials, as well as growing consumer demand for designs that are modern and luxurious yet accessible and natural-feeling.
Additionally, we found many designs that brought several of these natural materials together into one piece of furniture or lighting. In terms of composition, we found this "mixed materials" approach to be endlessly creative. And the contrast between the materials used together only served to enhance their distinct aesthetic presences.
A Bent Toward Experimentation
What was really interesting to us was from whom some of these material choices came. Several brands known for using certain materials have gone out of their comfort zone. For example, Cerno, known primarily for their use of natural woods and frosted polycarbonate, have started using materials like marble and stretchable fabric in their clean, sustainable designs. And Graypants has expanded outside of recycled cardboard into radially milled brass and steel to create lighting that looks likes flying saucers. The tendency these and other brands have shown for trying new things has us very excited to see what they'll come up with next.
And we can't wait to bring them to you in the months to come. Stay tuned.