As the year winds down and we settle into the winter months, something magical happens to the interior your home. Twinkling decorations go up, baked goods sweeten the air, and suddenly your home becomes a welcoming holiday retreat for you and your friends and family to enjoy all season long.
But what if the usual standbys of reds, greens, silvers and golds don't work with your existing décor? If your home is on the more modern end of the spectrum, we have found ways to still feel festive while putting a modern spin on holiday tradition. You'll be sure to get into the spirit when you deck the halls with these unexpected ideas this season…Take a look!
On Holiday in Scandinavia
There's something special about the light in Scandinavia once winter hits. Between the snowy landscapes outside and the neutral color palettes on the inside, it's no wonder Nordic homes have a brightness to them during this time of year. Scandinavians are known for simplicity and natural materials in their modern designs, and when it comes to holiday decorating, they follow a similar set of principles.
When decorating for the holidays, candlelight is a popular feature because of the warm and cozy ambience it provides. By substituting candles for electric string lights on this tree, this traditional evergreen manages to blend perfectly with its modern surroundings.
And for the table, simple place settings, light wood tones and sprigs of pine make for a quintessential Scandinavian tablescape to try for your next holiday feast.
Reinvent the Tree
If you would rather take a minimalistic approach to the traditional fir tree, then take a look at these singularly festive alternatives.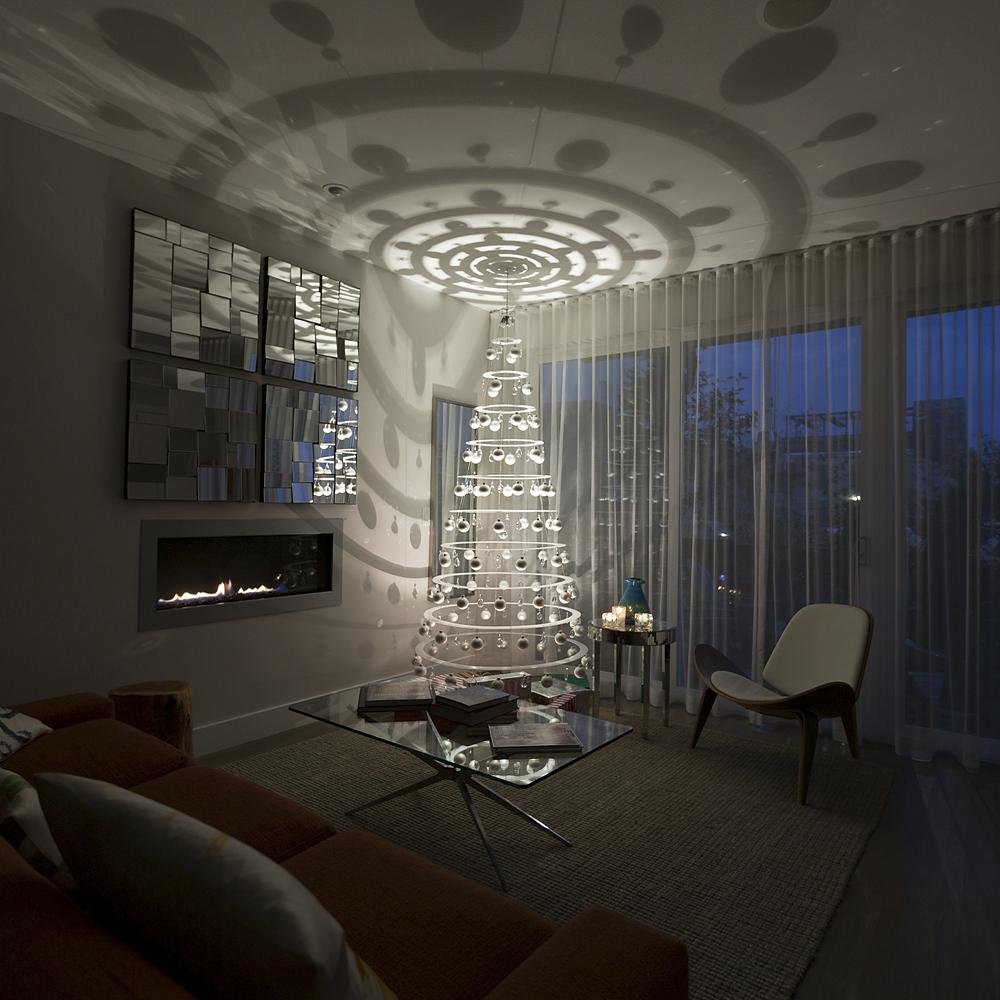 Modern Christmas Tree has outdone themselves with this modern tree in silver and pearl. It has all the trimmings of a traditional Christmas tree…just without the tree itself. The stunning part is that the light comes from below, magnifying the concentric rings of the structure and ornaments against the ceiling.
For something a bit more abstract (and space-saving) this tree is made by layering strips of garland against the wall. No other ornamentation necessary!
Décor of a Different Color
In the spirit of modern design, think outside the gift box when it comes to a holiday color scheme. Apart from the tree, the wreath and ball ornament might be the most classic, but by referencing the whole color wheel, they turn traditional decor on its head in a really cool way.
Classic Refresh
In order to create a modern look for your home this season, you can still blend classic holiday decorations with modern elements. By focusing on one metallic accent like this gold mantelpiece, the space feels well-rounded and luxurious—not over-the-top. And by slightly tweaking a traditional wreath with an exposed geometric structure, the modern style you want is clearly communicated.
Happy decorating!