If you're familiar with modern design, you've most likely heard of Philippe Starck. A prolific designer from France, Starck is responsible for over 10,000 creations, spanning across all areas of architecture, interior and product design. Throughout all of Starck's designs, whether large or small, there are particular design elements that are undeniably "Starck."
Among the many projects in Starck's portfolio, you'll find an overarching theme of nightclubs and restaurants. Given his larger than life personality and flare for the dramatic, it's no surprise. It also makes these types of spaces ideal for starting to see how Starck's distinct design style signature imbues all of his designs, large and small.
KONG Restaurant & Bar (Paris, France)
Opened in 2003, Philippe Starck's signature style can't be missed throughout the interior design of KONG, or as stated on its website, "this UFO that landed on the rooftops of Paris." The space is located at the top of a Haussmann-era building and features arched glass walls on three sides of the oval space. While the building has a classic Parisian architecture style to it, Starck transformed that traditional style into something modern.
In many of Starck's designs, you'll find he works with sleek lines, reflective surfaces, translucency where you least expect it, bold and playful graphics and the modernization of classic style. From the ceiling to the floors and everything in between, every element of KONG's design reflects Starck's tongue-in-cheek style.
As you make your way through the bar and to the restaurant, you'll see Starck has incorporated all of these elements, beginning with his re-interpretation of a Louis XV chair. In the restaurant space, he uses the transparency of the Ghost Chair (which he designed the year before for Kartell) to mimic the curves of the windows and let the room's light travel unimpeded. He also uses the backs as canvases for the artistic renderings of women's faces.
Then, in the darker bar area, he shifts from transparency to the opaque, reflective surfaces of polished aluminum Kong Stools, to help bounce the light around the room.
Each space includes playful and graphic elements in unexpected places like the floor, ceiling and chair backs to add a sense of fun and play, while the reflective theme is carried throughout on other surfaces.
Louis Ghost Chair (Kartell, 2002)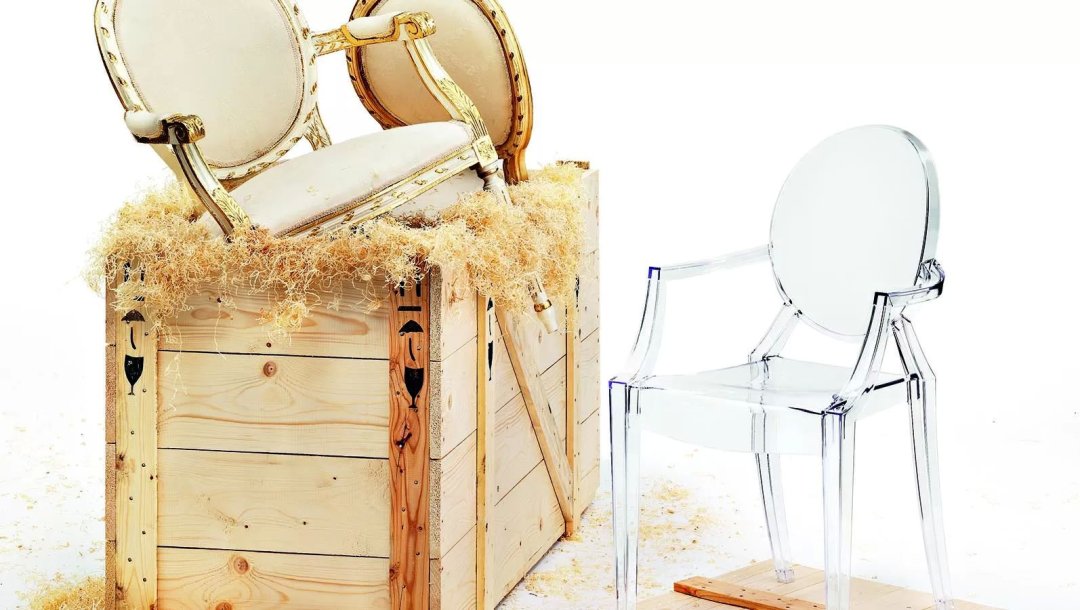 The quirky star of KONG, Starck's Louis Ghost Chair is an easily recognizable iconic design. With it, Starck took the classic Louis XV Chair and reinvented it in clear plastic (now also with opaque options). The creation of the chair required significant technical innovation, another element Starck thrives on. A single mold is used to keep the chair completely transparent and hardware free.
By boiling the original ornate design down to its most basic lines, Starck gets to its essence. With its streamlined form and unusual material, the final see-through result is at once a tribute and a tease; familiar-looking, yet a call to break away from what's normal and expected. Basically, it's a perfect exemplar of Starck's overall design ethos.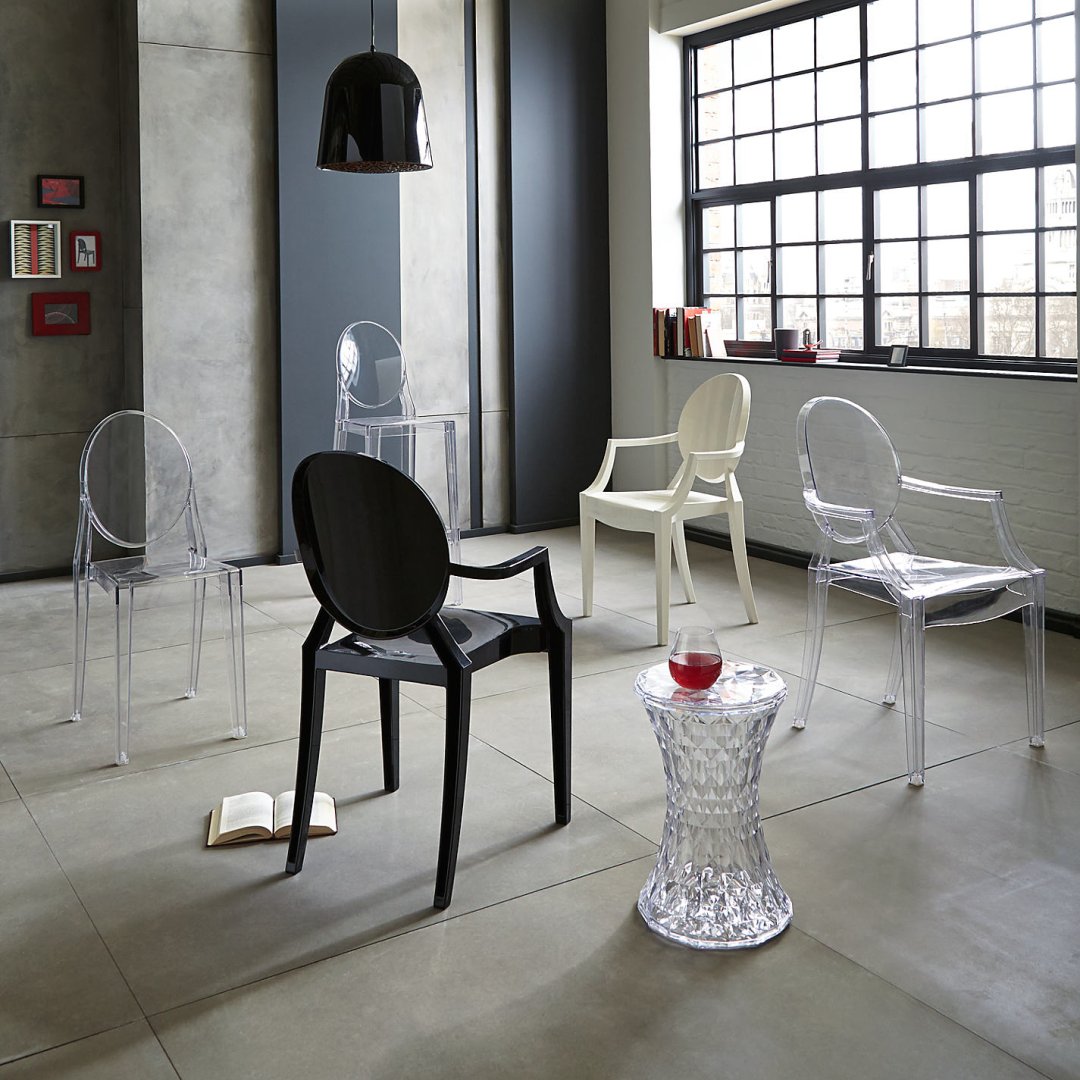 The Louis Ghost Chair isn't the only time Starck has played with transparency. With Kartell, he has developed a multitude of transparent chairs and stools inspired by other traditional styles. And with Emeco, Starck replicated a similar traditional outline, albeit using opaque aluminum.
Innovative and subversive, Philippe Starck's designs are truly something else. His unconventional use of materials and humor make any of his designs, small or large, stand out in the crowd.