I recently re-watched Ang Lee's 1995 film interpretation of Jane Austen's Sense and Sensibility (for the thousandth time), and with all the pastel wall treatments and simple furniture pieces, I got to wanting my own country getaway. Inspired by Rachel Ashwell's shabby chic eye for design and a classic chandelier from Lumens.com, turning a theme-less room into a Jane Austen paradise is simpler than I thought! I am a huge fan of modern design, but there's just something so relaxing, friendly and cozy-clean about shabby chic.  And as technology grows up around me like an out-of-control vine, I find I'm drawn more and more to antiques and shabby chic decor. The handmade quilts and rustic furniture pieces found in such rooms are surprisingly refreshing. It's like taking a catnap in the afternoon sun, being in a shabby chic room.
While I have all the appropriate shabby chic furniture to create my own English cottage space, the only room I can currently redecorate faces north and hardly ever sees any natural sunlight. How do I light the room? What's the best way to capture that same warm and sleepy sunlight without any help from the sun itself?
I looked through Rachel Ashwell's shabby chic website for some lighting inspiration and came across a gorgeous 8-light candelabra chandelier (seen above), beaded to the nines in white crystal and yet so clean and simple looking. What a great way to add natural-looking light to a shabby chic room!
My room is a bit smaller than the one in Rachel's shot, but the look she created is perfect. Here are a few of my favorite fixtures to get that same look:
Mini Crystal Chandelier No. 3123 by Minka-Lavery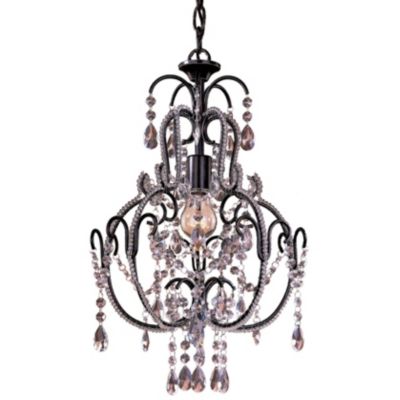 One wouldn't know it by looking at it, but the Mini Crystal from Minka Lavery is a wallet-friendly fixture trimmed with crystal accents.
Its frame is finished in a rich Taylor Bronze, an excellent color for bringing out any darker accents I may have in my furniture — dark pull-knobs, trinkets or picture frames. A single bulb causes each crystal to shine, and its rounded frame suggests a pseudo-enclosed fixture, cozy and intimate.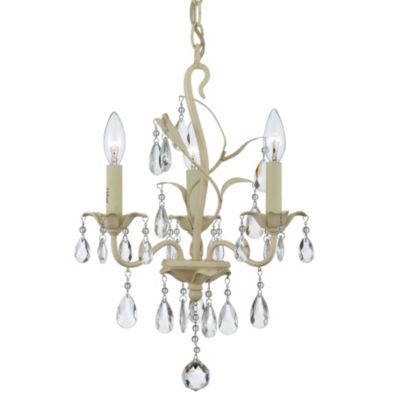 I love this chandelier by Quoizel because of its subtle leaf-and-crystal accents.
They add just the right amount of bling without making me feel like I'm at a disco. It's available as a 3-light or a 5-light fixture, and the name is in and of itself inspiring enough to encourage one to curl up on the couch with a good book. It's simple without being plain, sparkly without being gaudy.
And while my room isn't huge, I've got space (and a little extra cash) for a charming table lamp or two, great for creating that sun-kissed feeling I'm longing for while helping out with a little reading illumination.
Kichler Cheswick Table Lamp (discontinued)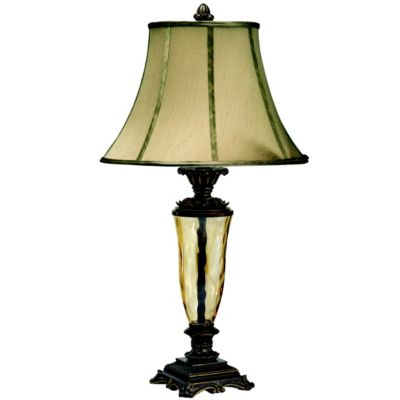 The Cheswick Table Lamp by Kichler Lighting has an antique-looking glass base as if it's right out of the early 1900s (I know, I know.. not exactly Jane Austen's time frame, but looks gorgeous!), tinted green for an even stronger old world feel. It's only $150 so I'm able to get two to match!
The room is coming together beautifully, and I'll soon be ready to put on a pot of tea and do some needlework. Or I might just curl up for a catnap in my own man-made sunshine. Doesn't that sound so… sensible?