The bedroom is holy ground for the modern American. It is a haven after several grueling hours of work and personal obligation, and a place of quiet in which we can center ourselves before sleep carries us into the next day. And yet, this room is often given the same attention and decoration as an oversized footlocker, reduced down to its most functional elements. Bed. Check. Nightstand. Check. Dresser. Check. Overstuffed hamper with hanging underwear. Check. Check.
Thankfully, with a little TLC, this neglected space can transform into a design-conscious platform of personal expression. Here are a few niche bedroom looks to help inspire you.
Mid-Century Modern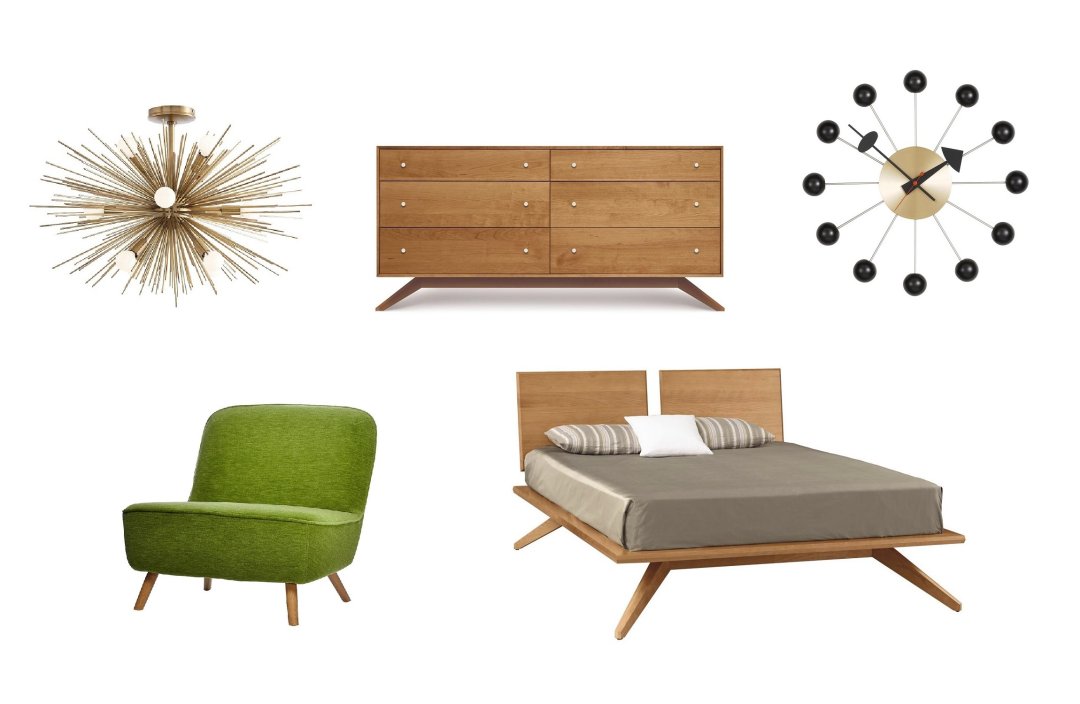 Give your bedroom a fun, retro feel with mid-century modern lighting and furnishing. Whether or not you deck the place out in shag carpet is up to you, but, if you want a more sensible approach to whet your nostalgic appetite, consider chandelier and bedside fixtures with an explosive, over-the-top mid-century aesthetic. Plump, platform bedding also comes to mind, faced by a pair of iconic chairs and a small coffee table. Take a look at the Zanadoo Chandelier for an unforgettable centerpiece, providing ambient light over an Astrid Bed and opposing Cocktail Chairs.
The Artist's Retreat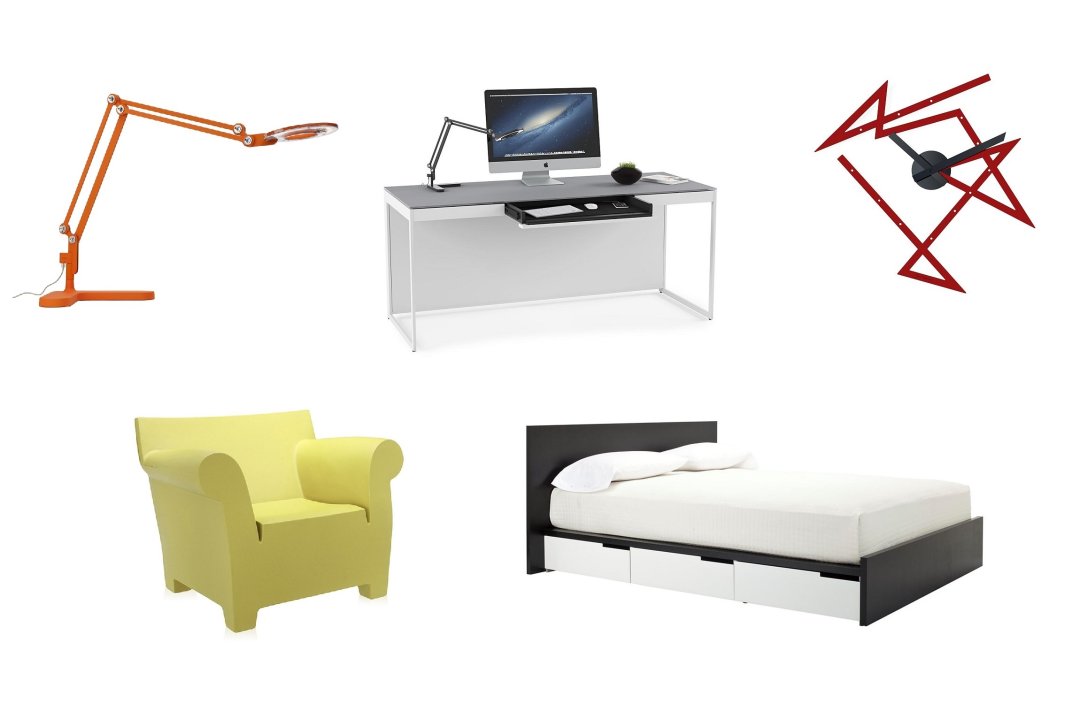 What's more self-expressive than building an art studio in your bedroom? Besides an easel or an antiquated typewriter, you might want to consider an accommodating desk, adjustable task lighting and convenient, non-bed seating. For a more modern, artistically stimulating look, go for a clean palette punctuated by vibrant colors–with plenty of storage for art supplies as well as clothes. Consider the highly functional, energy-efficient Link Task Lamp, which would look stunning atop a Centro Desk and within eyeshot of a bright Bubble Club Chair.
Hooray for Hollywood Regency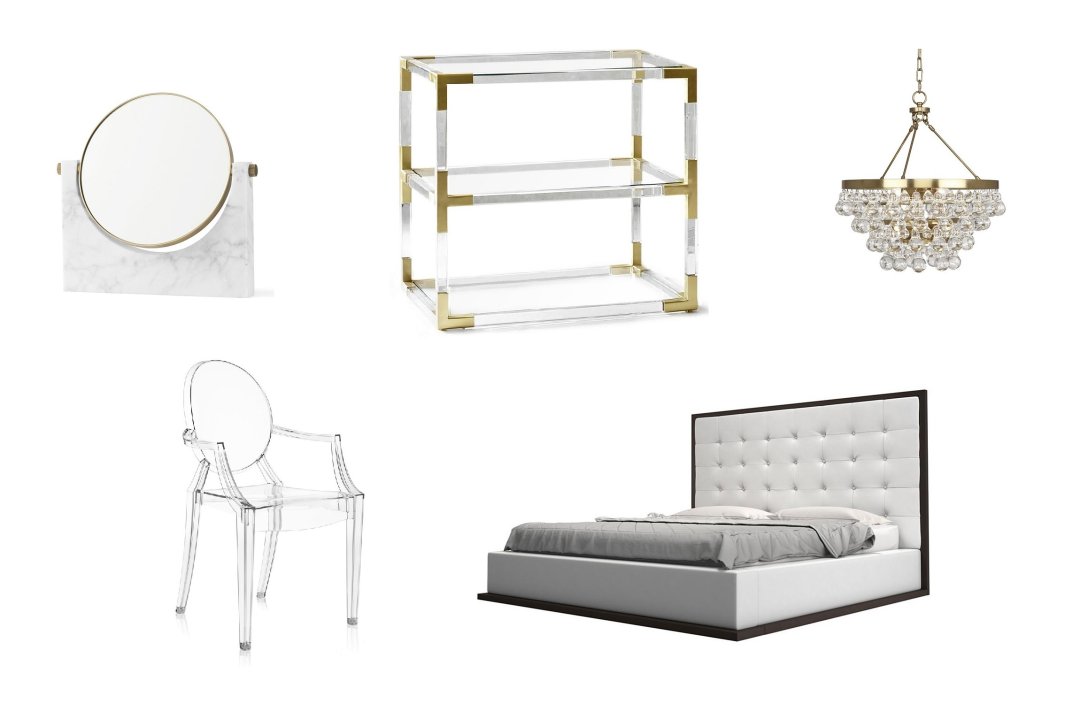 Celebrate the glamour of Hollywood's Golden Age with a flashy, high-contrast aesthetic, including whites, golds, crystal and even leather. The Ludlow Bed classes up décor with its white cushioning and handsome wooden border, while a Pepe Marble Mirror and a Louis Ghost Armchair make your vanity look like it belongs on a big-budget film set. Decadent furnishings deserve decadent lighting in the land of vintage Hollywood. What could be more decadent than the Bling Chandelier, with its sleek metal framework and tiers of hanging glass droplets? Once lit, this piece can provide the perfect sparkle for your space, making you and your bedroom feel like a million bucks.
50 Shades of Grey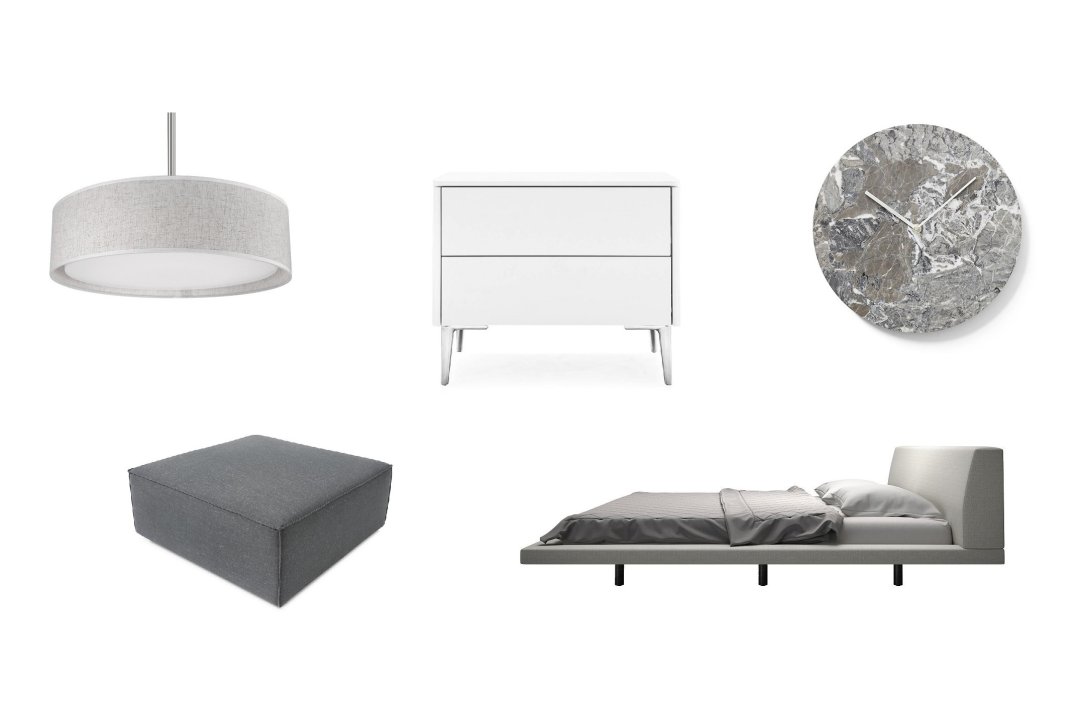 If you need a safe space from color spectrum aggression, why not simplify your bedroom's color palette to black, white, and varying shades of grey? This will give your space a homogenous modern aesthetic where all the items in the bedroom all seem to flow together like a monochromatic symphony for the eyes. Consider the Mix Modular Ottoman in one of several grey fabric options, at the foot of a soft grey upholstered Jane Bed. Fixtures such as the PD79 LED Pendant/Semi-Flushmount complete the desaturated décor beautifully.
Rustic Modern Rest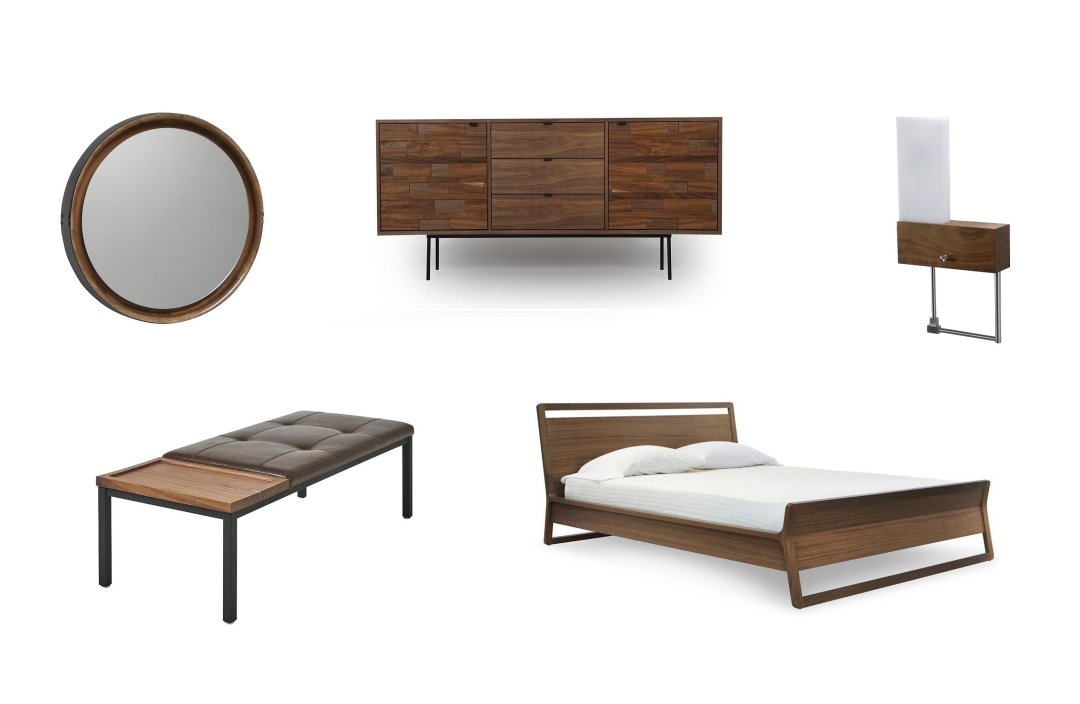 Relaxation is everything when it comes to the bedroom. And so, to wrap things up, Rustic Modern décor might be the answer you've been looking for. This style features warm, organic tones, especially wood, and clean, modern-looking surfaces. The Woodrow Bed is a great example, featuring a wooden structure that is both simple and stylish…allowing for that perfect ahhhhhh moment at the end of a long day. If late-night reading is your thing, consider the Cubo LED Sconce/Reading Light as an ideal bedside companion with its solid walnut base and seamless polymer shade. The Pasadena Credenza and Sophie Mirror could also be combined for a convenient Rustic Modern vanity space.
See more bedroom looks from our customers in our #loveyourlumens gallery.