Curb appeal. You know you need it, but what does it really mean? At the simplest level, curb appeal is what the exterior of your home looks like to the average passerby. It's the first chance to make a good impression to guests or even prospective buyers taking their first glance.
This term really comes out of the world of real estate, where first impressions can make or break a sale. In seller-heavy real estate markets, curb appeal can mean the difference between selling or sitting on the market. And in buyer-heavy markets, it can give you that leg up in listing your space for that extra bit more.
While critical for those of us looking to buy or sell, I find the most important thing to consider is how the home feels to the person living there. For me personally, pulling up to my home with a freshly mowed lawn and porch lights lit makes me fall in love with it all over again. And shouldn't our homes not just be places we live but places we love to live?
In that sense, curb appeal has importance regardless of whether you're looking to sell your home, but getting it up to snuff doesn't happen overnight. Like everything involved with owning a home, there are both quick fixes and plans that can play out over decades. Here are a few key factors to help you nail it:
Shade Trees
According to real estate agent Matt Minor, "Tree cover can increase the value of your home up to 9% and a single tree up to 2%."
The numbers can seem small on their own, but added up can make a big difference to your bottom dollar. While it may not be feasible to plant a full-sized tree in your yard, it might be something to think about when selecting saplings for your space. Consider the long game. Is the placement right for proper shading once the tree gets larger? Smart planning—and planting—now can lead to extra dollars when you do eventually go to sell.
Landscaping
Don't feel limited to the classic flower bed. Native grasses, succulents and even blooming annuals work amazingly well potted or in raised beds, and can add a dimension to a flat yard.
While annuals can be flashier, perennial flowers and plants are the better investment—and don't have to be replaced each year. Looks for plants that will grow well in your area, look good with your space and are reasonable to maintain. For dry areas, removing old lawn and replacing it with drought tolerant grasses can be a huge plus for potential buyers (and for your water bill).
Sometimes you may need a quicker pick-me-up for your facade. Have guests coming, need to get the house sold quick or just tired of looking at the same old thing? That's where a few new planters around the entryway can add an immediate pop.
Windows
This can be a major selling point and makes a big difference to quality of life inside when it comes to temperature control and sound reduction. Replace old single pane windows with double-glazed insulated windows. And if you already have them, make sure to fix or replace windows that fog or steam up on their own. Condensation can be a sign of a broken seal on the window.
Hardscaping
Crumbling retaining walls, rickety gates and cracked driveways are just going to send buyers running, and make your life a pain as well. Updating or maintaining existing hardscapes is critical, but maybe look at adding something new. Adding a pathway or steps to a front door will create a dramatic and welcoming effect.
New Hardware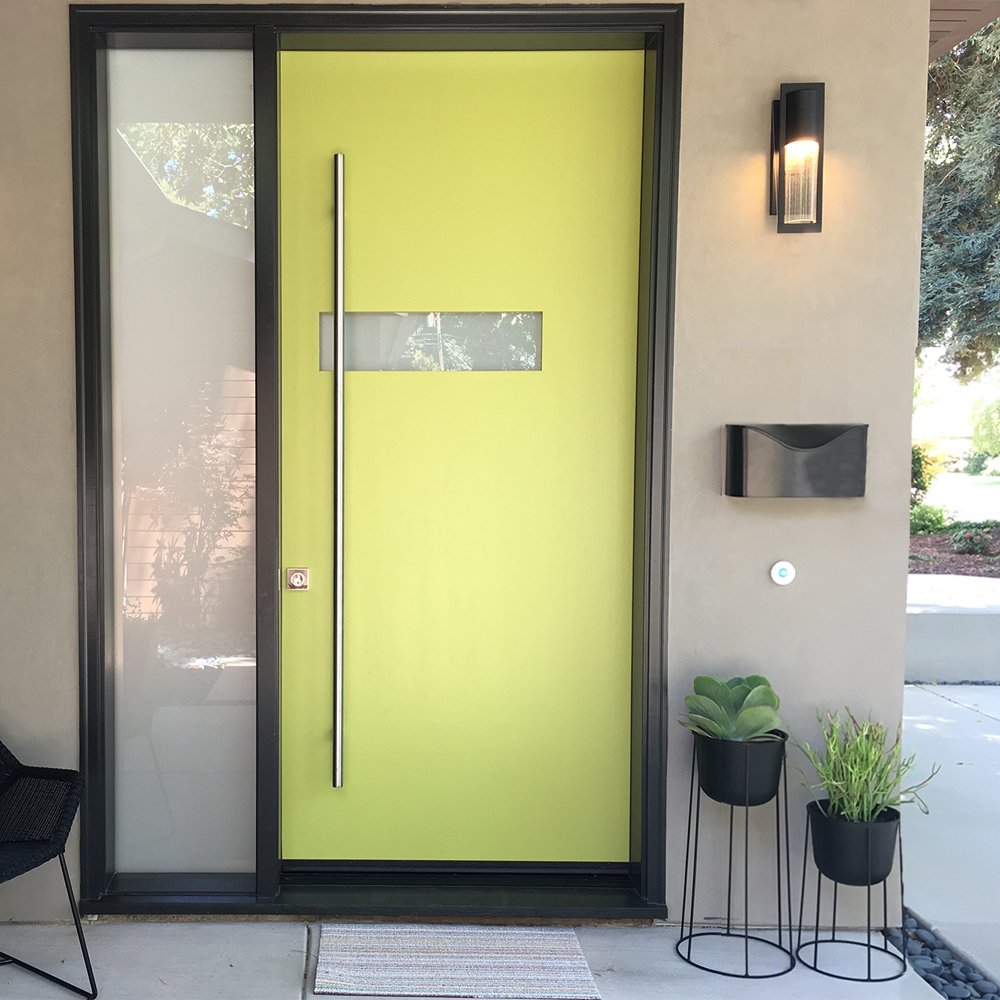 Updating details like your door handle, house numbers, mailbox or doorbell can be a quick and low cost way of giving your home a fresh new feel.
Lighting
This is one of the biggest things that you can do to create that wow factor for your curb appeal, and it's so critical to creating a welcoming environment at night. Updating outdoor wall sconces or even installing an entry pendant can add some much needed pizzazz.
A bit further from the house—along pathways and stairs, under trees and washing up walls—you cannot underestimate the drama and elegance that a few well placed landscape lights can add.
Fresh Paint and Other Basic Maintenance
The biggest thing that can be done to ensure that your home holds up over the years has to be general home maintenance. Sometimes as homeowners, we can become blind to the issues that our houses have, be it coping mechanisms or just ignorance. So get a second pair of eyes. (I find my mother to be an excellent resource for finding outlying issues at my home…) But a trustworthy handyman can also be invaluable. Review what may need to updated immediately as well as other issues that might arise as time goes on.
When making changes, make sure that you are choosing wisely. Look to longer range styles and versatile paint colors, as opposed to on-trend looks that can fall out of fashion. Consider the era of your home as well. Some features that look amazing on a mid-century Eichler will look downright confusing on a Craftsman.
For both the long term and the short, probably the best thing that you can do to have good curb appeal is simply to keep the front of your home clean. While you may not be able to afford to hardscape or replant the whole space, keeping what you have neatly maintained goes a long way towards making a good impression.