A place to sit, a place to eat, a place to chat with friends―there are certain prescribed components in most homes, and most decorating revolves around these spaces. But beyond simply making your usual spaces look pretty for their own sake, let's dig into taking the next step in personalizing your home.
I mean going beyond just choosing your favorite metal finishes, paint colors and upholstery patterns. Taking what truly makes you you and displaying it with pride anchors your home in your world. Not only does it show the world at large what you're about, it gives your hopes, dreams and aspirations a concrete place to call home.
Even if you don't have a mansion bursting with unused nooks and crannies―or entire rooms to dedicate to gift-wrapping (looking at you, Aaron Spelling)―there are plenty of ways to incorporate your hobbies and favorite activities with chic, modern style. Let's say you're into…
Knitting
For the knitters among us, and I know there are more than a few (thanks, hipsters), it can be easy to get bogged down in balls of yarn and loose knitting needles. My mom had her knitting stuffed into an honest-to-goodness carpetbag from the 1960s, and more than a few evenings were spent unravelling knotted threads and recasting half-finished projects.
This beautiful modern solution has a minimalist shelf for all those skeins, and a comfy seat to plan and finish every last purl stitch. The large window for natural light sure doesn't hurt, either.
Sewing
A small sewing nook is infinitely more manageable with this ingenious pegboard for all the stray bits that accompany a sewing project. Instead of shoving needles and bobbins into a tackle box (like me), everything is neatly on display and within easy reach.
This type of setup could easily occupy a corner of a family room or guest room. And a ton of extra storage isn't necessary with lots of the materials stored in plain sight. This also makes a good opportunity to curate your supplies, so there's less temptation to hoard thread (also like me). Plus, no carpet on the floor makes it easier to find dropped pins and other small pieces (definitely me).
Mixology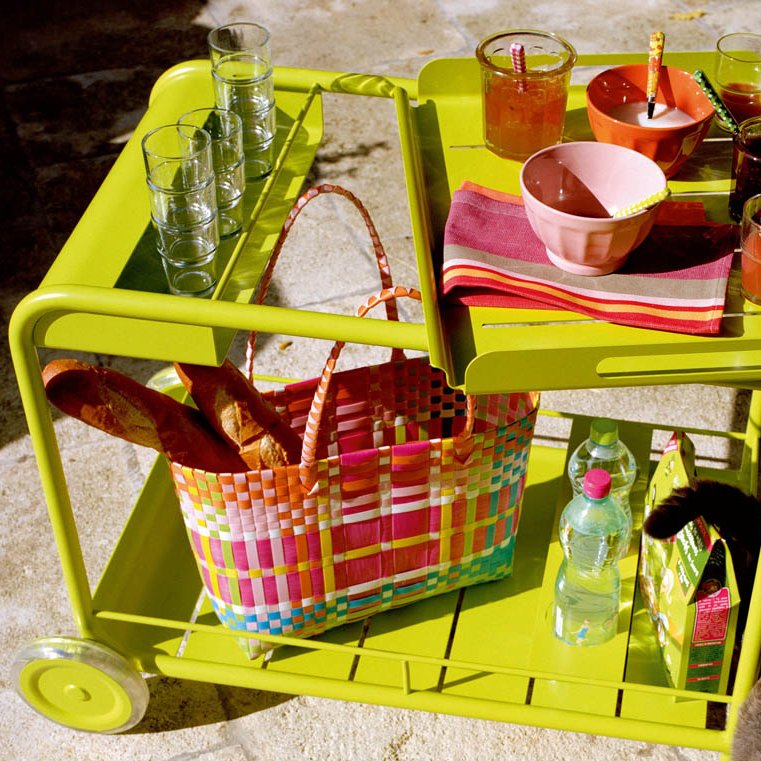 Drinking might not actually qualify as a hobby, but it's certainly a fun activity many can partake of. And though a bar cart might traditionally have been styled with the 5-o'clock martini in mind, this colorful iteration easily rolls drinks and snacks outdoors. They don't even have to be adult drinks to be fun and festive―I can just as easily imagine the top tray laden with fixings for poolside guacamole.
Cooking
Pride in being a home cook has gained a lot of traction in recent years. And there are countless beautiful pieces of cookware on the market. Instead of stuffing your coordinated pastel enamelware and bright copper pots into cabinets, use them as wall art in your kitchen.
They're within easy reach for practical use and make a statement that you take your cooking quite seriously. Plus, the look is the perfect melange of modern minimalism-meets-funky farmhouse when hung in spare lines from unfussy metal rods.
Photography
I've been a shutterbug since…well, let's just say Photoshop was a long way off. Over the years, that meant accumulating a robust (if obsolete) collection of photography equipment. I love this idea of displaying old cameras just for show. The super clean, unadorned, parallel shelving lends a graphic quality that just might convince guests that you know your way around a darkroom.
In fact, a simple display like this works for most any collection. Just keep an eye on the proportions and leave plenty of negative space (read: extra room) around the pieces to eliminate visual clutter.
Finally, all that shutterbugging results in a whole lot of images. Most of us these days are happy to let those pictures live in the digital space. But there's definitely still something to be said for photographic prints. Many services exist to turn your Instagram gallery into real-world paper pictures.
Instead of messy freehand collages or awkward pre-cut photo mats with an abundance of odd shapes in a frame, try a simple gallery wall where each print has the exact same dimensions. With just a bit of measuring, your favorite photos appear neat, tidy and really cool–and the subject matter is whatever matters most to you.
Did we miss something? Tell us about your solutions for putting your favorite hobbies on display.