Arguably the most important room in the house, it's where most of us start and end the day. But beyond necessities, what if the bathroom was a great escape? As a place to unwind after a long day, the humble loo is emerging as the place to be. We love this trend toward creating your own personal spa experience: Here are some key points to bear in mind when transforming your basic bath into a relaxing retreat.
Color Theory
Millions of advertising dollars and countless college courses can attest to the fact that color matters. Red is passionate, yellow is energizing, green is calming…you likely already know the basics. However, stylish interior decorating isn't as simple as merely picking a color and then matching everything you can find. Instead, tone-on-tone color palettes are coordinated and calming, and aesthetically more thoughtful. In this bath, the dove gray wall quiets the space while letting the white elements of the wall sconces, countertop and tub become focal points. A white wall here would look stark by contrast. Muted tones are probably going to be most popular in a space where relaxation is the aim, but that's also a matter of personal taste—if royal purple does it for you, have at it (your highness).
Let There Be Light
Getting the just-right lights in your bathroom will go a long way to enhancing your experience. Layered lighting is particularly important here, since it's harder to relax when you're squinting. Put your lights on separate switches to control vanity lights separately from ceiling lights, and use light dimmers to add another level of control. Another important consideration is one that's often overlooked: Color temperature. LED lighting lets you control the color of the light along the spectrum from incandescent to daylight (from warm candlelight to futuristic blue). In this example, bluish lights along the vanity give the room a modern, cool look without actually crossing the line into "colored" lighting. It's a completely different feel than the romantic, dim lighting of candles arranged around the tub (which is totally an option, too).
Off the Wall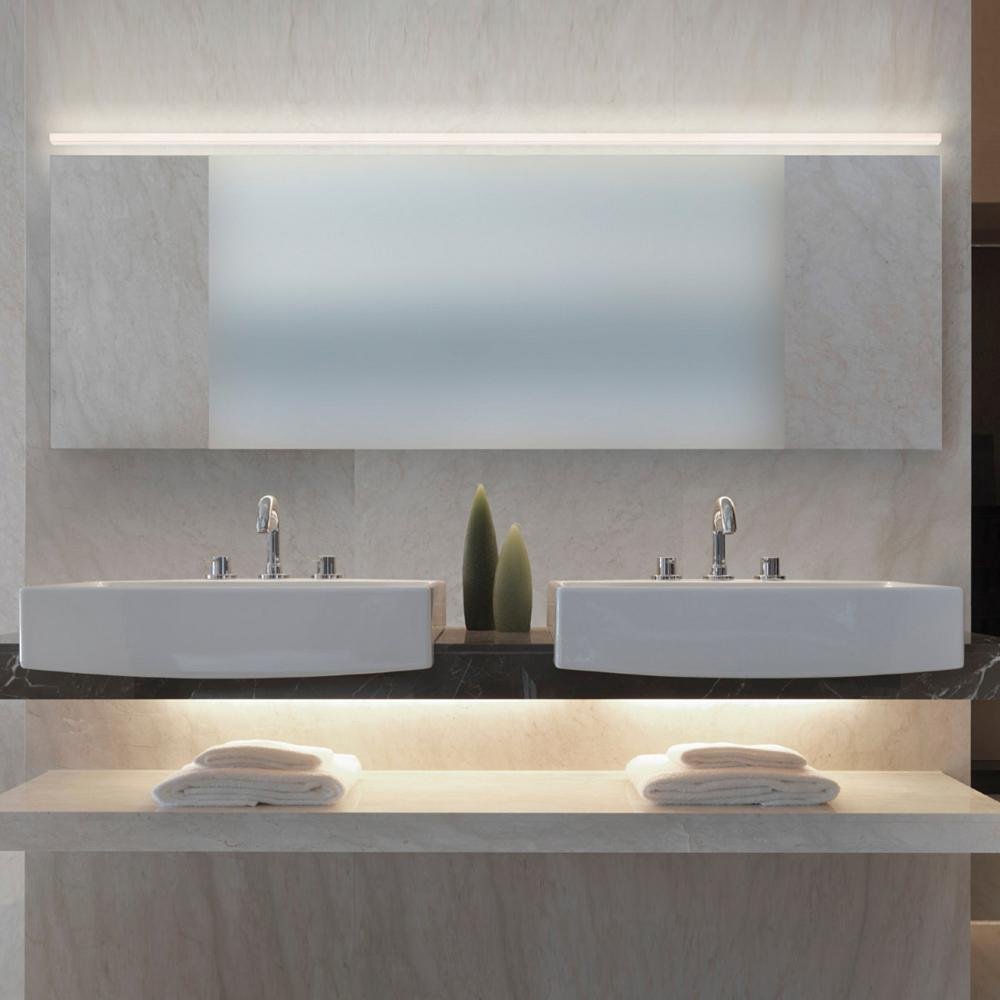 Just paring down your fixtures lends a professional look to the vanity. Rather than busy wall sconces flanking two mirrors over a dual sink, install one long mirror and a single light fixture that spans the length of the vanity. This example from SONNEMAN is specially designed to fit flush to the wall without an obtrusive wall plate. All you see is a smooth line of light that evenly illuminates the sink area. Another simplified option is to select a mirror with the lights built into it, eliminating still more pieces and giving the vanity a sleek look. In this vanity, the minimalist fixtures are sparely accessorized, which gives the space an airy and open feel.
Clear the Decks
In your home you need to have toothpaste and cotton swabs at the ready, but making good storage choices means less visible clutter. Instead of keeping the useful-but-ugly tools of your toilette out in plain sight, tuck them into the cabinets or linen closet. Put necessities like hand soap into decorative containers suitable for show, and display items that communicate comfort and luxury. Clutter-free spaces are naturally soothing to the senses, and carefully selected accessories enhance the room without overwhelming it. Taking a page out of a commercial spa's book, these shelves are minimally stocked with fluffy towels—with no cleaning supplies or other tools in sight, the feeling of relaxation won't evaporate when you emerge from a long soak.
Mix it Up
If your taste leans more traditional or eclectic, bringing in modern elements can refresh the room and impart an upscale vibe. Neutral colors modernize traditional components, as seen here with pale wood and metallic details. The clawfoot tub is decidedly not modern, but the space steers well clear of old-fashioned with the right accents and accessories. A mix of textures is a pleasure for your senses, too, with nubby bathmats, cool chrome containers and soft towels competing for your favor. When selected thoughtfully, all those necessary bath accessories become part of your everyday spa experience. Even towel bars and trashcans can create cohesion; marrying function and form is at the apex of successful design.