Today's kitchen layouts make the most of the activities this room sees often: cooking, gathering, entertaining or even working. No matter what you're using the kitchen for, the most proper kitchen lighting is key to ensure the layout is most successful for your day to day.
Kitchen lighting creates atmosphere and accentuates design elements. And, more importantly, the kitchen is the place where you handle sharp knives and hot-from-the-oven lasagna. So, proper lighting in the kitchen is a matter of safety, as well.
Layering lighting is the most effective way to light any space.  Let's take a look at a few common kitchen layouts and the general, task and accent lighting ideas that make the most of your kitchen design.
Single Wall or Pullman/Galley Kitchen
Named for the long passenger sleeping cars on Pullman Company's passenger trains in the 1800s, a Pullman kitchen usually refers to a long, narrow kitchen. This can be two counters running parallel to each other or, as seen in many apartments, condos or lofts, a single wall kitchen with the refrigerator on the far left or right, followed by the sink and stove.
These small, streamlined designs often share light with an eating area, so a sleek track lighting system is a good choice. Track lighting is versatile and very easy to install. Semi-flush or suspended track options open the way to tailored lighting that highlights specific architectural features. With selections that include spotlights and pendants, today's track lighting systems cover a full range of general, task and decorative lighting.

Design to try: When choosing kitchen track lighting, don't shy away from color. Design-wise, track can have a modern, eclectic feel, and colorful options like Bruck Lighting's Rainbow Spot Head will really add a pop of panache to a neutral space.
L-Shaped Kitchen
The L-shaped kitchen is one of the most desirable layouts. With plenty of space for multiple cooks and guests, this layout needs general overhead lighting along with task lighting over the kitchen sink and above the island.
Overhead ceiling lights eliminate shadows while providing top down illumination. And, when combined with hanging pendant lights, they will give you a rich palette of layered light.
When lighting an island with mini pendants, the "rule of three" generally works well. However, while that standard provides balance, the size of the island and the amount of light you need always eclipses any decorating rules.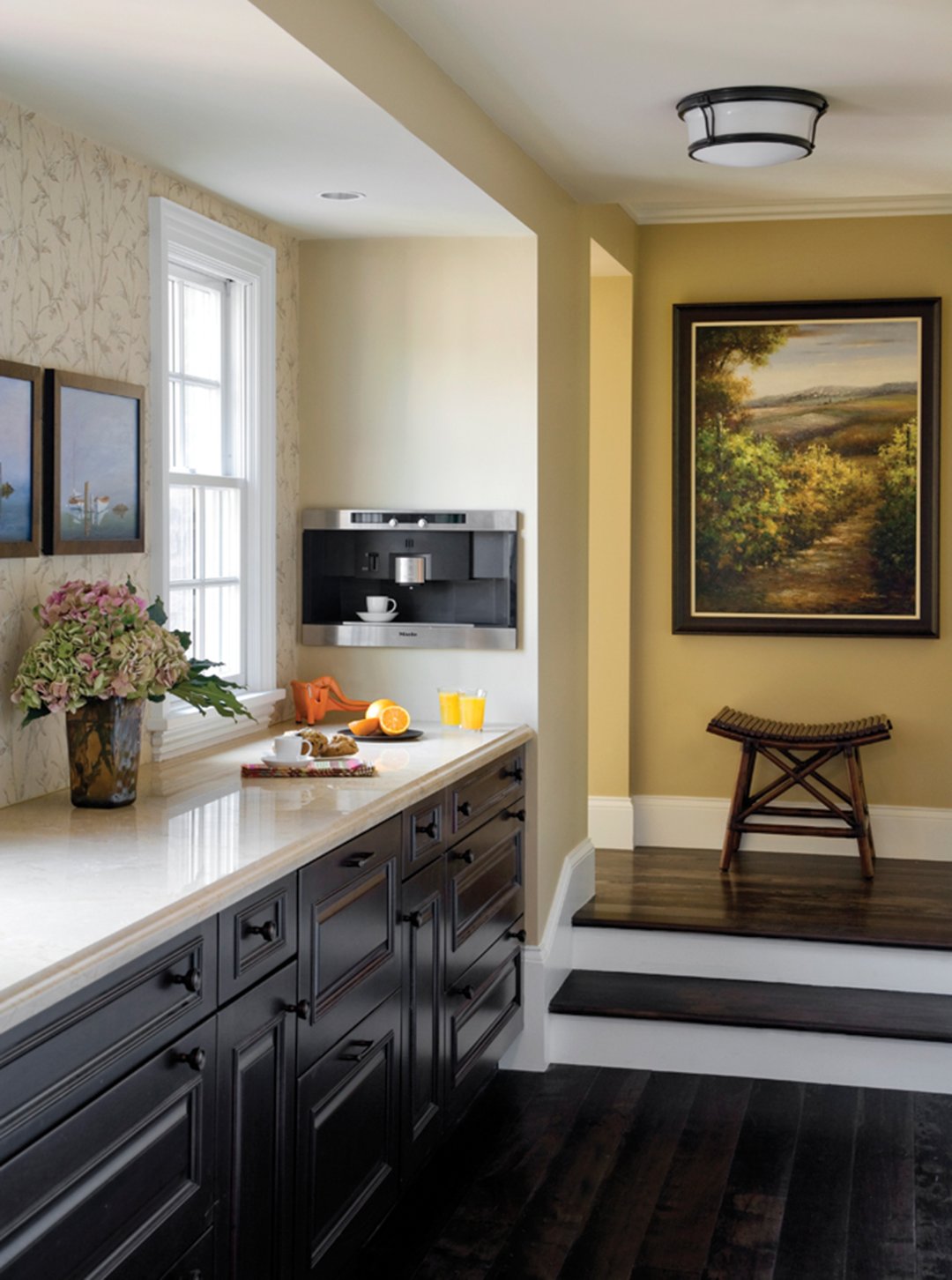 Design to try: If you're worried about a sea of pendants taking over your kitchen lighting, don't rule out adding a semi-flushmount or flushmount fixture over the sink, like the sleek, transitionally designed Newport Flushmount by Hudson Valley Lighting, with an opal glass shade diffusing the light.
U-Shaped Kitchen
The signature of the horseshoe or U-shaped kitchen is the peninsula. This layout offers a great place for guests to hang out while the chef efficiently pivots from refrigerator to sink and stove.
In this design, a well thought-out lighting plan will include plenty of overhead ceiling lights. Recessed ceiling lights brighten the room, while a large pendant or chandelier over a center island provides valuable task lighting.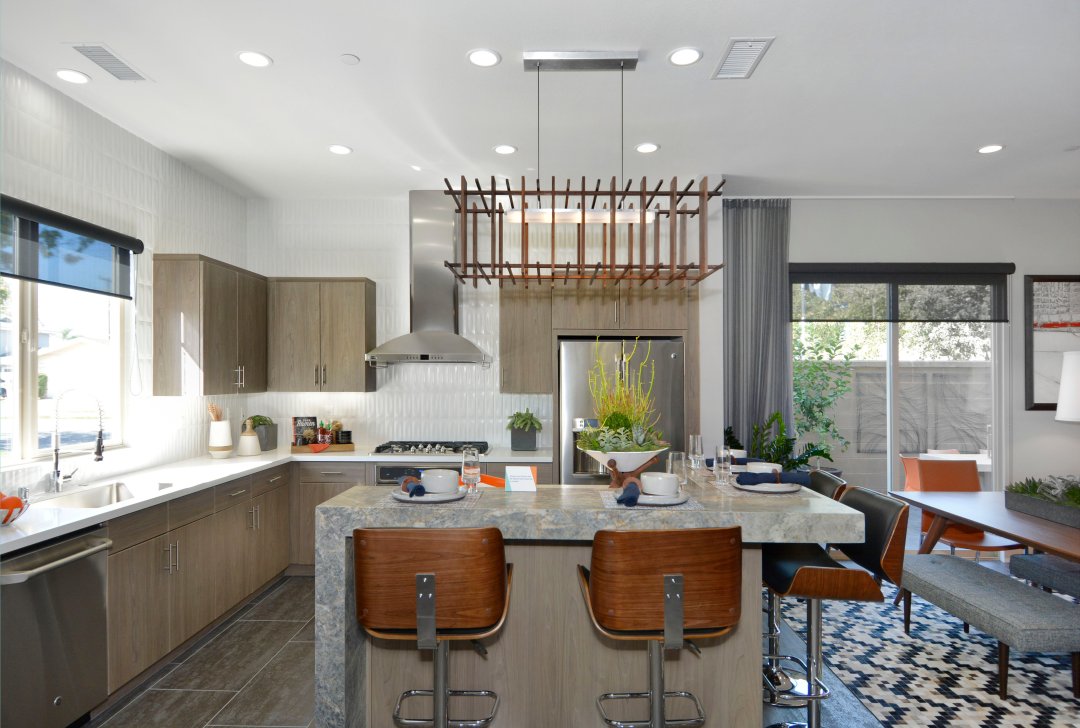 Design to try: If you want your island to become the focal point in your kitchen, hang an impressive island pendant. The Arca LED Linear Pendant by Cerno has a dimmable LED light bar for glare-free down lighting with a sculptural, statement-making wood frame.
G-Shaped Kitchen
A kitchen with a G-shaped layout takes a U-shaped layout and adds an extended peninsula. Basically, a peninsula is a connected island. It serves as a room divider, separating the kitchen and dining room or living room. A large peninsula can include a sink and prep space on one side and a seating area on the other. If you like to entertain, you'll want lighting that does its job without creating a barrier.
On the bar or eating side of the peninsula, mini pendants will bring a warm glow to the proceedings; but they have to be installed just right. If people are going to be standing around, pendants placed too high will blind them with glare. On the other hand, pendant lights should be high enough that people can see each other. Generally, pendants should hang about 30 to 36 inches over the counter.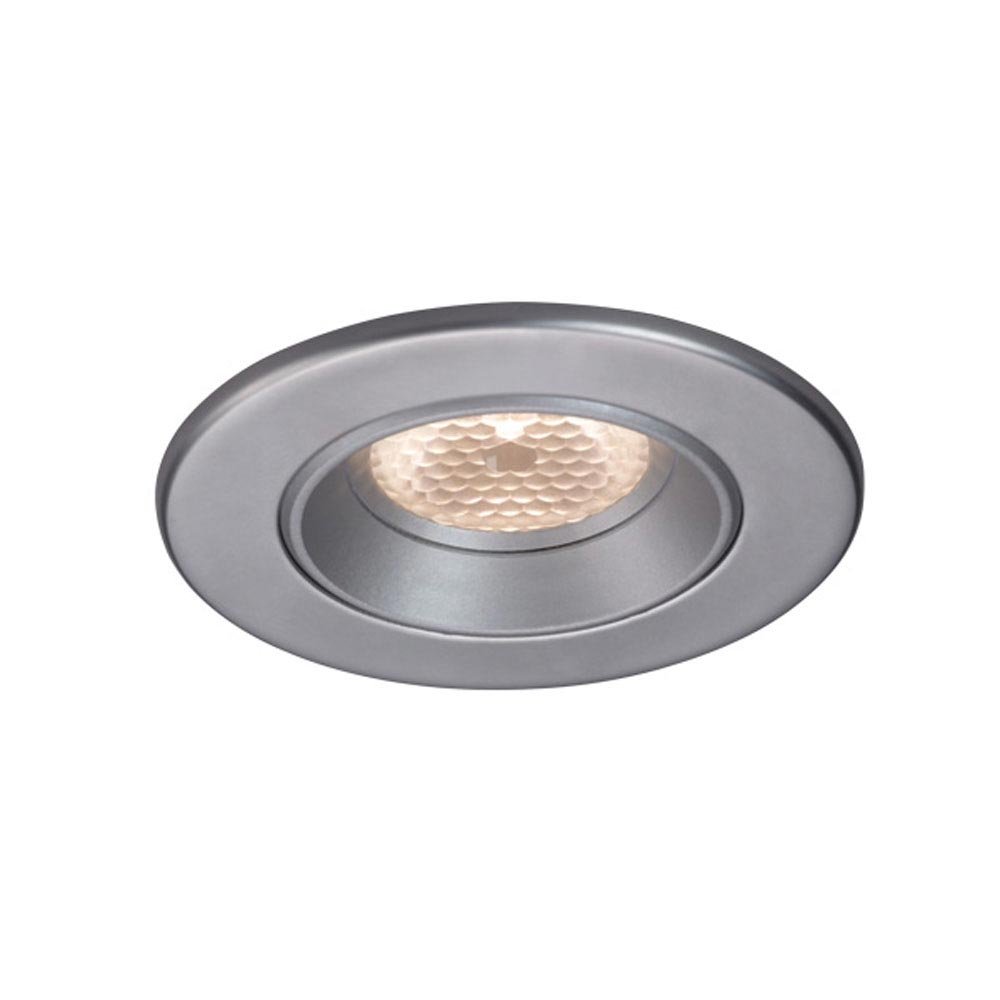 On the prep side of the peninsula, task lighting is a must. Recessed lighting placed every 30 inches above the counter will usually provide adequate lighting. Look to an energy efficient LED option like Ledra 12 LED Recessed Light for clean crisp design and no-glare illumination.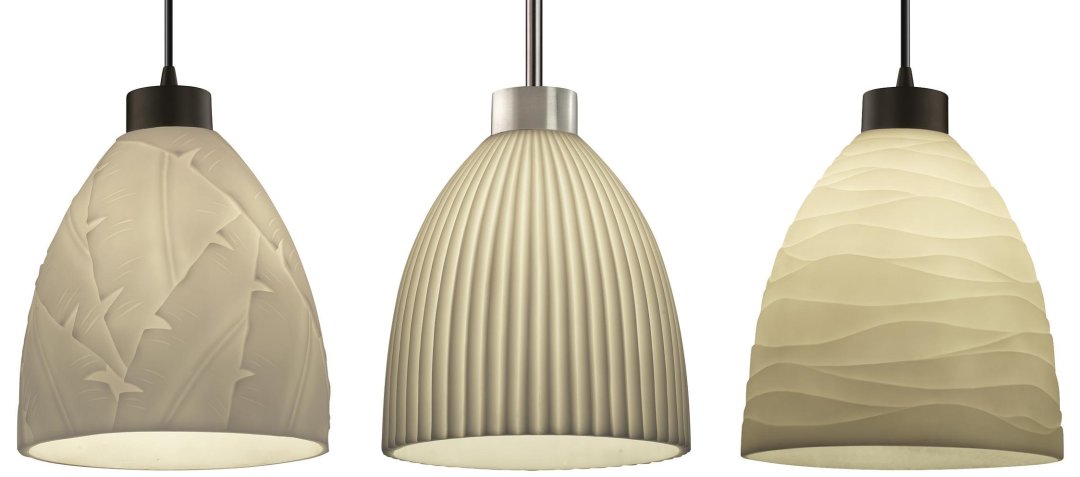 Design to try: Pendants offers a versatile way to illuminate and highlight a space. Opt for a trio of pendants in the same design for a uniform look. Or add some visual interest to the space by hanging a trio of mini pendant with decorative shades in a variety of mix-and-match designs, like the Justice Design Group Porcelina Mini Pendants shown here.Finally, when it comes to shining some light on different kitchen layouts, don't rule out dimmer switches. While you may want bright illumination when prepping, cooking and cleaning, dimmed lights create ambience when enjoying a quiet dinner. The ability to adjust light levels for task, accent and direct lighting is the ideal for any kitchen design.