With the summer heating up here, I find myself fantasizing about some of the lighter-than-air spaces that keep making their way across my blogrolls. Current color and design trends have really been catching my eye. In particular is the shade that's been dubbed millennial pink, and how it's used in soft, feminine design schemes.
In fact, this hue has been on my radar since I was in high school (I am always partial to a trend, after all). My obsession started when my parents allowed me to choose my room color every few years throughout my childhood. After a parade of the obligatory blues and greens and off-whites (and one harrowing incident of a high-gloss pistachio), I landed on my last and favorite color scheme, one that I still pine over to this day. It was a clean-yet-delicate mix: one french pink wall, one light gold wall and the rest swathed in white, all offset with pale birch furniture.
I loved that room. It was clean and bright with a touch of softness. Quite forwarding-thinking in the fuschia-heavy early 2000s, and quite out of place with my then high school-aged peers.
Now I know that the word feminine is quite a powerful word, and I don't mean to create a massive existential discussion about what that word truly means. But for me, feminine design is all about lightness, soft texture and clean lines. A pop of pink in a space can go a long way, especially if you like the look but aren't looking to coat a whole wall in a sweet shade. Here are a few of my favorite takes on this look that I love so:
A hallway or entry way is generally smaller, and somewhere you don't spend all your time. That's what makes it a great space to try something new and slightly daring.
Soft pink makes a statement, but it is still a livable shade and perfectly suited for the bath. The beveled edges on the subway tiles adds another level of softness through the texture as well. It's a modern update to a beloved '50s bathroom shade.
For more of a seasonal approach, try a simple sheet swap. Linen is always a best bet for summer, and a blush color like this one softens a modern space. And just because it's pink doesn't mean it has to steer completely feminine–it's a great complement to gray tones as well.
So as I think back to my old room–and looking at these new and inspiring spaces now–the question is, would I do it all over again? In short, yes. Do I do it all over again in my mind constantly? YES! To help to capture the feminine design mystique for yourself, here are a few of my favorite picks for the perfect ephemeral room: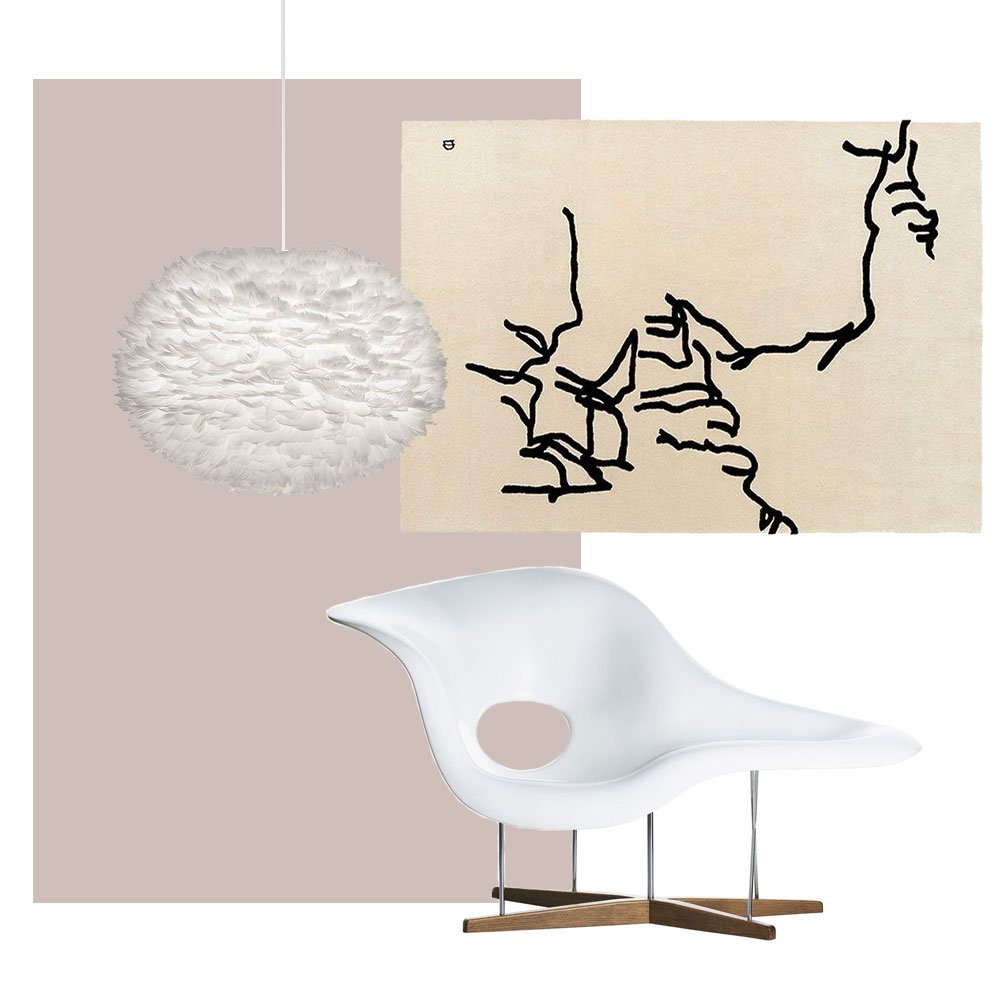 1. This is truly one of my latest obsessions. Like a made-for-TV pillow fight frozen in time, the Eos Pendant from Vita Copenhagen is the perfect balance of design and fantasy.
2. A rug is an instant room softener, and Nanimarquina's simple but powerful rug designs go a long way, like the Dibujo Tinta Rug.
3. A true design icon, the La Chaise by Charles and Ray Eames for Vitra is firmly in the camp of modernism. The seemingly floating and cloud-like form shows more of soft touch in contrast to the  straightforward chair forms that Charles and Ray Eames are known for.
4. A pink that can work as a neutral. Peignoir from Farrow & Ball is an grown-up pink paint color that can work as an accent or to fill a space. Pair with soft white or light grey for a soothing effect.
There are so many different ways to go. What are some ways you might explore a bit of feminine design in your home?