Chandeliers, sofas, office chairs. These are categories in which you expect to see the work of high profile designers and architects. But such design skills have begun to infiltrate unexpected areas, namely, ceiling fans. Why is that? We spoke with Stephen Katz, an architect who collaborates with Matthews Fan Company, to find out more about himself as well as why he became attracted to ceiling fan design.
Tell us about yourself.
I primarily work as an architect in Chicago with a focus on large-scale office and mixed-use buildings. My architectural work is both local to Chicago and international with projects in Asia. I hold a Bachelor of Arts degree from Hobart College and a Master of Architecture degree from Washington University in St. Louis.
How would you describe your design style?
My design aesthetic for both architecture and product design is what I would call balanced minimalism. Forms should be as basic as necessary to perform their function but not devoid of purposeful efforts to create beauty. The challenge lies in knowing when and where to push and pull the forms to achieve the right balance.
Is there anyone who has been an influence on your career or do you have any design heroes?
My two design heroes are Dieter Rams and Zaha Hadid. This may seem like an odd pairing for design influences, but both designers have a unique way of achieving a wonderful dialogue between function and beauty. I strive for that same balance.
We don't often hear about collaborations between architects and ceiling fan companies. How did your collaboration with Matthews Fan Company happen?
My collaboration with the Matthews Fan Company grew from knowing the owner, Chuck Matthews; we attended the same high school. After we completed our university degrees, I discovered that Chuck was looking for new ceiling fan designs.
I first wanted to know more about what his interests were for fan designs in general, his take on where the market was headed and how he thought people used ceiling fans in their homes and commercial environments. I also spent a lot of time looking at what was in the current ceiling fan market in terms of design aesthetics, affordability and fan performance (energy usage and the ability to move air). What I discovered was rather surprising.
There were very few examples of high performing, reasonably priced ceiling fans that looked like they belonged in a contemporary or modern home, office, hotel, restaurant, museum, library or other space. Chuck and I spoke about this, and we agreed that a proper design was in order that addressed these needs; high performance and quality, contemporary and minimal look, reasonable price point.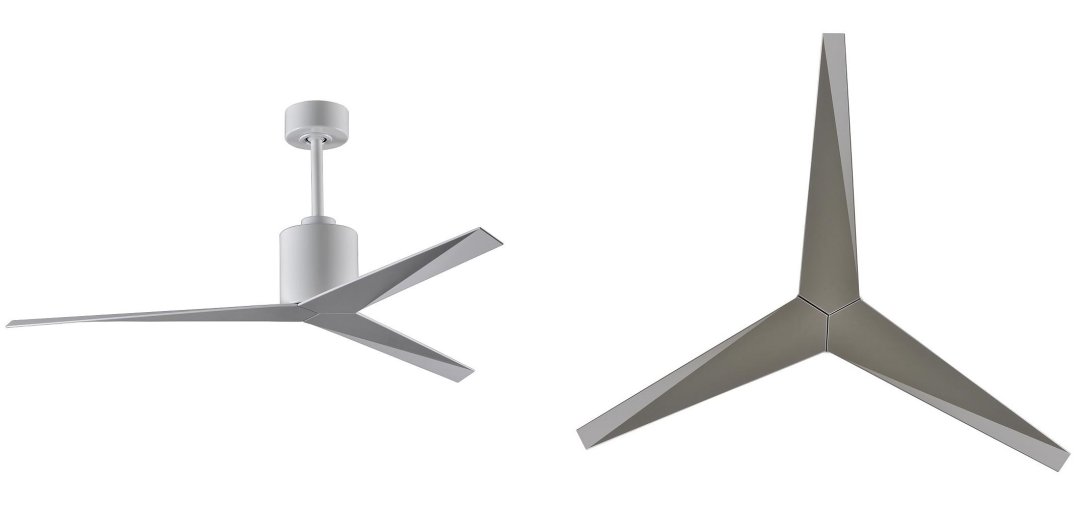 So, we know that the Eliza Fan was your answer to this gap in the industry. Tell us about that fan.
The first fan I designed for Matthews Fan Company was the Eliza Fan, which is named after my daughter. I wanted to use minimal forms with well thought out transitions where the blade shapes come together. The major idea involves taking a three-blade fan and shaping the blade in plan so that more air movement occurs at the outer edge of the blade.
We worked closely with the factory engineers to test this theory with physical fan prototypes in smoke chambers. We made numerous adjustments to the shape of the blade and the rotation of the down-turned blade outer edge to maximize air movement and minimize blade drag against air. The result created a wide air movement ring which helps project air farther into the room. The blade shape is clean and straightforward with well-proportioned folded transition edges.
Could you walk us through your design process?
My process starts with hand sketches on anything I have at the time, and then I go straight to three-dimensional design software, such as Sketch Up and Rhinoceros. For coordination with the factory, I will export the 3D files to 2D CAD. There is then a back-and-forth work effort with months of tweaks, adjustments, motor option reviews, color and material selections and prototype test comparisons.
We heard that you are doing another collaboration with Matthews Fan. Can you give us any information on the new design?
My latest fan design is the Molly Fan, which is named after my wife. The fan design I envisioned ended up pushing the boundaries of what I could effectively digitally model, but the result was worth the effort.
I started out trying to taper and twist the blades in plan and arc the blades up towards the ceiling all at the same time. We ended up having to change course after building and testing several prototypes. We just could not obtain the right amount of air movement and energy performance with the upwards arc. The revision avoided the upward blade arc but kept the twist with a less pronounced tapered blade shape.
The final design is in production now, and we are very excited about the balance between function and aesthetics. The blade shape feels right proportionally, and we found the perfect arc in plan where the blades are joined. It is important that the fan design looks great both while moving and when in a stationary position, and both the Molly and Eliza Fans achieve this aesthetic goal.
I feel especially grateful to Chuck and the whole Matthews Fan Company team. This includes the network of distributors and factory engineers who are the front lines of helping customers find the right ceiling fan. We think the Eliza and Molly Fans offer a great aesthetic and performance value, and I hope to continue this great collaboration.