With a penchant for organic textures, light-filled spaces and personalized furnishings, Luna Grey is an up-and-coming interior designer who knows how to blend different modern styles to suit her clients' needs. Based out of Brooklyn, Grey began her career designing interiors in Philadelphia, and is quickly making a name for herself on the New York scene.
We first spotted Grey's projects on Instagram, and we can't get enough of her fresh interior style. We caught up with her to find out more about her design story.
All photography is by Kelsey Ann Rose.
Tell us a little bit about your background. How did you get started in the interior design business?
My love for interior design started very early! In high school, between piano lessons and doing hours of homework, I would binge-watch HGTV. My dad also gave me free reign over designing my bedroom if I didn't put holes in the walls. I would frequently change my bedding, move furniture around and paint the walls.
I interned at a design firm/furniture store in Philadelphia a few months before I started my masters [program] in interior architecture and design at Drexel University. During the internship, I gained experience interacting with clients, doing furnishing research and styling the store to sell product.
After the internship was complete, I realized that I had the skills to take on real-world projects and landed my first few clients on Craigslist while I was still in grad school. I was barely compensated for those projects, but they gave me the opportunity to develop a portfolio and receive reviews and referrals for my work.
You describe your personal style as, "airy, organic, textural, and minimalist." How has your look evolved over the years?
Moving to New York has dramatically changed my personal aesthetic. I started my business in Philly, where the design scene is completely different from New York. Down south (well, barely!), Philadelphians tend to prefer industrial pieces, reclaimed wood and overall a much warmer aesthetic. The apartments are also quite a bit larger, so I was accustomed to designing with larger scale furnishings.
After moving, I noticed that New Yorkers tend to prefer a more Scandinavian, minimalist look since space is so precious. Viewing and appreciating my clients' inspirational images made my style lighter. New Yorkers tend to prefer cleaner lines and less color in their furniture, so the apartments feel larger and more open. They also love handmade or organic items like pottery or live edge tables. Texture is important in these neutral spaces, so sheepskins, chunky jute and natural fibers like linen impart character in a subtle way.
What is your design process? How do you face challenges when designing a project, start to finish?
Prior to a consultation, I always request inspirational images to get a sense of the look the client is after. I find that my clients experience difficulty in describing what they like in words, but they are really great at communicating their aesthetic through pictures.
They tend to like the same type of interiors a few times over, but don't realize that they have a pattern. For example, they might show me three dining rooms with light wood tables and plastic chairs, but aren't aware they did that. Then we go over their inspirational images and I'll pitch ways I think we can incorporate similar elements into their own space.
Then we dig deep into the nitty gritty like space planning and budgeting. This is not always fun. But it ensures that the space is functional, and we don't blow their budget on a great piece of art and then have to sit on the floor to eat because we can't afford a dining table.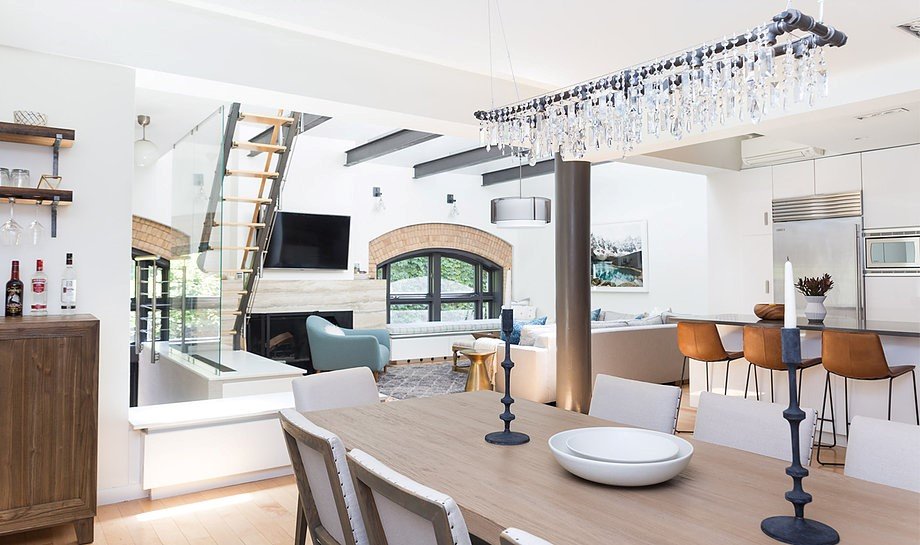 Finally, after the furniture layouts and budgets are out of the way, we get to the fun part of every project: the furnishings! I start with the big pieces (like upholstery and rugs) or items with the longest lead times, and then work my way down to the finer details like artwork and accessories. The design process is slower than most people expect, but that's so we can create a Gestalt of a room rather than a collection of disparate furnishings.
The most common challenge we experience are items breaking in transit. I tend to order from businesses with whom I have long-standing relationships and have excellent customer service. Lumens is definitely one of them! They are my first stop for lighting. They make my job so much easier and my clients feel more at-ease when the design process inevitably goes awry. (Editor's note: Thanks, Luna! And we promise we didn't prompt her to say that…)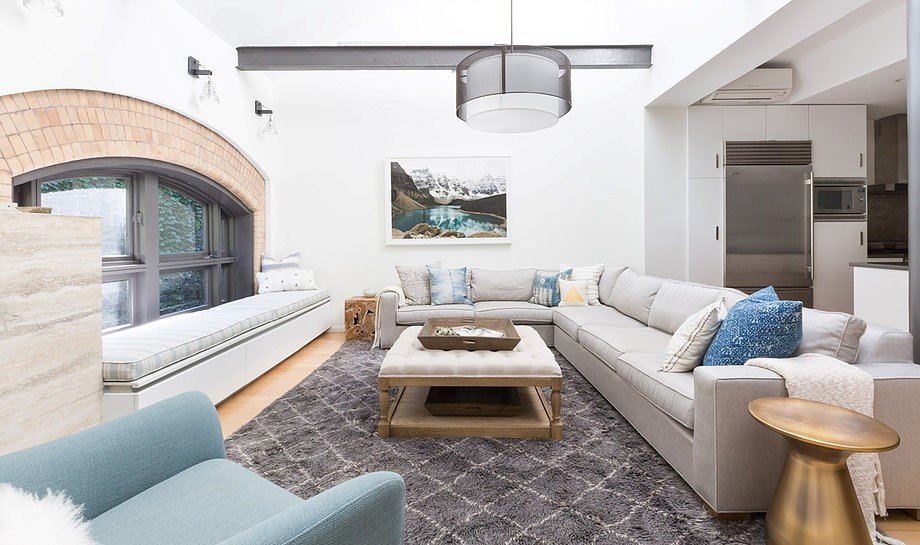 What is your favorite kind of space to design?
That's tough. I love lofty spaces with historic architecture because they are such a beautiful canvas to work with. The Brooklyn Heights duplex I designed (shown above) had a 100-year-old brick arched window, and we turned it into a cozy spot to read and relax.
I also love the challenge of designing a cramped apartment because it forces me to be more creative. The Park Slope apartment I designed had a tiny open living space. But we made it multi-purpose with petite furniture and injected every spot in the room with personality.
What are some design staples that you think no one should go without?
This is an easier question!
Definitely plants. They filter your air, give texture to your apartment and are living sculptures.
Next up would be accent lighting. I like every space to have at least three points of accent light in the form of table lamps, sconces and floor lamps. They are more "human-scale" and create a cozier environment with fewer harsh shadows. Overhead lighting is great for a focused task like working or cooking, but a lounging space or bedroom should rely on a variety of accent lamps around the room to give little pools of illumination.
Artwork. It doesn't feel like home if you don't have art on the walls. Don't just put anything up though – it should have meaning to you, so it looks like a space you live in rather than a staged house.
Finally, I love textiles. They help make a space feel complete and cohesive. I like at least three pillows on a couch and a large area rug in a living room or bedroom.
Now for the fun stuff. We love how you styled your Brooklyn apartment. What is your favorite design piece you own?
You guys and your tough questions! I am going to pick two:
I love my sofa. Prior to getting it, I had a rock-hard, albeit pretty sofa that I ordered online without sitting on it first. We actually had to put pillows on the seat cushions to hang out on that sofa. I was able to sit-test this newer one and it's essentially a bed that is acceptable to lay on all day.
My second favorite piece is my dining table. It's a vintage teak plank table from the '60s that is in excellent condition for its age. Having a vintage table makes me less cautious about putting it to use. More scratches = more character. It's lasted this long, so I have faith that it'll last another 50-60 years.
What do you love most about living in Brooklyn?
I love having artists as neighbors. I have developed an extreme appreciation for textiles, ceramics, woodwork and metalsmithing by living in Brooklyn. These amazingly talented artists often throw studio sales where you can connect with them in person, see where they produce their craft and purchase one-offs and experiments.
Do you have any pets?
Yes, a 14-year-old cat named Fig! He is my only coworker and helps me recognize that life is not all about work. He does this by stepping on my keyboard while I am typing an important email, making sure I pet him throughout the day, and sometimes meowing during phone calls.
Do you have any advice for readers who are approaching designing their own apartments?
I think defining your aesthetic is critical to designing a cohesive space. I would start by creating a collage of your inspirational images. I would include at least 5-10 per room so you can start seeing patterns in what you're drawn to. Notice the materials, metal colors, wall color, lighting, artwork style and the lines of the furniture in each image.
The next piece of advice is to make sure you introduce variation in materials. For example, in the Park Slope apartment's living/dining room we did a natural teak dining table, a white media console, a marble coffee table and an acrylic side table so we didn't use the same notes repeatedly. We also introduced varied materials in the seating: there's a gray chenille sofa, a saddle brown leather chair, and oak and green woven fabric dining chairs. Changing up the materials gives you a more interesting, personalized space that feels less like a set in a showroom.
Thanks so much, Luna! For more, check out her website at lunagreyinteriors.com.