While spring may make the desire to add color overwhelming, don't be too hasty in your grab for the paint roller. Color is tricky, and it can go totally over the top if you're not careful. There are great ways to get the rich, bright and vibrant hues you are craving in your home.
Neutral monochromatic spaces can be minimal, gorgeous and clean. They can also can be stark and harsh and unwelcoming at times. Throwing color all over the place can work, but it can also look hectic and unplanned. You want to plan and apply color in a way that makes sense for your space and decor.
Color Through Art
Art is something that can complete a room. It can also completely change a room. A well placed painting or a bold sculpture can add a bright burst and tie a room together. Take a look at this wall sculpture. The dynamic colors and shapes create a focal point for the room and center the seating arrangement placed in front of it.
Color All Around a Room
Instead of one big pop, you can break up a color around a space. The bright sunshine yellow throughout this room gives you a wash of color while retaining the clean lines of the room around it. Play it careful and build gradually to the level of saturation you want. This is a perfect way to play with really bright or bold colors, as accessories are easier to add/remove/replace than walls.
Grounding Color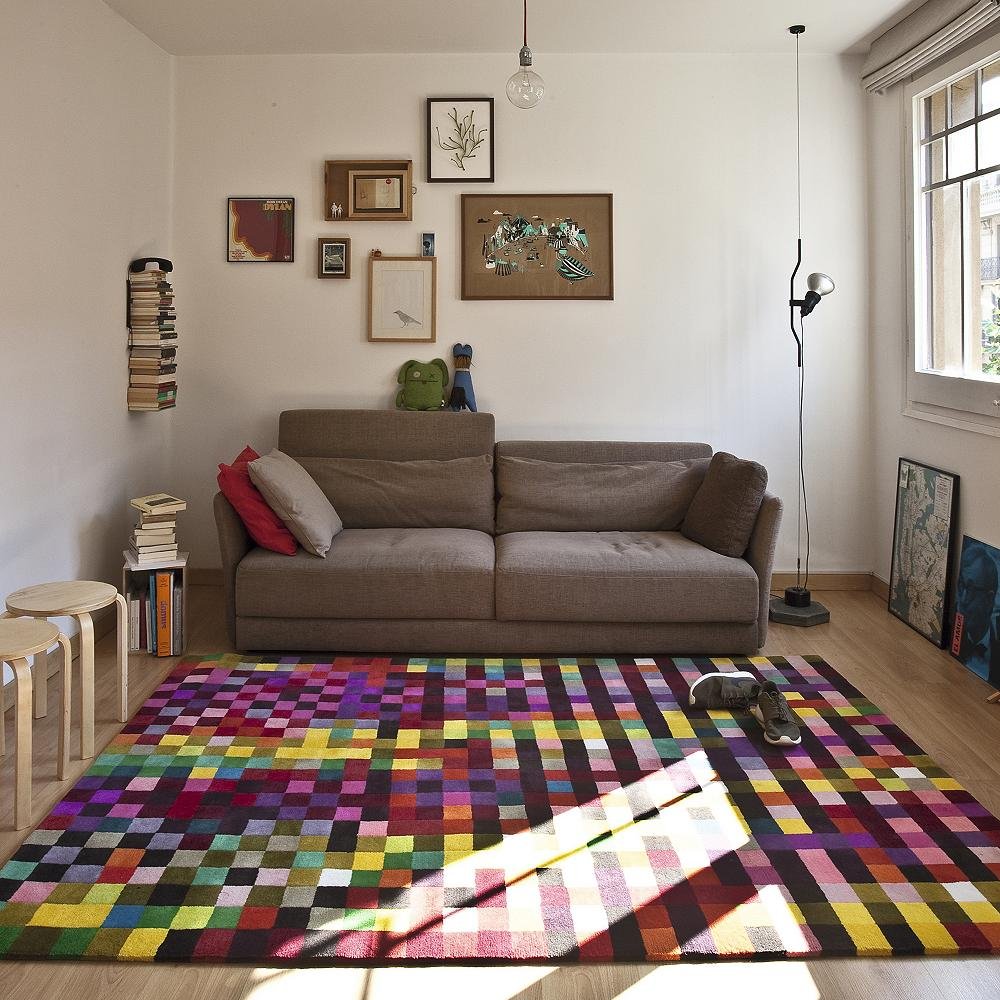 Look down for color. A bright rug can be the perfect way to amp up a space. This multi-color option might not be everyone's cup of tea, but it certainly adds interest to what is otherwise a neutrally toned room. Use a rug to center and ground your room. Area rugs are also a great way of changing up a space without needing a contractor; they can even be used over blah wall-to-wall carpeting as well.
Color Blocking
Form and frame using color. Blocks of color catch the eye and can really up the level of interest in a room. The vivid green shown here creates a graphic play of color that keeps the eye from resting, and adds dynamism to the design of this kitchen. If you are using this in a cabinet finish material, just make sure that it is a color you can live with for a loooong time.
Accent Walls
One of the most classic interior design tricks with color is the tried and true accent wall. While there might be a desire to slap up a color anywhere, be careful. There is a right and wrong way to do it. Look for walls that make sense in the room. Often, it will not be the largest wall, as that can overwhelm the space. If you are using a dark color, then do not use it on the wall with windows; dark color against the light coming in a window can create an uncomfortable portal effect.
Add Highlights
Just like sculpted cheekbones, highlighting works in your home to bring out desired details. Use an attention-grabbing color to draw the eye to an architectural feature or detail in your room. Look at sculptural elements in your space that can use some love. This clean lined kitchen utilizes a warm orange to highlight the shape of a built-in pantry, plus a playful pop with a deep red exhaust fan pipe.
Copycat Color
Lastly, are you worried about a color looking too out of place? Repeating an accent color through a space can help lessen the drama and make it fit in a bit more. The repetition literally lulls your eyes into a sense of normalcy, taking the edge off. This is great for those who may be a little nervous about going all in with color.