As the season changes and summer rolls into fall, it's the perfect time for new ideas to take root. This is the time of year when we see trends and ideas that we spotted earlier in the year really starting to have a place in design. It's always fun to revisit these and see new lighting looks out there in the real world. We've collected a few of our fall favorites that you might want to give a go:
Glowing Globes
One of the biggest trends that we saw this year was lighting based around the simple, opal glass globe. The use of an such an ubiquitous lighting shape could  come off as staid and tired, but there are a number of designs that take this simple shape to the next level:
Andromeda Chandelier by Troy Lighting

A clean and modern take on the classic chandelier form, with a black and chrome finish that works in transitional and even more classic spaces. The 8-Light Chandelier is a great size and scale for a smaller dining room if you want to modernize a bit without getting too cold.
Ace Collection by Troy Lighting 
This is a beautifully minimal version of a restoration style chandelier. The globes rest softly in iron arms, which give a hint of a graphic stripe across each one. The Ace Linear Suspension is a standout in the collection, ideal for a dining area or as a standalone fixture over a kitchen island.
Hinsdale Collection
The Hinsdale collection mixes elegant mid century lines with playful bubbles scattered across the whole fixture. This winning combination is a great option to add softness and a sense of whimsy to overly modern spaces. The 7-Light Pendant is a stunning fixture and would be an amazing fixture to highlight a staircase or double-height entry.
Circular Silhouettes
Globes aren't the only circle on show. We've seen a lot of designs capturing the outline of the orb as well. From simple lines to clusters reminiscent of clouds, these circles are at once playful and unexpected:
Locus Accessory by Tech Lighting
Did you know lighting can accessorize? This is actually not a new fixture on its own, but an extra piece that can be added to a number of pieces in the Tech Lighting collection, like the SoCo, Alva or the Mina pendant. It adds a whole new dimension to fixtures we already loved. Using these on the multi-pendant fixtures in the full range of sizes can create an incredible chandelier effect.
Celesse Chandelier by Hubbardton Forge
This impressive standalone fixture captures a number of looks in one. The cloud of rings is a bit space-like,  but it's also glamorous in that shiny gold finish, and transitional without the sparkle of crystals.
Oversized Fixtures
Also on-trend in 2016 has been large-and-in-charge, oversized fixtures. We are seeing more and more lighting that is designed to meet the demand of larger spaces, with impressive, statement-making scale, such as:
Sparta Chandelier by Hudson Valley Lighting
With 48 inches of hand-poured, glass spikes, this fixture packs a visual punch. It's as striking in design as it is in scale, making it the perfect piece to anchor a high-ceiling dining room.
Pulse LED Pendant by Corbett Lighting
The Pulse Pendant wows with its undulating folds (which are actually made from rigid, handcrafted iron). At just over 45 inches in diameter, a large fixture like this would make a stunning centerpiece to dress up a great room.
Elessar LED Wall Sconce by Modern Forms
Big style for the wall. This fixture gives drama regardless of your ceiling height. Use them to flank a grand entry or highlight a fireplace.
Rich Textures
Another running theme? Rich uses of texture. From hammered metals to rough cut crystal, we we loving the depth and light play that these materials create when illuminated.
Manhattan Collection by Corbett Lighting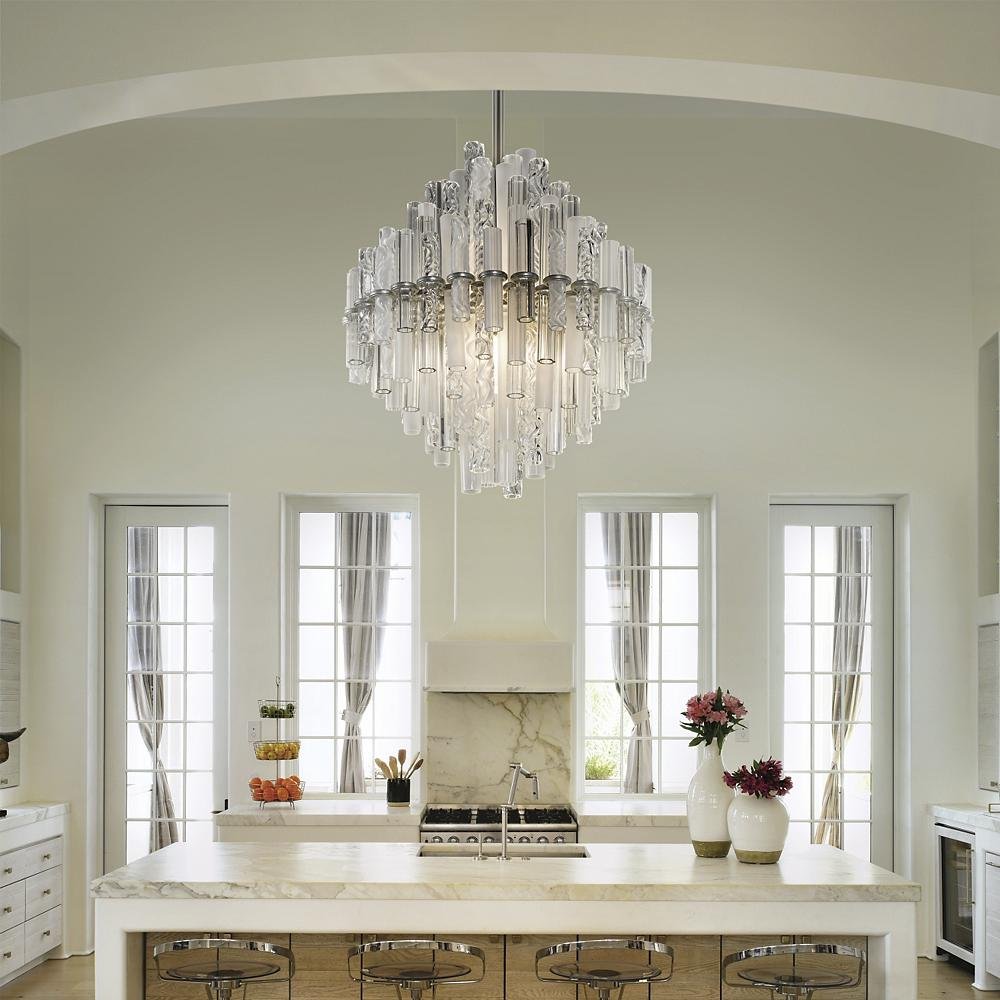 An impressive feat of glass work, this Manhattan family combines both texture and finish. The pillars of smooth, ribbed and undulating glass vary between clear and frosted, giving the fixture an etherial presence. While the whole collection is stunning, the chandelier is an absolute showstopper. This piece floats in a space while still having an extreme visual impact–it's an impressive fixture suited for an impressive space.
Glacier Collection by Allegri by Kalco Lighting
A great blend of masculinity and glamour, the Glacier collection lives up to its name. If you are in need for a statement piece for a dining room, the 32-inch pendant stands apart, giving glam a whole new aesthetic.
LED-Driven Design
With each season, we continue to be wowed by the development of LED-driven design. Shapes and forms that would never have been possible before this lighting technology are making big waves this year, including:
Suspenders by Sonneman
This was a hugely impressive launch earlier this year. Suspenders is a design that Robert Sonneman himself has been working on for decades, and was finally able to make it a reality through the use of LED technology. The delicate lines allow for a vast amount of customization from small spaces to huge ones. 
Seasons by Hubbardton Forge
Spring, summer, autumn and winter: each season is represented in this amazing collection. The artisans at Hubbardton Forge have taken their own memories of each and, through their craft and LED, delivered a fully realized ode to nature. These gorgeous fixtures are a modern representation of your favorite season.
No matter your style, there are a number of materials, technologies and shapes that can enhance your home. What's your favorite?