Summer's behind us, and so are picnics, plastic forks and paper plates. Now that dining must move indoors until better weather returns, it's a good time to reevaluate our dining habits at home. Whether you are a busy type who eats standing over the kitchen sink or have gotten into the habit of having dinner on the sofa opposite the TV (guilty), it's worth a few extra minutes out of your day to set a proper table.
Setting your dinner table not only makes use of the dining room furniture as it was intended to be used–it also affords you a dedicated space in your home and your mind for the daily activity. A ritualized dining experience encourages mindfulness, appreciation and slows the frenetic pace of life if only for the length of the meal. Here are some tips for table settings ranging from everyday to super-fancy.
Everyday Dining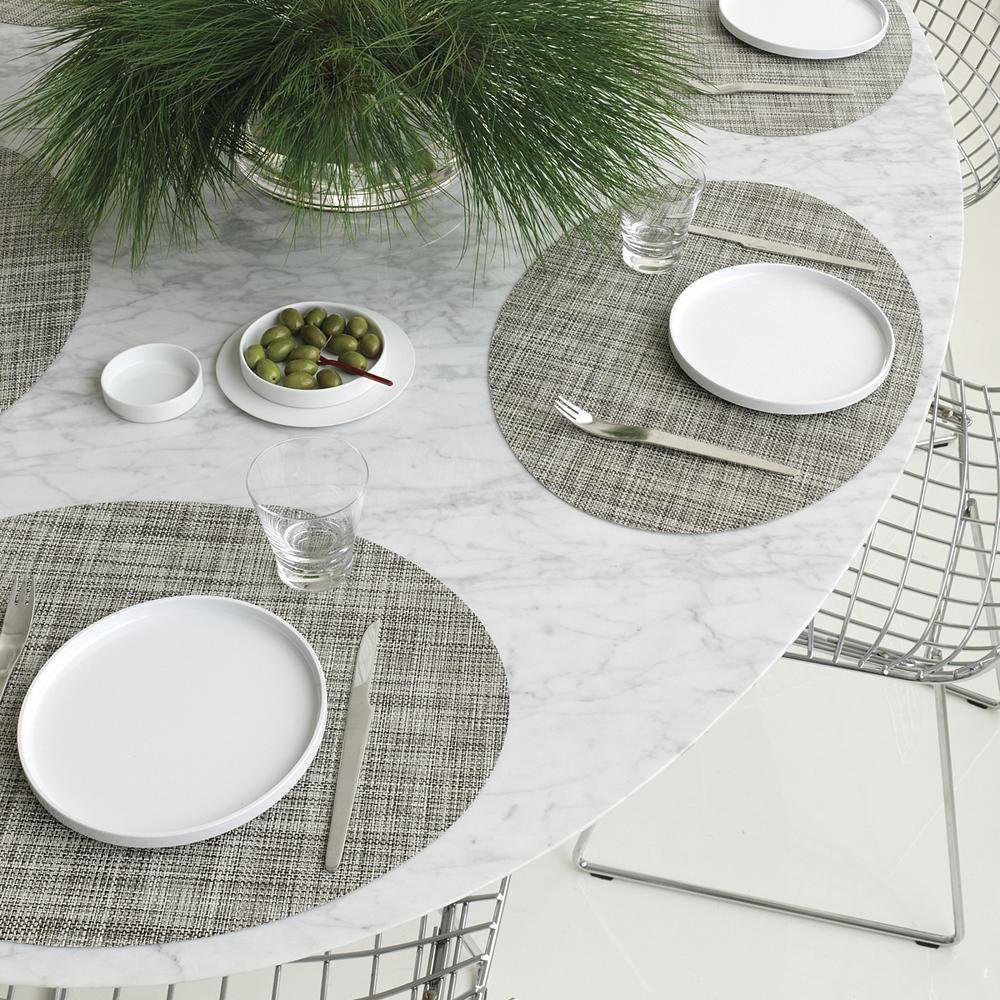 For weeknight dinners or simple meals without guests, it's pretty simple to set a passable place. But even everyday dining can be elevated with dinnerware that looks great and is designed well. Start with your basics: dinner plate, utensils, beverage container. It's up to you whether to include a placemat, but consider that it protects your table and helps map out the tablescape. Place your fork to the left, and your knife goes to the right. Your water or wine glass goes above the knife and plate, and a napkin may be tucked under the fork. Anything you wish to add is optional.
Fun fact: Legend has it the blade of the knife must face the plate in case violence should break out at the table, leaving ruckus-causing dinner guests an extra moment to consider their actions before swiping at their neighbor with their weapon-cum-utensil. How very medieval.
Not-so-Formal Festivities
Just a few additions to your more casual table settings will take you straight into hosting mode. Add a glass (one for water, one for wine), a salad fork to the left of the dinner fork and a bread plate above the forks. Not all informal meals will require the bread plate or an abundance of extra spoons. Serving some dishes on shared plates or family style cuts down on the amount of accoutrements your table needs while also breeding a spirit of conviviality among your guests.
As seen above, you can majorly strip down the theme and still present an elegant setting–these basics are simple and pair well with a rustic theme. Linen napkins and candlelight will go a long way here. Keep your table decor simple and proportional to the place settings. A huge, complicated centerpiece will make a more spare setting look a little sad.
The Queen is Coming
With the casual and informal table settings under your belt, you might find yourself inspired to host a formal affair. Now that we've broken down the basics, it's actually pretty simple to flesh out the rest for a fancier table. Even the most lavish of dinner party settings can be streamlined. To keep things simple, only set as many pieces as your guests will need. For example, if you're not serving a salad course, don't set out salad plates. No champagne? Forgo the flutes (but please reconsider).
Your table settings will depend on your menu, but the additions that you shouldn't neglect are yet another glass for wine (your guests may want to choose between white and red depending on the course) and additional utensils like soup spoons and fish forks as appropriate. Another must-have for formal dinners is a tablecloth. You can use runners, placemats and chargers as you see fit, but a vast table covering is the key to a pulled-together formal look. The most classic look is a plain white cloth, but lace or tasteful prints can also work.
For any event, fresh flowers and candlelight are never a bad choice. Make sure centerpieces are low enough, especially if they're very dense. Otherwise, your guests won't be able to see one another over the decorations. As with any decorating adventure, trust your own taste and furnish your table with your best-loved items to ensure a comfortable, pleasant meal.
Ready to begin? Your tabletop adventure starts here.