Harvest Gold. Avocado. Rust. The earthy, dusty tones that found their way into the zeitgeist riding the bohemian coattail trends of the hippie movement and the 1970s at large are seldom considered modern design options by contemporary decorating standards.
And it's true, a home outfitted with all the aforementioned colors at once would look like a throwback–and not in a good way. But with the right overall palette and thoughtfully chosen pieces, earth tones absolutely have a home in modern design. Here, we'll look at some examples of how to incorporate earth tones into a modern design scheme (shag carpeting not included).
Bold Strokes
This design debuted at Salone de Mobile in Milan back in April, proving some couches can speak louder than words. Against its sunset backdrop, the strong orange and yellow design against neutral gray and taupe tones is definitely a statement piece for a contemporary space. Pulling the colors into the room with orange accents and yellow throw pillows livens the scene for summer, though a thick chocolatey brown throw or charcoal area rug could just as easily transition this piece for cooler climes.
Au Naturel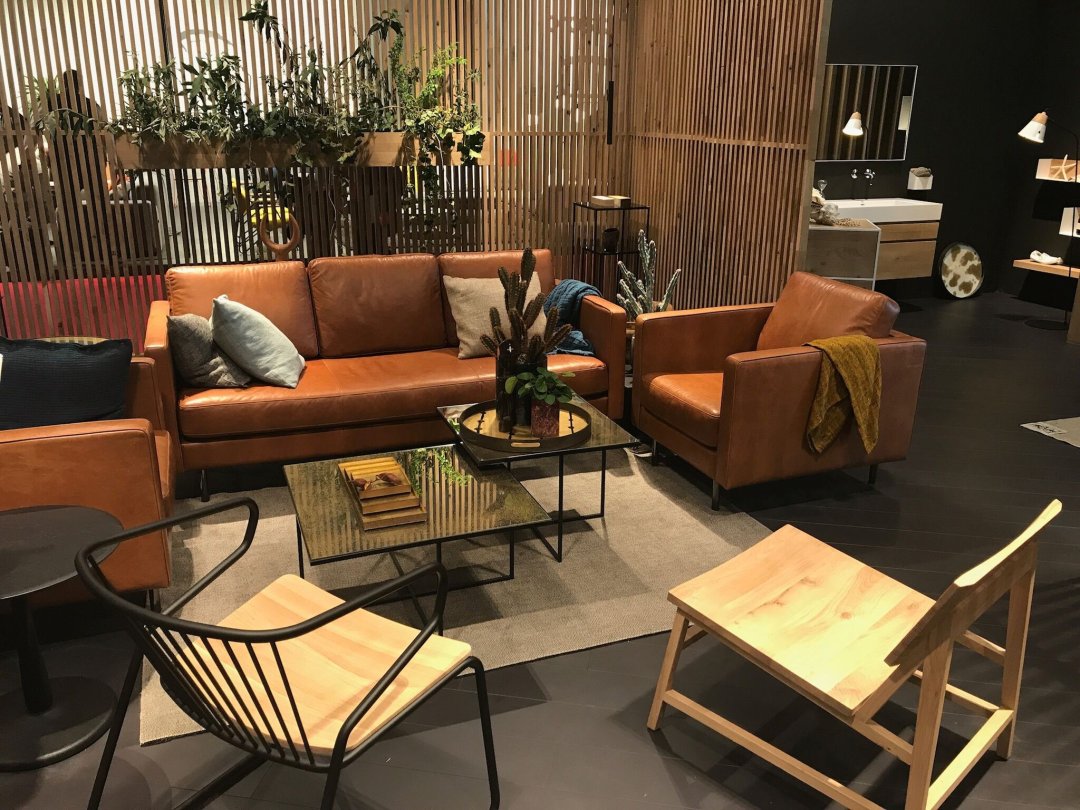 Also at Salone, this vignette displays a more sedate use of earth tones. Unfinished wood is key here, which in itself is a nod to Scandinavian simplicity. The buttery brown leather sofa and chairs are sumptuous, not rusted out–in fact, the entire ensemble here is a study in smooth, natural surfaces that lends an ease to the setup; almost as if you're outdoors enjoying nature.
Cheery Accents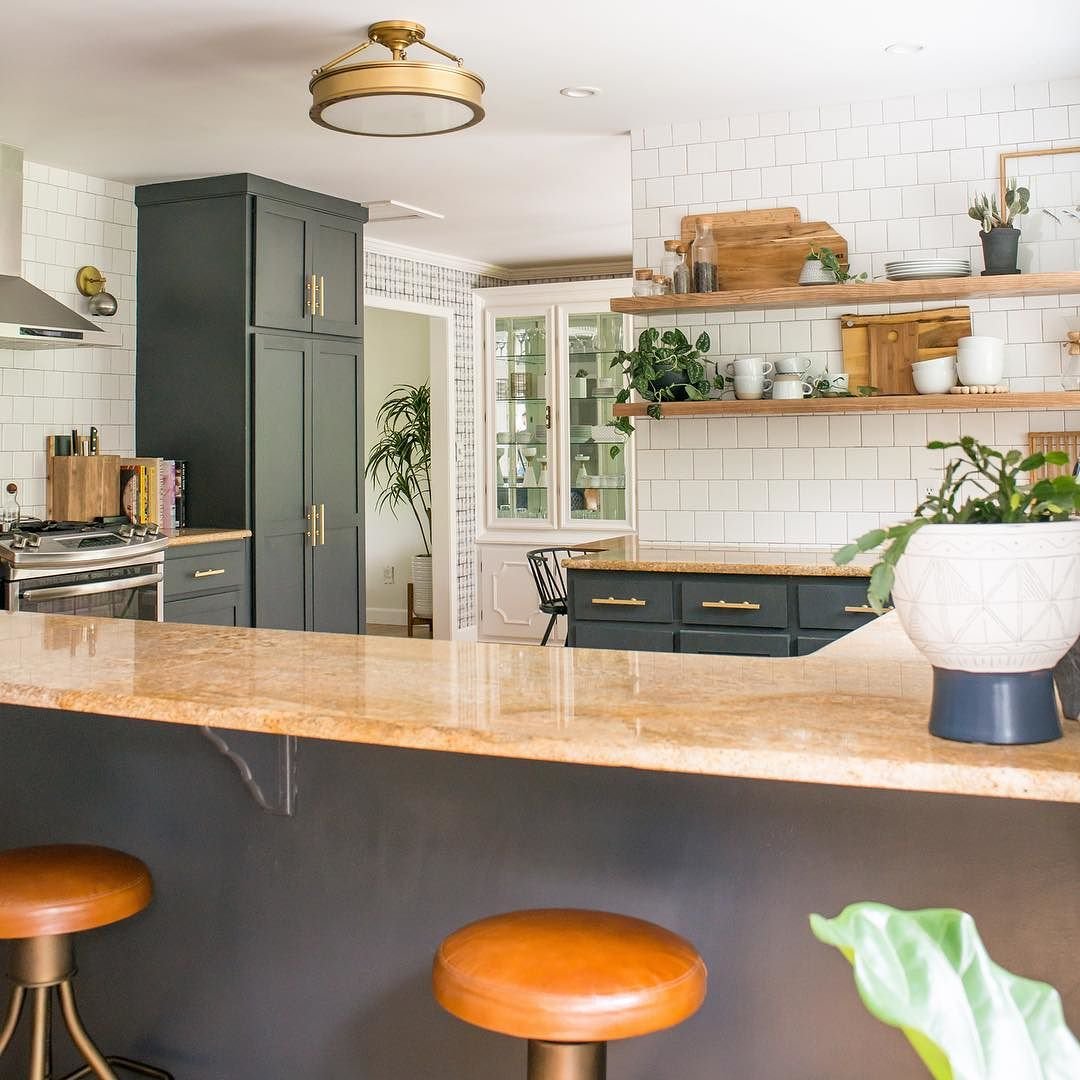 Sometimes, subtlety is key. In this kitchen, the earthiness is cool and clean thanks to the smooth subway tiles and glossy granite countertop. But the counter's muted hue is accented in the orange stools, while the flushmount light ties the room together with a bit of warm gold. Gray paint and blue accessories are kept on the muted side, acting as neutrals, which lets the living greenery really pop.
Open Air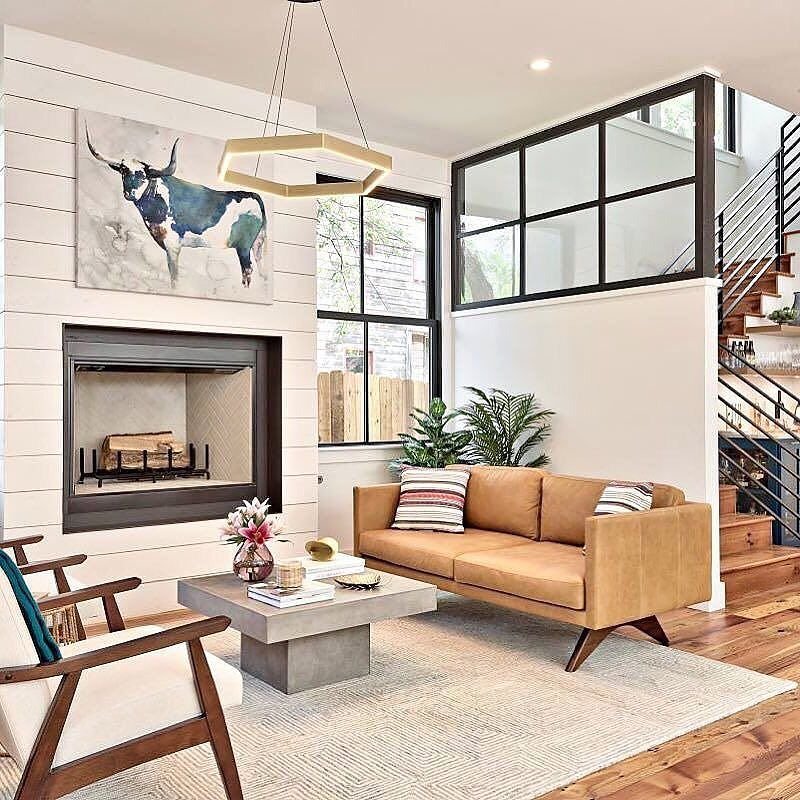 When using earth tones for decorating, it's important to incorporate plenty of light, airy space so the room doesn't become muddied and the look weighed down. Soft, earthy neutrals like light wood and this camel-colored sofa pair well with white walls and large windows. And the overhead light not only provides glow and shine, it adds a contemporary angle on this mid-century style space.
Wild Blue Yonder
Earthy tones don't always have to rely on greens and golds. A similarly natural effect can be reached using blues, blacks and whites to recall the sky above and backlit shadows against it. Here is a combination of stylistically disparate themes, but they work in concert to deliver a smooth, comfortable modern vibe. Pulling colors from your favorite artwork, as shown here in the chairs, throw and accessories, tie the room together even when your table and lighting are as modern as they come. Even the black of the Tolomeo Mega Black Floor Lamp shade works because it ties-in with the deepest shadows of the painting.
Mix 'n' Match Modern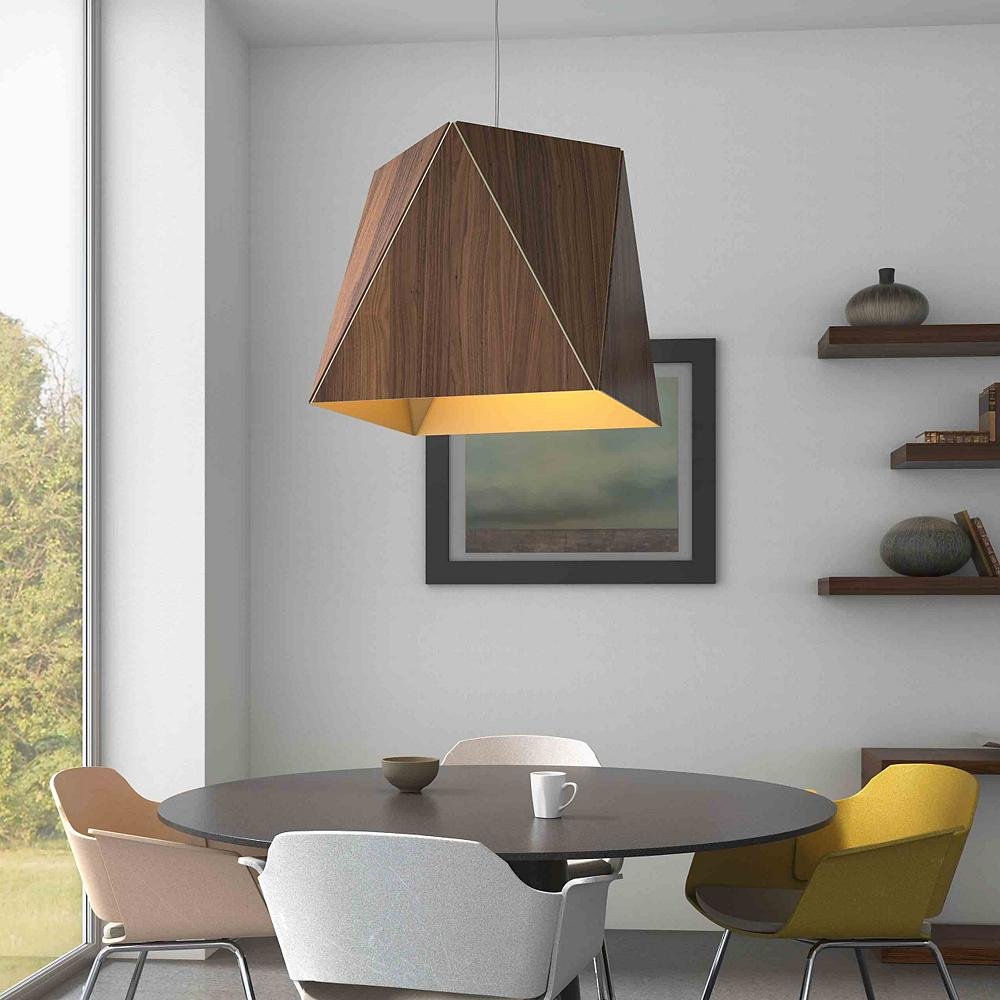 If the thought of four orange or mustard yellow chairs surrounding your dining room is hard to take, one modern solution is to vary the colors of matching pieces. Most designers work with a specific palette that lets their pieces coordinate seamlessly with each other, so it's a matter of choosing your favorites. Here, the yellow seat picks up the pendant light's warm interior, and the whole scene feels relaxed and harmonious rather than heavy and traditional.
Lighten Up
Sandy and soft, this eclectic space still pulls in earthiness without any overbearing color. For a fresh feel, pay attention to the scale of items in the room. Light and air moves freely past low furniture and shallow shelving, and even through the perforated lampshade and geometric fixtures in the background. Again, light, natural hues are prominent with just a few deeper tones of blue and red added in to anchor the space.
Accessorize Wisely
In a fully neutral space, it's easy to add earthy accents with changeable accessories. This kitchen's white and gray colorway could go completely high-tech. But the exposed shelving and restoration-style wall sconce lean more toward farmhouse than factory. With unfinished wood cutting boards and a vintage chair whose curves coordinate with the golden faucet, the room feels fresh thanks to chartreuse, yellow and green accents. It's a springy spin on earth tones, but really any naturally occurring colors can be incorporated.
Texture, Texture, Texture
If you're thinking of grounding your home with earthy delights, don't forget the ever-important sense of touch. For the most natural feel, use natural fabrics (naturally) like wool, linen and cotton to dress your bedroom. The variegation in organic woven threads adds not only tactile interest under your fingers, it looks more interesting than uniform manmade weaves. This bedroom looks particularly inviting with its touchable bedding and smooth wood flooring and furniture, while the patterned paper adds interest behind what might otherwise be a stark image.
Make Your Own Oasis
Finally, there's no better place to showcase your earth tones than outdoors. This urban oasis transforms a city-dweller's balcony into a solo retreat. Light gray is a great neutral to use outside, as it remains appropriate rain or shine without standing out too much on dimmer days. Choose pieces that are refreshing to your eye and to your spirit. And use plants to liven up corners and add interest in any room of the house. Pulling your palette from nature virtually ensures a harmonious color scheme that can be dressed up or down for any occasion.